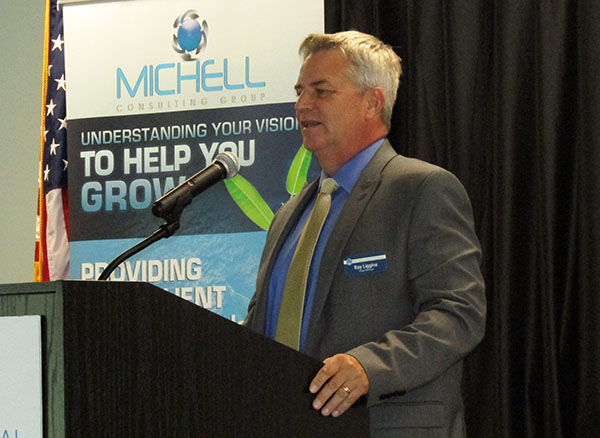 Municipalities served by the Central Palm Beach County Chamber of Commerce sent managers to discuss the "State of the Cities" at the chamber's monthly luncheon Thursday, Oct. 13 at the new Wellington Community Center.
Among the speakers were Royal Palm Beach Village Manager Ray Liggins and Wellington Assistant Village Manager Jim Barnes.
Liggins thanked the chamber for inviting him to the new community center.
"This is the first time I've been here. It looks beautiful, it really does," Liggins said. "They pretty much finished the campus with this building, so congratulations — it's a great facility to have for the public."
Liggins said people choose to live where they do for a reason.
"We asked our residents that, and the feedback that we get is maybe they already have family or friends that live here," he said. "Maybe the value of the home and the property that they were getting. They feel it's a safe place to raise their family. They like the entertainment venues, and that's not just in Royal Palm Beach, it's in the whole county available to them — the ability to go saltwater or freshwater fishing; the youth sports; the concerts that are nearby."
Royal Palm Beach hosts weekly events at its numerous parks, including four major events at Royal Palm Beach Commons Park.
"Our next major event is the Fall Fest on Oct. 28 and Oct. 29," he said. "It will start at 5 o'clock on Friday and go all day Saturday."
Liggins said that the village has received good feedback for its family-oriented events.
"We'll take advice, and any way we can make them better for our residents and for the community, we'll do that," he said.
Many Royal Palm Beach residents value the aesthetic quality of the village, he said.
"That's very important," Liggins said. "Our council made the decision more than a decade ago to make a concerted effort to do a significant amount of landscaping to our medians. We're changing our code and things like that, and then, the amount of open space. Royal Palm Beach has 29 parks. We have district parks supported by Palm Beach County on the south end of town, and we have 25 other parks, and three that are associated with schools."
Parks make up more than 1,000 acres, which is more than 15 percent of the village, not including open space that is required of developers, he added.
Royal Palm Beach conducts a council election each year, and after each election, the council holds a visioning workshop to talk about its goals.
"In our case, it's the community that we are," he said. "The foundation is there. We've been given a lot from the people who came before us, and a big part of what we do is just to maintain that, and, of course, we want to make it better."
Liggins said that his village wants to maintain a hometown feeling and be a choice for all generations.
"What we mean by that is we love to see our grandparents at the ballfields and soccer fields and football fields, enjoying watching their grandchildren play," he said. "That's the kind of community that we envision, and that's the kind of community that our council funds each year."
Royal Palm Beach achieves its goals through sound financial footing, which has been won through wise strategic decisions such as the sale of its water utility to the county, which established about a $70 million fund that enables the village to keep its ad valorem taxes low, Liggins explained.
"We have the fourth-lowest, maybe the fifth-lowest tax rate [in the county]. We did just pay off all our debts this past year," he said. "That did change our budget and allow us to do things a little bit differently than the way we were doing our budget in the past. Our recurring expenses are being paid with our ad valorem, 1.92 millage rate, and then our capital reserve, we think will take us at least through the next 10 years."
Barnes said that the Wellington Village Council gives village staff a vision to move forward. It adopted a budget of almost $90 million for the coming fiscal year with an operating budget of almost $69 million and a capital budget of about $12 million. "We have about $8.8 million that we spend on the PBSO contract for public safety," he said.
He added that Village Manager Paul Schofield, under the council's direction, has provided a vision for the village since he took the position in 2008.
The village has divided the way it does its budget into core services considered essential to foster a family environment, promote safe neighborhoods and enhance the value of the community.
"To do that, we have been investing in our future," Barnes said. "Over time, for several years, we do capital projects, operations and maintenance projects, road resurfacing projects or other types of projects throughout the village, including the municipal complex, and this new building. There was a community center here for years that served as a home base and an anchor for Forest Hill Blvd., which is the main street that we have. This is the last jewel that we have in the town center."
The village recently celebrated its 20th year of incorporation.
"We are a great place to live, and there are some great reasons that we made the Money Top 100, Top 50, and we are also one of the safest cities in Florida," Barnes said. "We deliver services which I think are the best in the entire county, as demonstrated by our great certifications and accreditations that we have obtained over the last few years."
The village engages in communication with its residents through an interactive web site, as well as frequent workshops to get feedback.
"We do that through town hall meetings, through Coffee with the Village Manager at locations throughout the village, as well as two-way feedback," he said. "We want the feedback from them, but we also want to provide information to them at the same time."
The village also has great teamwork with public safety agencies, through its contracts with both the Palm Beach County Sheriff's Office and Palm Beach County Fire-Rescue, he said.
"By looking at all these assets of Wellington, what a special place Wellington is to be," Barnes said. "It's a great place to live, it's a great place to work, to create, to learn. We have great schools, and also for me, our council and for our staff and the manager, it's a great place to serve, and that's what we're really here for. So hopefully, you'll agree that our state of the village is great."
ABOVE: Ray Liggins speaks at the luncheon.