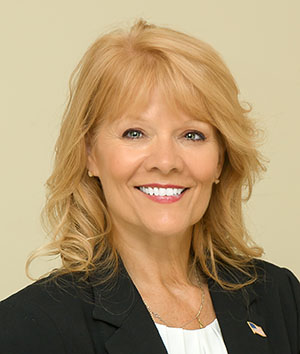 Republican Laurel Bennett of Royal Palm Beach faces Democrat Matt Willhite of Wellington on Nov. 8 in the race for the District 86 seat in the Florida House of Representatives.
The winner will replace term-limited State Rep. Mark Pafford in District 86, which includes all of Wellington, Royal Palm Beach, Loxahatchee Groves and several communities to the east.
Bennett, an analyst with a background in computer engineering and an MBA in healthcare studies, is married with a son. Her husband, Joel, is a disabled Vietnam Navy veteran currently in hospice care.
"Joel was diagnosed with lung cancer, which went into his brain in December," she said, noting that his disability is in large part her reason for running.
"Going through this process with Joel, I found out that there are 11,500 other Vietnam veterans that are on appeals as of last November, and it goes up 50 every two days," she said. "To me, that's tremendous evidence that nobody's fighting for our veterans, but at the same time we give all this money to Syrian refugees."
She faced a hard decision whether to pull out of the race when her husband went into hospice, but decided to continue when she realized that nobody is fighting for veterans. "If you don't stand up for it, then you're part of the problem," she said.
Bennett, who has worked as a teacher, opposes the Common Core curriculum, which is another reason she is running.
"Personally, I don't think that people in Florida need to know the same thing that people in Alaska need to know," she said.
She lists her top accomplishment as working to make sure that veterans get benefits if they were involved with C-123 airplanes that delivered Agent Orange during the Vietnam conflict. H.R. 969, currently making its way through Congress, is a bill that she said will similarly benefit disabled Navy veterans.
Bennett, CEO of PHR Solutions, also has a couple of health-related patents that she is proud of.
"A few years back, as part of Joel's being sick, I patented the PHR ID card," she said, explaining that PHR stands for personal health record. "You can scan it, and it would be great for firemen."
The PHR card stemmed from working at hospitals that have patient records systems for the doctors and the hospital, but no personal health record system available when emergency workers are treating victims in the field.
Bennett said that she is most qualified to represent District 86 because she has been very involved, not only with veterans' benefits, but also with seeing that the Federal Emergency Management Agency flood maps were adjusted to more accurately reflect homes that are in the flood plain, which will save residents additional costs for flood insurance. Bennett added that said she also stood up for equestrian parks in Wellington and roundabouts in Loxahatchee Groves.
Her top goals, if elected, include putting a link on www.myflorida.com to allow people coming into Florida access to veterans' benefits.
"That money is federal money, but it should be coming into our state, and it impacts our economy," she said. "So why not get it and help Florida?"
Bennett also wants to look more closely at what is happening with Florida's water. "We've got issues with algae, you get different stories, but an easy analogy is if you go in the bottom of your pool, the deeper you go, the colder it gets," she said. "Algae needs sunlight, and it needs hot temperatures. We have 21 feet of muck, so if you just dig it, and make it colder, you wouldn't have the algae growing."
Bennett added that there are also issues with development upstate that are sending nutrient-rich water downstream, and the state is considering spending billions of dollars to buy more land to the south for water storage.
"So, what is really happening? I'm not sure," she said. "One of the things I would like to do is go ahead and investigate the water issues."
Bennett also favors supporting charter schools, claiming that charter schools are doing a much better job with education.
She sees the top issue in the campaign as education. "We all want our kids to be better educated," she said. "We are 27th in education."
Security is also a big issue for her. "I'm not so sure it is as big an issue in Loxahatchee and Royal Palm Beach, but I know we have our select areas that are questionable," Bennett said. "We don't have enough protection."
To help the economy, she would work to get federal money back into small businesses.
"I would reduce the regulations to make it more affordable for small businesses, such as myself, to branch out and develop," Bennett said. "You've got 10 percent of the United States that are large corporations. Everything else is based on small businesses and inventions. We've got to get back to that."
She differentiates herself from her opponent, saying that she is already working for the people.
"I don't need to be elected to do it," she said. "I'm already behind the scenes working for the people."
Although District 86 tends to vote significantly Democratic, Bennett believes that she can win the race because people are tired of the old establishment.
"Look at Trump," she said. "Nobody is in love with Trump, but it's a movement where people are just tired of the same old establishment, and they want somebody actually doing something for them. My record shows that I'm actually involved."
Bennett added that she thinks she can win because Willhite narrowly won the primary by heavily outspending his opponent, Tinu Peña, but she still managed to get a significant number of votes.
Asked why she is not running for federal office, since veterans' issues are at the center of her campaign, Bennett said that veterans' issues are local issues.
"The people are in your home, your aunts or uncles, sons, daughters, whoever is a veteran in your family," she said. "It touches all of us here, and all of our lives. I can make a difference in my home here, and that's what I intend to do."
Bennett said that she would also like to see local transportation issues resolved.
"We're being overdeveloped, and nobody really cares about transportation issues and the congestion that we already have," she said. "Developers are gaining the rights to build, and the local municipalities, the people, are saying 'no' to it."
Bennett added that developers are bypassing local government by going directly to the state for approval. "That has got to be stopped," she said.
As far has her strengths, Bennett said that she is tenacious when she wants to accomplish something and will not change her positions for political expediency.
"If you bend because you want 29 votes or whatever, then you're no different than the people in the House and Senate now," she said. "You need somebody who has a backbone who will stand up for the people."
Bennett said that voters should vote for her because she has already demonstrated that she is busy working for the people in the area. "That's what makes me stand out," she said.
Visit www.laurel-bennett.com to learn more.