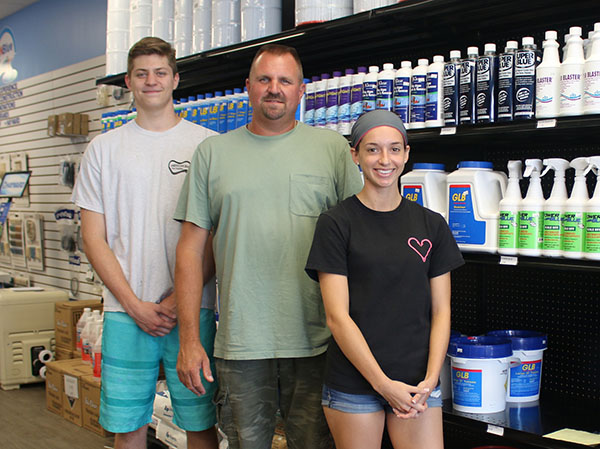 What happens when you combine a pool supply store with a wells and pumps store? You get AMERiCANBlue Pool Supplies — the sign above the door says Pools & H20 — located at 15679 Southern Blvd., Suite 110, in the new Loxahatchee Groves Commons shopping center.
Nick Massimo, with 30 years of experience in the pool industry, from AMERiCANBlue Pool Supplies and AMERiCANBlue Pools & Spas, also has a location on Seminole Pratt Whitney Road.
"I've been doing pools since the day I graduated high school," he said. "I graduated on June 17, and on June 18, I was in a pool," he said. "I started my own business in 2002, and I got my state contractor's license. We started the pool store in 2008."
Two years ago, Massimo brought in Ed Hampson, of Ed's Wells & Pumps. The two work independently, sharing the Seminole Pratt location.
Hampson does everything and anything with well systems, Massimo said, making sure that pumps are working and the water is drinkable and free of bacteria.
They decided to open in the Loxahatchee Groves Commons shopping center as a joint venture, combining the two stores, which opened in late September.
"This store is one single business. He does all new wells and stuff like that. I do new pools, pool service and retail," Massimo said. "We're both partners, where the other store is not."
The name might change at some point, Massimo said, but it's the same people, the same companies, that are already known to the community.
The combined companies offer pool pumps and filters, chlorinators and heaters, service and repairs, automatic pool cleaners, new pool construction, total pool renovation, pool toys and floats, in addition to well drilling, sprinkler wells, and pump and water system installation.
"We have pretty much everything you could possibly need for a pool," Massimo said.
They provide pool service, and if a service is needed that they don't provide, they have someone who can do it. For example, Massimo has a local solar company that he recommends to those looking for solar panels.
Store services include anything from drilling wells, maintenance, whole house reverse osmosis, salt delivery and more. Massimo has a crew that takes care of pools weekly for customers, with multiple vehicles and employees ranging from full-time and part-time to kids after school.
The store has pool supplies, a full tile line, pumps, chemicals, pool toys and even frozen bait for saltwater fishing.
The partnership between the three companies just came naturally. Massimo started working and recommending Hampson, and Hampson recommended Massimo.
"When you're dealing with somebody's house water, that they take showers in and they cook with, you definitely want a good person. You don't want these fly-by-night guys coming in. I feel comfortable recommending Ed," Massimo said. "It's hard to recommend somebody if you don't think they're good."
Hampson is able to test water samples and make sure well water is safe to drink. He replaces and services wells and water systems. With 20 years of experience, and a high rating on Angie's List, he knows his water.
Since they both work in the same medium — water, be it pools or wells — the partnership was a match made in hydrogen and oxygen. "It works well because we both take care of water. It goes together," Massimo said.
Massimo is keeping it a family-owned business. He learned because his father built pools. Now, his son works for the company when he isn't in school. Hampson's family also works at the store, doing service and drilling.
"I enjoy what I do. I'm a hands-on pool builder. I'm there at every phase, even if I have [subcontractors] on the job. I'm there anyway, even if I don't have to be," he said. "I have to see what my product is."
Beyond pool and well supplies, the store offers free water testing and often feathered friends. Massimo has a macaw rescue and will sometimes bring in one or two birds with him to work. The friendly family atmosphere allows AMERiCANBlue to do things that larger, bigger stores can't or won't do, such as special orders.
The store is open seven days a week, and they've been holding barbecues over the weekend with hotdogs and popcorn. They're also conducting raffles periodically.
Visit the store Monday through Friday from 9 a.m. to 5 p.m., Saturday from 9 a.m. to 4 p.m. and Sunday from 10 a.m. to 2 p.m. For more info., call (561) 469-1443 or visit www.americanbluepool.com.
ABOVE: Nicholas Massimo, Nick Massimo and Jenna Kratz of AMERiCANBlue Pool Supplies.