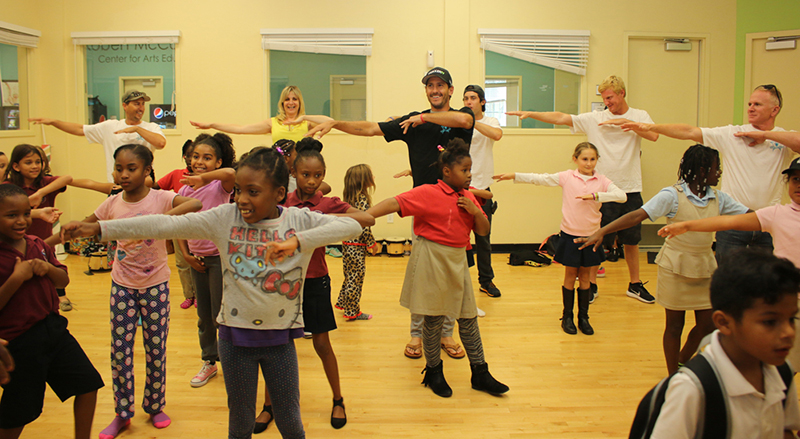 When Wellington's world-famous polo players aren't racing up the field on horseback, many are hitting the field to play catch or soccer with kids at the Neil S. Hirsch Family Boys & Girls Club of Wellington.
And come Sunday, Nov. 13, they'll be playing golf to benefit the club.
Polo star Nic Roldan is chairing the club's 35th annual Wellington Golf Tournament at the Wanderers Club, rescheduled for Nov. 13 from Oct. 8 due to Hurricane Matthew. To get the kids excited about the event, Roldan visited the club on Tuesday, Oct. 25, joined by some of his polo-playing friends — Carlos Gracida Jr., Jason Crowder, Jesse Bray, Roddy Matthews and Jared Sheldon, along with other friends from the Grand Champions Polo Club.
They came bearing hats for all the club members, courtesy of Grand Champions owners Marc and Melissa Ganzi.
Roldan has been visiting the children at the club for several years now and has noticed their interactions changing.
"Every year it gets more and more fun. The kids start to know you, and you start to feel more at home. Every year it gets better and better," Roldan said. "They start to remember you, and remember you by your first name."
He plays sports, dances and explores the club with them. "It's always a great experience," Roldan said.
For Jaene Miranda, president and CEO of the Boys & Girls Clubs of Palm Beach County, the commitment from the polo community, and especially Roldan, is special.
"It's not a fly-by-night commitment. Since the first minute that he walked in through these doors, you could tell that there was a love for coming here and supporting these children," Miranda said. "That's all we can do, introduce people to the club, show them what the need is in the community, and hope that they support and spread the message. That's how we got to where we are today. From serving 150 kids daily, to now serving 350 to 400 daily — we can't do that without the support of the community."
The number of children in need is daunting. "Without the support of people like Nic and the other polo players, there's no way possible that we could do it," Club Director Kenda Peterson said. "I really can't even put a word on the gratitude that I have."
A special type of electricity floats through the air at the club when the polo players come to visit. Third-grader Tatiana Montoya always has a great time when it's polo-player day.
"I was so excited," Montoya said. "My favorite part of the day was hanging out with all of them, knowing about them and having fun with them, because they're really awesome."
She has been a club member since first grade. The support from the polo players is incredibly special to her.
One of the largest club fundraisers is Great Futures Polo Day, which takes place at Grand Champions and the International Polo Club Palm Beach. In 2017, the event is set for March 12. "Melissa and Marc [Ganzi] have been huge supporters," Miranda said.
Montoya has attended the polo day, has met Roldan before and was excited to meet the other polo players. An aspiring dancer, she offered to teach the polo players some skills beyond what they learned in dance class.
But coming up first is the golf tournament, which has grown by leaps and bounds.
"It's bringing in more than it ever has, and we hope to keep growing it. Having a chair like Nic only helps us grow in our fundraising," said Board Member Ray Mooney, who is also director of facilities at IPC. "Through his involvement, it raises awareness and can help with our fundraising."
The polo players coming to the club is important to Mooney, because he gets to see two of his passions come together, with one supporting the other and everyone having a great time.
"It helps raise awareness in the polo community and the equestrian community about what the Boys & Girls Club is, what it does, and how important it is for the community," Mooney said.
The golf tournament, with good food, a good course and a great time, is appealing to golfers.
"Our committee really understands what golfers want when they come play in the golf tournament, and that's what we're striving for. We want to make it the premier golf tournament in this area. We're well on our way," Mooney said.
On the golf tournament committee, Roldan and Mooney are joined by Honorary Chair Ed Portman and committee members Todd Barron, Jim Bomar, Elliot Bonner, John Hornberger, Julie Kime and Mickey Smith.
Between the golf tournament, the special day of polo and the annual dinner-dance, the three fundraisers take care of about half of the club's yearly budget, Mooney said.
Helping with such a large chunk of the budget is incredibly important to the club. The membership fee is an unbelievably affordable $30, especially considering that club programs and amenities cost approximately $1,500 per child. The programs and classes help to build leadership and character while focusing on educational, recreational, health, social and vocational skills.
To learn more about golf tournament sponsorship opportunities, or how to participate, call (561) 683-3287, e-mail cgalenski@bgcpbc.org or visit www.facebook.com/bgcpbc.