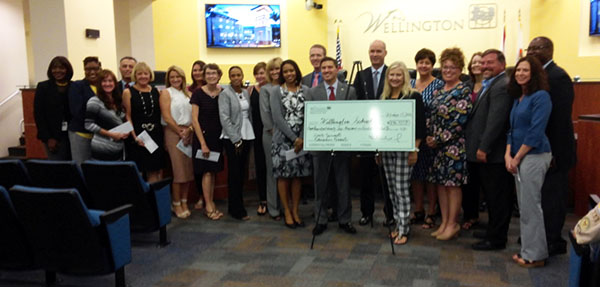 The Wellington Village Council awarded $297,000 worth of Keely Spinelli education grants — $27,000 to each of 11 Wellington-area schools — on Thursday, Oct. 13.
Director of Purchasing Ed De La Vega said the amount was increased $2,000 for each school this year.
"The funding is to be utilized for programs, instructional materials and/or equipment needed for students in the lowest 25th percentile in reading and/or math," De La Vega said.
Administrators from each school presented grant applications to the Wellington Education Committee on Sept. 6 for review.
"Based on each school's request, this year's grant will provide assistance to approximately 2,734 students," De La Vega said.
Area Superintendent Dr. Frank Rodriguez said that the support shown to the schools by the village is remarkable.
"That's not the way it is everywhere," Rodriguez said. "We wish possibilities like this were always there."
School Board Member Marcia Andrews also complimented the council for its support of local schools.
"You are a cut above," Andrews said. "I knew Keely Spinelli. She was a good friend of mine, an excellent educator in the Village of Wellington, a principal, a leader at the district level and someone with the love for children."
Mayor Anne Gerwig thanked the council and previous councils for their support of the annual grants.
"This is one of the things that really draws a crowd, and this is something we really care about," Gerwig said. "Keely Spinelli was also my friend. I served on her PTA, and I got to know her. Her level of devotion was unmatched. It did really inspire us to do better. As sad as it is not having her with us, having her name on this is a huge thing."
Vice Mayor John McGovern thanked the Education Committee members present for their work processing the grants.
"This is something that every one of us is deeply committed to. The partnership that everyone in our community has with our schools we like to say is second to none," McGovern said. "The thing about these grants is the idea that we, as the village, whether it's the leadership or our citizens, can partner with each of our schools to help fund exciting programs particular to each school that aid the students in the bottom 25 percent in reading and math so as to lift up the entire school, and therefore lift up the entire community."
Councilman Michael Drahos said that of the many decisions the council makes, awarding the grants is one of the easiest and best.
"Certainly, investing in our education is a top priority for this council, and I'm extremely proud to be a part of this, particularly because I'm an alumnus of our schools," Drahos said. "Having gone to Wellington Elementary School, Wellington Landings Middle School and then Wellington High School, I can attest to the fact that our public education system is fantastic. I couldn't have asked for a better experience. To be here on this council now and continue to support it, I want to do everything I can to continue to do that, and so does this council."
Councilwoman Tanya Siskind also knew Spinelli because her oldest daughter attended Binks Forest Elementary School while Spinelli was principal there, before she died of cancer at age 46 in 2008. "She was an amazing woman, and everyone had wonderful things to say about her," Siskind said. "I think it's great that her dedication to education can live on through this grant."
Councilman Michael Napoleone agreed.
"This is something that we are all very proud of that we have the opportunity to give back to the schools," he said. "The schools in Wellington are such a key component to who we are and what makes this such a great hometown."
ABOVE: School administrators join Wellington officials for the grant presentations.