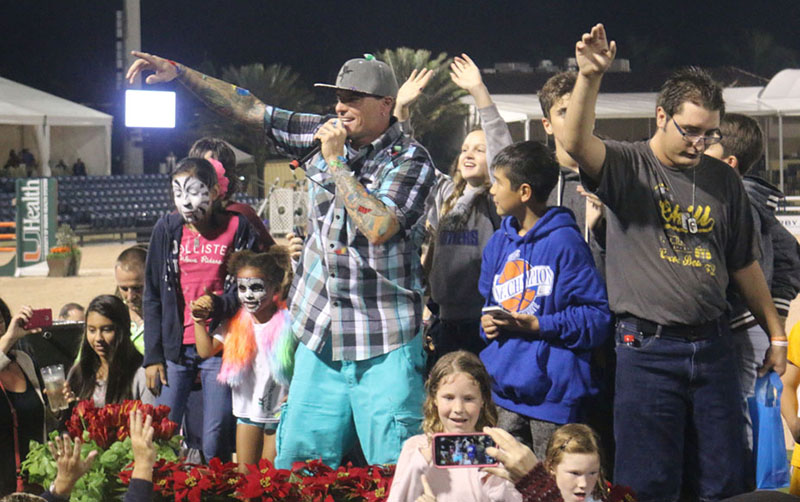 The villages of Wellington and Royal Palm Beach will host fun-filled, family-friendly winter festivals, both occurring on Saturday, Dec. 3.
The Wellington Chamber of Commerce, in conjunction with the Village of Wellington, is hosting Winterfest 2016, celebrating 20 years of Wellington and 20 years of the Wellington Chamber of Commerce.
Wellington Chamber Executive Director Michela Green is looking forward to the event, which will take place from 6 to 10 p.m. at the Wellington Amphitheater.
Cultural Programs & Facilities Manager Joe Piconcelli is glad to see Winterfest back at the amphitheater, where it originally started. "It's going to be bigger and better than it ever was," he said.
There will be musical performances beginning at 7 p.m., Green said, including the Palm Beach Opera, Michaela Paige from The Voice, Nicky Greed, the Wellington High School Chamber Chorus, Alex Shaw, the Palm Beach Mako Cheerleaders, Sarah Spiritual, Alyssa Marie Coon, Aliyah Pike, the Precision Dance Conservatory, the Binks Forest Chorus, Vell P., Latillia Jackson, the Donna Tucci Dancers, Cassie Ortiz, Victoria Hockton, Kayden Muller and more.
The headliner of the event is Rob Van Winkle, also known as Vanilla Ice, television star, musical icon, philanthropist, actor and Wellington resident. Van Winkle will again be joined by Wes Kain, also of The Vanilla Ice Project, as the master of ceremonies.
There will be 60 vendors, food trucks, shopping, pet adoptions, kids' crafts, exhibitors and more to peruse while children enjoy a Kids Wonderland Village, zip lining, bounce houses, an obstacle course and snow.
"It's going to be a pretty exciting place," Piconcelli said.
The Potions in Motion VIP Lounge adds another layer of fun for the event.
Because parking is limited, taking the complimentary shuttle from the main entrance of the original Wellington Mall at 12794 W. Forest Hill Blvd. is recommended.
Sponsors include the original Wellington Mall, the Palm Beach International Equestrian Center, Grand Champions Polo Club, the Royal Inn Hotel, Palms West Hospital and the Children's Hospital at Palms West, Braman, Arden, Pyra360, the Florida Sugar Cane League, Fusion AV Solutions, Greenstein & Lubliner and Pyra Promotions.
For more information, call (561) 792-6525 or visit www.wellingtonchamber.com.
Royal Palm Beach's annual Winter Festival, Winter Fest 2016, will also take place on Saturday, Dec. 3, from 1 to 9 p.m. at Royal Palm Beach Commons Park, located at 11600 Poinciana Blvd.
Something new this year is that Home Depot will be partnering with the village, Royal Palm Beach Community & Cultural Events Superintendent Carlos Morales said, and will be providing craft stations from 1 to 6 p.m. at the park for children to make a tool box and other small items that they can take home.
There will be a snow slide and skating rink, along with bounce houses and other fun activities for $10 at the Kids Fun Zone. "I think that's a great deal," Morales said. "Snow slides, skating, fun things, all for $10 — that's a great deal, and it's all day from 1 to 9 p.m."
Close to 20 food trucks are expected. Royal Palm Beach will also be handing out hot chocolate and cookies for free.
At the main stage, there will be local performances starting at 2 p.m., including those from Cypress Trails Elementary School, Royal Palm Beach Elementary School, Crestwood Middle School, Royal Palm Beach High School and more.
The Cool Yule Band will be performing at 7:30 p.m.
"It will be one performance after another," Morales said.
The 28-foot-high tree will be lit at 6:15 p.m., and photo opportunities with Santa and Mrs. Claus will be available starting at 6:30 p.m. There will be horse and carriage rides to take participants through a stroll around the park.
"It should be a nice festival," Morales said.
Sponsors include Storm Tight Windows, Republic Services, the Home Depot, Sunny 107.9, 103.1 WIRK Country, 93.5 The Bar, 95.9 The Palm and 900 The Talk of the Palm Beaches.
Morales suggested that people arrive early, bring lawn chairs and blankets, and have a great time. There should be enough parking at the park, he said.
Sponsorships and vendor spaces are still available. For more information, call (561) 790-5149 or visit www.royalpalmbeach.com.
ABOVE: Vanilla Ice at Wellington Winterfest last year.