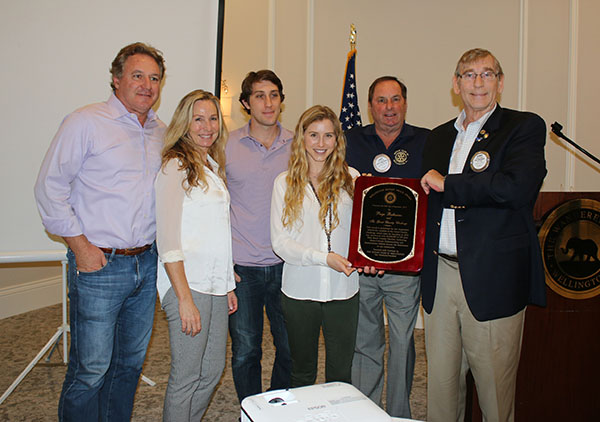 The Rotary Club of Wellington honored Paige Bellissimo, co-founder of the Great Charity Challenge, on Thursday, Nov. 17.
Bellissimo was recognized for her work helping the community at the club's weekly meeting at the Wanderers Club.
The Community Peace Award is given as part of the club's Wellington Peace Ceremony, which takes place each year in September at the Rotary Peace Park on Royal Fern Drive. Bellissimo was unable to attend this year's official ceremony on Sept. 25.
The peace initiative was started 10 years ago by Rotarian Dr. Wes Boughner. Local schoolchildren compete for prizes with poems, artwork and essays, and winners are honored at the ceremony.
"We give awards to the kids, and we also give an award called the Community Peace Award," Rotarian Larry Kemp said.
Rotarian Randy Pfeiffer explained the importance of the award.
"Each year, we recognize someone from the Wellington area for their contribution to world peace, conflict resolution or multicultural understanding," he said. "This year we are recognizing Paige Bellissimo as the inspiration behind the creation of the Great Charity Challenge, which since its founding in 2010 has distributed more than $7.5 million to 150-plus Palm Beach County charities, furthering multicultural understanding and humanitarian efforts toward the betterment of our community."
The Great Charity Challenge is an equestrian pro-am event where horse and rider teams are paired up with local charities. Each chosen charity is guaranteed at least $15,000, and the charity paired with the winning riders receives $150,000. The 2017 event is set for Saturday, Feb. 4.
Pfeiffer presented a plaque to Bellissimo, who joins recipients including Mike Gauger of the Palm Beach County Sheriff's Office, Bill and Melinda Gates, Jessica Newman from the JustWorld Foundation and former County Commissioner Jess Santamaria as honorees.
"It really takes a village to do all that we've accomplished, raising $9.2 million. The ESP [Equestrian Sport Productions] team has been just incredible," Bellissimo said. "It's a huge team effort, and it's such a privilege to be part of such an amazing community that gives back and is so inspired."
She also thanked the Rotary Club members for their "stewardship in the community."
Paige Bellissimo was joined at the ceremony by her parents, Mark and Katherine Bellissimo, and her brother, Matt Bellissimo.
Earlier this year, Kemp organized the first Outrun Cerebral Palsy Wellington 5K Run & Wheelchair Race and is working on organizing the race again in April 2017.
"We were very pleased and honored that the Bellissimo family, Wellington Equestrian Partners and the Great Charity Challenge sponsored us to the level of $10,000, for which we thank them very, very much," Kemp said as he presented the Bellissimo family with T-shirts from the event.
ABOVE: Mark, Katherine, Matthew and Paige Bellissimo with Rotarians Larry Kemp and Randy Pfeiffer.