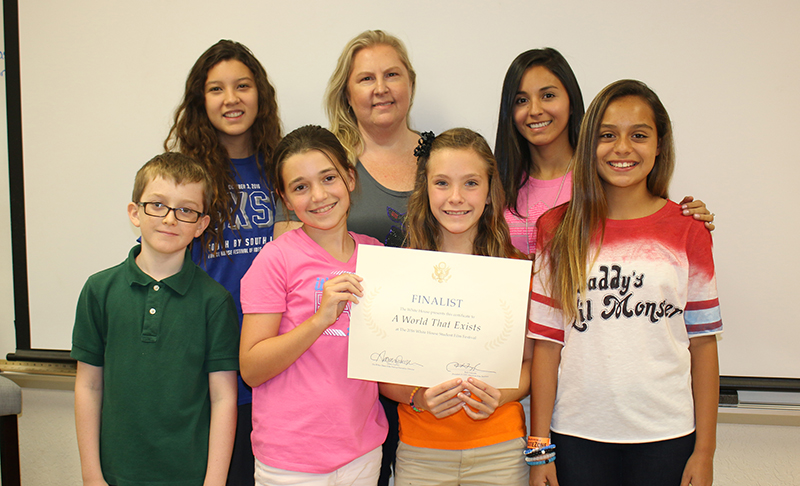 Fifth-grade students Sophia Tomlinson and Sofia Derk recently went on the trip of a lifetime with their parents and their teacher, Marggy Pereira.
It all began with an after-school movie-making club created by Pereira and fellow science teacher Emily Sagovac in May. The club knew about the White House Film Festival because Pereira's sister, Daniela, was part of one of the winning teams at the 2015 festival.
Nineteen students worked with their teachers and volunteers to create a three-minute video to the theme of "The World I Want to Live In," which they completed in a short time. They competed against elementary, middle and high school students.
The film was submitted to the third annual White House Film Festival. Teacher Cherie Christopher also made a cameo appearance in the film.
The students developed three potential topics for their movie. Daniela, a 19-year-old film major at Palm Beach Atlantic University, and her friend Julissa Perez volunteered to lend their film expertise.
Pereira and Sagovac helped coordinate the students as Daniela filmed and worked on the script.
"I refocused everybody," Sagovac said. "This was a lot of fun. It was something that I've never done before. The kids really enjoyed it… We were just as excited as the kids to meet after school for our movie-making club."
In just three hours, over the course of two days, they made the film that was submitted.
Twenty-seven films were chosen, and their teams were invited to the White House, Pereira said.
Elbridge Gale's film was selected as one of the finalists, chosen as a top 10 video and shown at the festival.
"It was really, really fun," Tomlinson, 11, said. "It was so exciting to go there and see everything."
Derk, 10, was in shock when they arrived. Washington, D.C., didn't look how she expected.
"We were the last video of the top 10 to be shown," she said. "To see your face on a huge screen in the White House — pretty impressive."
Unfortunately, it did not make it to the top three. However, even being selected was an amazing feat for the hardworking students.
Only two students were able to attend the ceremony, and Tomlinson and Derk won the lottery to pick who would go.
They traveled at their own expense to accept the award at the White House, where they participated in festival activities, represented Elbridge Gale Elementary School and met President Barack Obama. The school PTO also helped out, Pereira said.
"When I saw him, I have a little crush on him, I was like, 'I'm in the room with the president. That's really special,'" Tomlinson said.
The girls ran out to Pereira after meeting Obama, overcome with excitement.
Derk was mesmerized by the chandelier in the room and was excited to meet the president.
"We were really excited, and then he started talking," she said. "I don't even remember what he said, I was so excited."
It was an experience to remember forever, Tomlinson said.