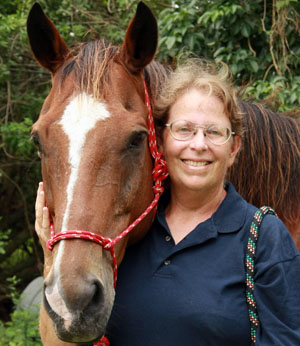 TALES FROM THE TRAILS
Despite warnings of rain, the weather mostly held off on Saturday, Oct. 15, which was lucky. As Red Barn store manager Marcela Burssens said, "There's nothing we can do if it rains, but it won't. We're putting out a lot of positive energy."
The "Loxahatchee's Got Talent" contest was pretty much Burssens' baby. It was her first time organizing something like it, so she was a little nervous. She had been thinking about the idea for almost a year.
Burssens has staged other community events at Red Barn, including meetings for animal groups. People can sign up at the store to join the Red Barn Chicken Club. They're informed about weekly chick hatches, offerings, special deals and even a frequent buyer card offering discounts.
"I'd like to expand it to once-a-month meetings," Burssens said. "We have a lot of backyard poultry owners in the community. This could be a great way for people to share ideas, concerns and best practices. For a lot of people, their chickens and goats aren't just livestock. These animals are part of the family."
Burssens plans to have meetings centered on mini-pigs, which she characterizes as currently very popular. "But," she cautioned, "people need to be informed before watching a cute video on YouTube and then rushing out to buy one." There will also be meetings dealing with basic horse care and nutrition, and possibly one about cows.
"The meetings aren't about doing something that's profitable for the store, it's about showing the community that we care about them. We're a locally owned business employing local people. We're an integral part of the community," she said. "I worked at the Red Barn as inventory manager for 10 years. When I became store manager this year, I presented my talent show idea to the owners, and they were very on-board. We planned it for right after the hot summer and before the crazy winter season starts up."
More than 30 contestants submitted audition videos from Sept. 1 through Sept. 16, and 13 made the cut. "I looked for people who'd be most entertaining and have crowd appeal. I think I know what our customers and the community would enjoy most," she explained.
The prizes were impressive: cash awards to the three highest-scoring acts of $250, $500 and $1,000. Burssens had a big check ready to go (except for the winner's name), made from a recycled piece of plywood left over from the hurricane preparations from Matthew's near-miss a week earlier.
"I rented 100 chairs to set up out front," Burssens said. "I hope we run out of chairs. That's always my goal: bringing the community together to share an enjoyable experience, and running out of chairs."
The contest was slated to begin at 7 p.m. The chairs were set up and, behind them, hay bales, all facing the small, lighted stage in front of the store's entrance. Two food trucks supplied snacks and beverages, and the chairs soon filled up, and then the hay bales. By 6:45 p.m., a brisk wind sprang up, blowing dark gray clouds from east to west. Five minutes later they let go, and everyone scurried into the store. All the positive energy won out, though, and 20 minutes later, the rain passed and the show got underway as about 150 enthusiastic spectators whistled and applauded.
The contestants took their turns on the stage, if they were singing, or in front of it, if they were twirling, although these were a bit difficult to see. Mom Peggy and daughter Elenor started out singing. "This is our first talent show," Peggy said. "We're just here to have fun. I'm a little nervous. We've only sung at church. Going first is good. Then we can relax and enjoy the rest of the show."
Twirler Frances Novella twirled, tossed and juggled up to four batons, some flaming. Cecilia Alfonso accompanied herself on the guitar, then Smantha Johnson offered her twirling act. Kayden Muller-Janssen sang, followed by Charlize Reyes, the first of twin 10-year-old sisters.
"They mostly sing at school," mom Christina said. "This is their first time in front of an audience like this. If they win, we'll use the money toward their safety patrol trip to Washington, D.C."
Marcos Gonzalez sang, followed by Alyssa Coon. Laura Ashley Killian and her horse, MS Spanish Legacy, were next. She mounted up, did some riding and twirling, then daringly twirled a flaming baton, ending by standing up on her horse's back holding the flaming baton aloft.
"We practiced this week, and she seemed OK with it," Laura said. "She's very tolerant, and she trusts me. We'll keep working on it and adding to the act."
Bella Reyes, Charlize's twin, sang next, followed by Natalia Bruscino, Cassie Ortiz and Clay Adams. The judges, Steve Heller, Sheila Conde and Loxahatchee Groves Mayor Dave Browning, retired to tabulate the scores, which were based on originality/creativity, poise/presentation, crowd appeal and clarity of voice for the singers. The crowd hit the food trucks and milled about.
"This is great for the community, coming together like this," Melissa said. "I had a great time. The performers were phenomenal."
"I thoroughly enjoyed the music and all the talent," Sharon added. "The baton twirlers were really good."
"It was a blast, unique, memorable," Nicole said. "I hope they continue to hold these contests and build on them."
The judges returned, the contestants lined up on at the stage, and the winners were announced. Smantha Johnson came in third, Natalia Bruscino was second, and Cassie Ortiz posed with the wooden check, now filled in.
"I'd say this was a successful event," Burssens said. "It went better than I expected. Thanks to everyone who helped to make it happen and our contestants and community. We ran out of chairs! I hope to do it all again next year."
To keep up with events at Red Barn, call (561) 790-0004, visit http://redbarn1.com or find the store on Facebook. A video of the event can be found on the Facebook page.