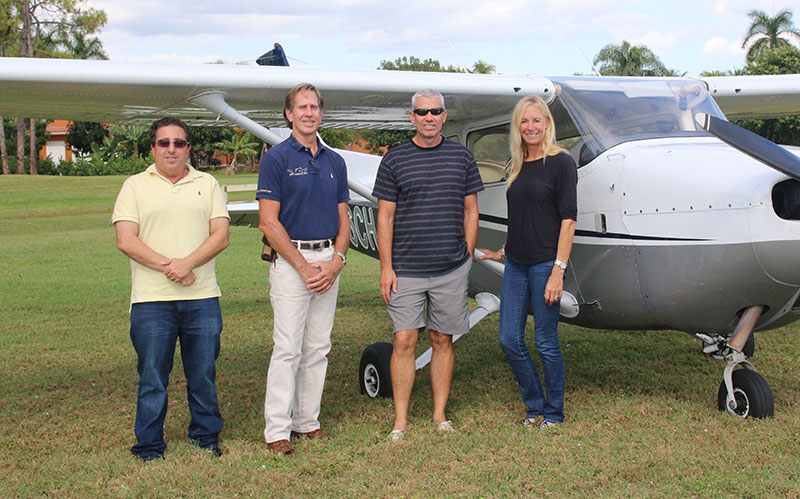 Ailsa Cutting, an Aero Club resident and founder of the Wellington Flying Club, registered with Pilots N Paws several years ago.
Pilots N Paws is a national nonprofit made up of pilots who bring animals that are often slated to be put down to rescue organizations in more populated areas, thus saving their lives.
It's an interconnected network of pilots, all volunteering their time, planes, fuel and efforts to save animals by flying them to their new homes.
Cutting recently found the opportunity to organize a trip to bring about 120 dogs, many of them puppies, from Alabama and Georgia to Palm Beach County, where, rather than face euthanasia, the dogs could find potential families.
"They sent out an appeal to members to see if anyone was interested in organizing a multiple-plane flyaway to get these dogs, and so I did," she said.
Joining Cutting on Nov. 19 for the journey to pick up her precious cargo are 19 other pilots, some from the Aero Club, some from the Wellington Flying Club, some from the 99s — an international organization of women pilots founded by Amelia Earhart — and some from the community.
"All of these pilots are willing to take their time, their fuel, their planes, and all of that," Cutting said. "The cost of operating these airplanes is not insignificant, and the fact that all of these pilots are willing to do that is tremendous."
Each plane has a unique configuration, she said. Some planes will be able to take more dogs than others, and different crates will fit in different planes better.
The end goal is to bring these dogs to Palm Beach County and pair them up with rescues that will provide them the opportunity to be adopted. "I'm very excited," Cutting said. "We'll be able to do it together now in one large group."
Richard Kane, who has been flying for 30 years, is one of the participants.
"I've completed 10 missions for Pilots N Paws," Kane said. "A normal Pilots N Paws mission is like the Underground Railroad. We'll hand off the dogs from pilot to pilot to pilot. The last one we did, we got them out to Texas. Everyone gets to participate."
Through the Pilots N Paws network, pilots are able to bring dogs from small, remote areas such as places in the Bahamas, and move service dogs to returning military veterans and medical patients.
"It's a way to get these animals right to the people," Kane said, explaining that the dogs are often unable to be flown through a major airport. Through Pilots N Paws, they can be transported directly toward their new life.
Kane was introduced to the program by friends and thought it was a worthwhile endeavor. "It has been very rewarding," he said.
Kenneth Kopp, who serves on the Aero Club homeowners' association board, is also flying.
"It's a good cause. We're going to save some dogs that are most likely to be euthanized," he said. "We're going to take those dogs and bring them to places where they can find homes and have happy lives. You don't need any more reason than that."
Pilots N Paws volunteer pilot Jeff Bennett has moved more than 5,000 animals and helps coordinate transports. He was asked to help Cutting coordinate the Nov. 19 trip. "It means a great deal, especially to the dogs that we save. Almost every dog that we transport is in danger of being euthanized for lack of space," he said. "A lot of these Southern, rural shelters, they don't get a lot of foot traffic. Once a dog goes into one of these out-of-the-way shelters, they usually don't come out."
Rescues in Alabama and Georgia work with Pilots N Paws to find dogs and receiving rescues.
To volunteer as a pilot, visit www.pilotsnpaws.org, e-mail Bennett at keydive@aol.com, or call Cutting at (786) 766-1599 or ailsacutting@gmail.com. To be connected with one of the participating rescues, contact Cutting.
ABOVE: Pilots Richard Kane, Tom Griffith, Kenneth Kopp and Ailsa Cutting in front of Cutting's plane at the Aero Club.