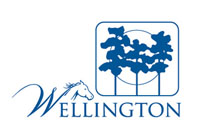 Wellington is currently conducting a survey to see whether a cultural arts center is needed or desired in the community. The village has partnered with an independent consultant to conduct a feasibility assessment on the potential for a community cultural center.
Mayor Anne Gerwig said that the survey is an early effort to see if the idea can gain traction.
"We have been talking about this for years, and every time I do an interview for an election cycle, people ask me what I think is important, and I think cultural arts is important to us," Gerwig said. "However, it shouldn't be what the mayor wants, it should be what the public wants. So, that's the idea, to find out."
There are several potential sites in Wellington for what has been described as a "mini Kravis Center." She personally favors property near the Mall at Wellington Green, which currently has multipurpose athletic fields.
"That's what it's used for now, but it was extracted from the mall for the purpose of a performing arts center," she said, adding that several cultural events have been held there.
The county offered funding for a cultural center at the site after the mall was developed, but that money was ultimately used to help finance the Wellington Amphitheater.
"We built the amphitheater instead, and we're not complaining about that," she said. "However, when it comes to those community events that are at the next level — performing arts, ballet and things like that — you can't do it outside. It's not the right venue for that."
The residents' portion of the survey is now closed, and a business owner survey is underway. The current survey seeks input from businesses such as dance and drama studios as to what they would like, or not.
The results of the residents' survey have not yet been published.
Other steps will be taken for public input, including workshops, if the Wellington Village Council gives the go-ahead, Gerwig said, explaining that surveys are not necessarily reliable.
"We just saw that whole issue on election night," she said. "It's very hard to get people's opinions now."
The workshops she envisions would be more community-driven than previous workshops or town hall meetings conducted by village staff.
"It would be inviting the players to the table in a workshop that is open to the public, and let's talk to the performing arts studio and the children's theater, and let's talk to the local theater people," Gerwig said. "The next step will be not so much the public's input, as the people involved in the industry."
Gerwig added that she is aware of many studios that hold performances at venues outside the village. The Wellington High School theater is used for some local performances, but Gerwig would like to have a performing arts center a step above that, with a more suitable stage for larger performances, as well as a black box theater, and make it more accessible to the public.
"The mall is where I see the entertainment district hub being, not just for Wellington, but the communities around us," she said. "That mall provides a lot of great traffic in and out. If you have a large production, and you have a lot of traffic, you could clear that out of there pretty quickly."
Engineering would have to be addressed for the site, which is prone to flooding.
"But it's definitely large enough, and you have a hotel there. With that being so close, you could have other uses for the venue," Gerwig said. "It might be a place to have conventions. That's what we did the survey for, to see what the demand is."
She is optimistic that the survey results will be favorable.
"I think our community is interested in that," she said, explaining that Wellington seniors get on the bus to go out of town for performances.
"They go pretty far to see a good show," Gerwig said. "I think if we had one locally, they would be big supporters of that."
If the survey results are favorable, and the council approves, she said grants might be available to help underwrite the project.
"The next step would be for the council to come together and decide if it's time to engage in public discussion with the local groups," she said. "If there's no interest on behalf of the council to go any further, at this point I don't want to get everybody at the table, excited about something, and then let them down."
She pointed out that Wellington Elementary School is starting a performing arts magnet program.
"We have an interest in that," she said. "We have visual arts. We have performing arts. Wellington Landings has videography. We have some local things that kind of prepare us for this."
Local performers sometimes use smaller venues at the Kravis Center in West Palm Beach. "That's a long way for our families to go to see a small dance production, and it's expensive," she said.
To take the business survey, visit www.wellingtonfl.gov/centersurvey.