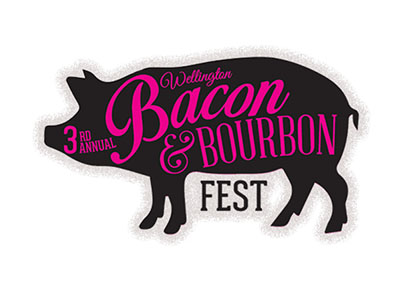 The Wellington Village Council recently approved a co-sponsorship request for the Bacon & Bourbon Fest produced by Delray Beach Arts Inc. to be held March 23-24, 2018.
Nancy Stewart-Franczak made a presentation on behalf of Delray Beach Arts Inc. at the council's Nov. 8 meeting.
"We're proposing the event for 2018 primarily because of the amount of time it takes to redesign and move an event, and come out and introduce ourselves to new partners in your area," Stewart-Franczak said.
The 2018 event will be the third Bacon & Bourbon Fest. It is planned for the area surrounding the Wellington Amphitheater.
"We are an international award-winning event," Stewart-Franczak said. "In two years, we have brought home nine international and six state awards. We are also a fundraiser for local nonprofit organizations. We are staffed by local nonprofits that man various areas of our events. Some of them are based on percentage of proceeds, some of them are based on hourly rates and some of them are based on man-hours."
The event provides a private security team that supplements local law enforcement requirements.
"They have worked with us for 18 years," Stewart-Franczak said. "We supplement all requirements for all of our events. Regardless of the police requirements, we supplement with private security."
The event also has a trash and recycling management team made up of staff supervised by a Boy Scout troop leader.
"We typically do not use parks and recreation in any way in the communities that we work," she said. "We do our own cleanup and our own trash removal."
The event builds custom façades for its Bacon Street food area.
"We have the tents, but we try to dress up the facades of our food line with our custom façades," Stewart-Franczak said.
Street food offerings include roasted bourbon BBQ pork and bacon sandwiches, bacon ice cream sundaes, bourbon and caramel sauce, and a bacon bar featuring chocolate peanut covered, caramel almond, barbeque or pecan rosemary dipped bacon.
"We're into kind of crazy food and entertainment, so you're going to find wacky things," Stewart-Franczak said. "Our big hit is our chocolate-dipped bacon. The first time we ran this, we got killed because we ran out in 45 minutes. We underestimated the popularity of chocolate bacon."
The Bourbon Street Bars feature an eclectic selection of specialty cocktails featuring bourbon.
"We partner with our liquor sponsor, Republic National. They will be joining us here," she said. "These are custom bars that they build with tap systems. The specialty drinks that we do, we have a variety of flavors that come out of a tap system, and then we also have a wide variety of bourbon and whiskey."
The event also does pairing seminars and full dining experiences.
"These are areas that we bring in different representatives from the bourbon companies, and we pair them with restaurants, and they are paired with four different varieties of bourbon and four appetizer portions, and then our dining experiences are four-course, sit-down events. Some of them we cater, and some we have restaurants work with us," she said.
Live music, entertainment and games are also featured, including a "pig race."
"They were arcade games, but they were real popular," Stewart-Franczak said.
Councilman Michael Napoleone said he was excited to see the event moving to Wellington.
"When I saw you guys were going to leave Delray, I reached out and had a meeting to see if we had a possibility to bring you to Wellington," Napoleone said. "I'm glad you met with our staff, and it seems like we're on track to get this thing going for 2018."
Councilman Michael Drahos asked how the nonprofits are chosen and whether Wellington charities would be involved.
Stewart-Franczak said that she will attempt to get local nonprofits involved.
"A lot of the organizations that we have work all of our events with us, but when we go into the community, we meet with the various churches and local nonprofit organizations, and it's a little more difficult than you would imagine because there is quite a specific requirement, a lot of man-hours, a lot of volunteers, so we put them in based on how many people they can commit to us, and their hours, and they have to have adult supervision," she said.
Vice Mayor John McGovern asked for examples of the charities they are working with now, and Stewart-Franczak said they include the Boy Scouts, the Atlantic High School Eagle-ettes, the Caring Kitchen, church groups and more.
"Our model was to work with arts- or education-related [organizations] in a really broad sense," she said. "That was our passion when we started our event, but usually we just go into the community and people come to us."
She stressed that there would be ample opportunity for local organizations to volunteer, but there are some areas where they depend on experienced volunteers, such as cashiers.
Stewart-Franczak said Delray Beach has sharply raised its cost, which is why many of the events are moving away. She added that her company also sponsors the Delray Beach Garlic Fest, now called the South Florida Garlic Fest, which is moving to John Prince Park in Lake Worth in February 2017.