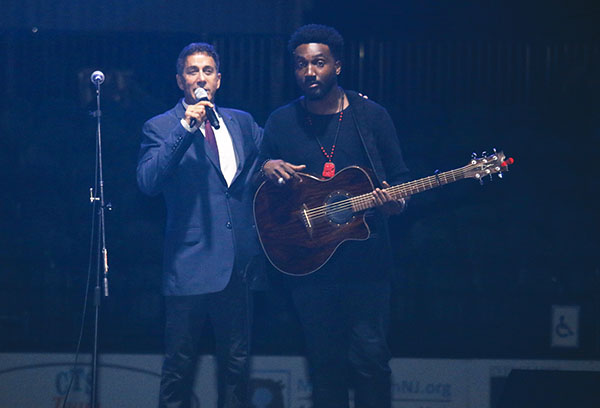 With the arrival of equestrian season comes a very special equestrian contest that doesn't involve horses: the American Equestrians Got Talent fundraiser that benefits the United States Equestrian Federation High Performance Programs through the United States Equestrian Team Foundation.
The competition, spearheaded by U.S. Dressage Team Chef d'Equipe Robert Dover, debuted in 2015. This year's honorary chair is P.J. Rizvi.
From the first audition, Wednesday, Jan. 11, to the last audition on Wednesday, March 8, equestrians and those related to the equestrian industry will take to the stage at the Wellington Community Center's Grande Ballroom (12150 W. Forest Hill Blvd.) showing off their skills — singing, dancing, juggling, twirling and more.
"We're very excited about it. The new ballroom at the community center is totally beautiful and 100 percent under cover. It's such a great venue, and we're really excited to have it for the nine audition weeks," Dover said.
The AEGT grand finale will return to the Adequan Global Dressage Festival grounds on Sunday, March 19.
Aaron Menitoff and Julie Larson of Wellington Hospitality Group will cater a gourmet dinner prior to the show at 6 p.m.
Individual dinner tickets are $60 for one night and $450 for the nine auditions. Standing room tickets for individuals for one night are $10. A table for 10 for one night is $600 and $4,500 for all nine auditions. Additional tickets are available for purchase for beverages, wine, beer and spirits. Limited tickets are available. For reservations, call Patty Scott at (917) 318-0425.
After dinner, the show will begin, which will be live-streamed courtesy of The Chronicle of the Horse. Each week's winner will receive a $1,000 prize and will compete in the March 19 finale.
"I have the DJ that I've had the last two years, and lighting people. It's going to be an awesome event, all under cover on that second floor at the Wellington Community Center," Dover said. "I think it's just wonderful."
Carrie Wirth of EQ Media is looking forward to seeing the show.
"Every year there's such fantastic talent that comes out to compete," she said. "Last year, it was David Willis who won the finale. He was just fantastic."
The combination of amateur and professional competitors, as well as riders, grooms and stable managers, showing off their hidden talents is a fun experience, Wirth said.
Auditions will take place Wednesdays, Jan. 11, Jan. 18, Feb. 1, Feb. 8, Feb. 15, Feb. 22, March 1 and March 8, as well as Tuesday, Jan. 24.
Wirth is looking forward to bringing the excitement of the event to the community.
The March 19 finale will be at the Adequan Global Dressage Festival show grounds in Wellington, with catering by White Horse Catering. When the top competitors display their unique talents in front of friends, family and the community, the equestrian voted most talented will receive a grand prize of $10,000, sponsored by Dover and Robert Ross PA, luxury equestrian Realtor for Keller Williams.
"I'm looking forward to the fact that we're having a Grammy Award winner open our first night, and judge as well… The name of the group is Jackie Boyz. That's exciting. All the way through, we're going to have great judges," Dover said. "I'm very hopeful that we'll have superstar entertainers coming out to try out for the $1,000 that they would win each week if they win, and a chance for $10,000 if they win the finale. I think it's going to be bigger, better, more fun and hopefully more successful for our cause."
Award-winning actress Alfre Woodard was one of the celebrity judges last year. Wirth is looking forward to the 2017 celebrity judge lineup.
Those interested in auditioning — the entire equestrian community, including riders, grooms and others involved in any discipline — are asked to sign up in advance.
Contact Dover at rdover2@aol.com or (561) 758-6186 to set up rehearsal times the day of the audition. If time permits, performers who have not registered will be able to compete.
Current sponsors include the Van Kampen Boyer Molinari Foundation, Cherry Knoll Farm, the Dutta Corp., EQ Media, Gardner Bloemers CFP, the Adequan Global Dressage Festival, Hannah & Friends and Matt Johnson of Engel & Völkers.
For sponsorship information, contact Wirth at carrie@eqmedia.agency.
ABOVE: Event organizer Robert Dover with last year's winner, David Willis.