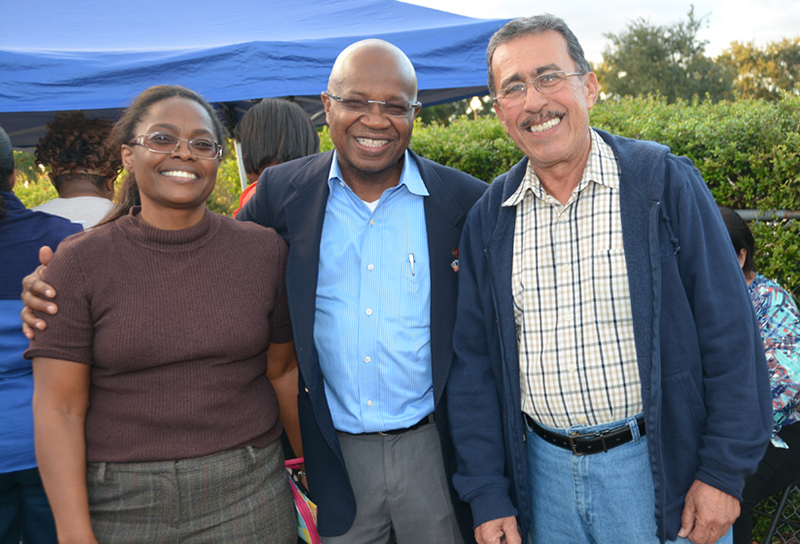 The Royal Palm Covenant Church Food Pantry gave out Thanksgiving supplies, produce and turkeys to residents in need on Tuesday, Nov. 22 from the food pantry's location in the Royal Plaza shopping center.
"Our intention is to make sure that anybody who comes to us needing groceries for Thanksgiving, that they leave here with a Thanksgiving basket," said Pastor Michael Rose, who led a team of volunteers distributing the food items. "We don't want anybody in our community that we can help to go without."
The program was prepared to hand out food to 500 families.
"The numbers that we're working with are about 500 families this year," Rose said. "If we go over 500, and we usually do, we do our best to make sure that everybody leaves with something."
The church's food program received help from a wide array of donors, who provided both food, money and manpower.
Among the major donors, Rose said, were Jess Santamaria and My Brothers'/Sisters' Keeper. The Royal Palm Beach Rotary Club, the Western Business Alliance, REACH, Debt Helpers, Palms West Hospital and the Palm Beach County Sheriff's Office were also big supporters. J&J Produce provided refrigerated trailers to help keep turkeys fresh and also donated fresh produce.
Rose was also thankful for support from Feeding South Florida. "We would not be able to have this food pantry without Feeding South Florida," he said. "Their support is just magnificent."
Rose also praised the 30-plus volunteers who made the project a success. "We want to give a big thank you to all of the volunteers who came out and helped us," he said.
All of this community support makes a major difference in the lives of people served by the church's food pantry.
"There are many, many people in our community who have needs and need help," Rose said. "Even though they might be working, they don't have that extra dollar to do the things that they would like to do. We're just delighted to know that we can help. I will continue to do this for as long as I am pastor at Royal Palm Covenant Church."
Currently, the church does not have a permanent home. It operates the food pantry out of space donated by Jess Santamaria and hosts services at the Regal Cinemas on State Road 7 every Sunday at 10 a.m.
"Everyone is welcome to come and worship with us. We are a church that doesn't believe in just coming together to worship," Rose said. "We serve the community; that's our worship… Even without a church home, we're still able to meet needs in our community. We didn't stop. We will continue. We're about ministry. We're about meeting needs. We're about touching lives. We're about helping people who need help."
The Royal Palm Covenant Church Food Pantry supplies food to the hungry all year round. For more information, visit www.rpcchurch.com or call (561) 793-1077.