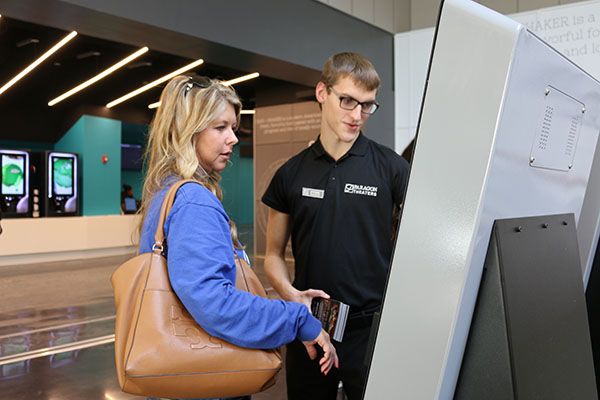 By Shayna Tanen
There's a new attraction on the upper level of the Mall at Wellington Green. Some people just stopped by to check it out, but others were quick to queue up and enter the new Paragon Wellington 10 movie theater.
The theater officially began playing movies on Thursday, Dec. 15 — even during light construction mode — and it will hold a soft opening this Saturday.
"It's like a sneak preview," said Ryan Carson, Paragon Wellington 10's general manager. "We're going to have the theaters open, give people the chance to come in, look around, see some movies and see what we're providing."
The Wellington theater is one of four Paragon Theaters in Florida. It will feature 10 movie screens, reclining leather chairs with footrests and tray tables, a full bar, a restaurant, reserved seating and one theater with a Dolby Atmos wall-to-wall screen with surround sound.
"Paragon's philosophy is the guest experience," Carson said.
That's evident in features like giant self-serve soda machines, which allow you to add flavor shots and customize your drink. Beer and wine will be available on draft, as well as in bottles, Carson said.
Plus, adjacent to the theater is its restaurant, Cask + Shaker. Billed as a "modern American gastropub," it is unique to the Wellington location and will open soon. Carson said guests can order food at the restaurant and enjoy their full meal inside the movie theater.
The theater is located on the second floor of the mall near Macy's and can be accessed from the outside. Carson said Paragon chose the Mall at Wellington Green because of the beautiful area and the number of people coming from other areas to visit.
"It's a place that needed a theater with the high quality that we want to deliver," he said. "It's the perfect place for us to go."
Rachelle Crain, the mall's marketing director, said that shoppers have been eagerly awaiting the arrival of the theater.
To create hype and market the theater's opening, chairs near the theater were switched out for the leather recliners featured inside the movie theater.
Additionally, Paragon staff members are offering tours of the theater and acquainting people with the ticket kiosks before the grand opening sometime in January.
"[The theater] is adding an element of entertainment to the mall that's going to be very well-received by our shoppers and the community surrounding the mall," Crain said. "We're delighted to partner with Paragon."
The Paragon Wellington 10 is located at 10312 W. Forest Hill Blvd. in the Mall at Wellington Green. For more information, visit www.paragontheaters.com.
ABOVE: Paragon staff member Marcus Jenkins (right) shows Laurien Sirianni how to use the ticketing kiosk.