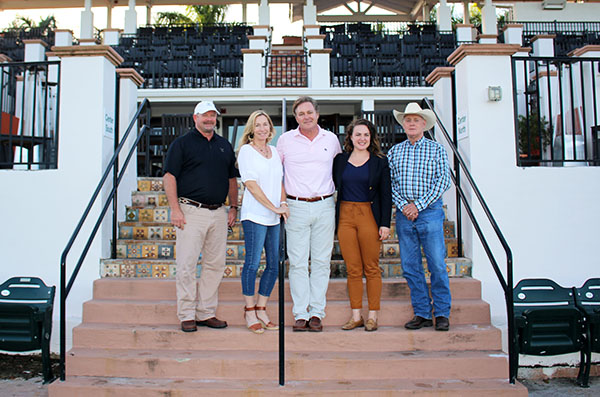 Change is in the air at the International Polo Club Palm Beach. It's on the fields, in and around the buildings, and just about anywhere you can see — including many things that may not be obvious.
Many of those changes — and there are plenty more exciting ones coming up — will be apparent at the upcoming season opener on Sunday, Jan. 1 featuring the Herbie Pennell Cup Final. SuperCars will be bringing 30 exotic cars to display around the Pavilion, and the national anthem will be sung by the Palm Beach Opera. Tickets start at $30.
"We're thrilled that it's on New Year's Day," said Katherine Bellissimo of Wellington Equestrian Partners, new owners of the facility. "I think it will be really fun as an activity for everybody."
As spectators enjoy the view from assigned stadium seats, they'll have a spectacular view of the action as some of the top horse-and-rider pairs gallop across the lush green polo fields — meticulously maintained by Director of Facilities Ray Mooney and his staff.
"I'm excited about the fields," Mooney said. "We've done everything we can do to them."
New equipment has aided in upgrading the fields. On Field 1, an acre-and-a-half of sod was put down, which has taken root well with the warm weather.
"I'm excited about the fields. They look really good. I don't remember them looking the way they do now," Director of Polo Jimmy Newman said. "I know they look better than they did the last couple of years this time of year."
The first match of the season can't come soon enough for Newman. "I'm really excited to get started now," Newman said.
And, in just a few short days, the 2017 polo season will be here, as a new, improved IPC is unveiled to the community.
Mark Bellissimo and his partners purchased IPC at the end of the 2016 high-goal season, shortly after purchasing the Wanderers Club. The partnership also owns and operates the Palm Beach International Equestrian Center, the Winter Equestrian Festival and the Adequan Global Dressage Festival.
"With show jumping, dressage and polo, those are the three pillars of the Wellington equestrian economy," he said. "I think by integrating them, for the first time, we're going to be able to cross-pollinate within those venues and within those disciplines and sports, but also present packages to the community as options for them to go on Friday, Saturday and Sunday."
Everyone is welcome at all three venues, regardless of their equestrian experience, the Bellissimos emphasized.
"Our goal and our vision as an organizer and a community resident is to make this much more accessible and much more engaging for a broader audience of people. We're confident this will be a great new start for the polo season and the equestrian season in general," Mark Bellissimo said. "Our hope is that we can really take Wellington to the next level. We've made large investments and are committed to this community across many different dimensions."
The Pavilion is undergoing a transformation that will make it lighter and brighter, with more seating options and an even better location for a sideline view of polo while enjoying the delicious Sunday Champagne Brunch. Tickets start at $125 per person for veranda seating, with packages for two and six that include Veuve Clicquot champagne. An even more exquisite experience can be had with entrance to the Seminole Casino Coconut Creek Coco Polo Lounge, with field-side lounge seating, specialty foods, a gift and a complimentary glass of Veuve Clicquot.
The Vueve Clicquot Champagne Garden and the Ketel Kitchen are open to the public. The Ketel Kitchen will feature specialty Ketel One drinks for sale, food items and a seating area.
"We're going to have more expanded retail options through the season," Katherine Bellissimo said.
There will also be high-level, high-profile retailers at IPC for the season. "One of the things we've been able to do is leverage all of our operations from the showgrounds and dressage, as well as some of the same people from the Wanderers Club," she said. "We're going to be handling the Pavilion. All of the hospitality is basically going to be done by us and our staff, which has been great."
Well-known local restauranteur Juan Gando from Oli's and the Grille will be managing how the Pavilion is run.
Polo, often a family sport, is incredibly family-friendly. The Kid's Fun Zone, sponsored by Wellington Regional Medical Center, offers free admission and special events for children ages 5 to 10. Different activities and events will be offered each week, entertaining and delighting youngsters when they need a break from the field action. Some of the special activities may include face painting, a petting zoo, crafts, games, fire education, interactive sports, bounce houses or rock climbing, a giant slide and more.
"Wellington Regional really wanted to step up to emphasize that they're our community and they're not just an emergency room," Katherine Bellissimo said. "They're really a place that has state-of-the-art technology and doctors."
New and returning sponsors include the AIG Private Client Group, Engel & Völkers, the Fipa Group, the Four Seasons Resort Palm Beach, Ketel One, Lugano Diamonds, Seminole Casino Coconut Creek, the United States Polo Association, U.S. Polo Assn., Veuve Clicquot, The Wall Street Journal, the Wanderers Club and Wellington Regional Medical Center.
There will be various experiences throughout IPC where spectators can learn about the sponsors and have a great time at the polo grounds. New and exciting surprises are in store for the season.
"We've always been here as spectators and club members," Katherine Bellissimo said. "To be able to have the time and get to know the team and make the investment and bring a little bit of what we do with show jumping, in terms of the experience for everybody, so that they feel comfortable coming week after week — it's not always going to be the same.'
Mark Bellissimo is excited to bring polo back to how it was when Wellington first started.
"Polo was sort of the origin of equestrian sport in Wellington going back to the 1980s," he said. "At that point in time, it was a community event. The whole community came out. Similar to what we've done with the Palm Beach International Equestrian Center and Global Dressage, we want this to again become a community experience."
Polo matches get underway at 3 p.m. each Sunday. First up is the 20-goal season starting with the Herbie Pennell Cup Final on Jan. 1. That will be followed by the Joe Barry Memorial Cup and the Ylvisaker Cup. The C.V. Whitney Cup will launch the 26-goal season in late February, followed by the USPA Gold Cup and the USPA 113th U.S. Open Polo Championship. After the traditional high-goal season, on April 30, the Federation of International Polo championship will take place hosted at IPC by the USPA.
The International Polo Club Palm Beach is located at 3667 120th Avenue South in Wellington. For more info., visit www.internationalpoloclub.com or call (561) 204-5687.
ABOVE: Ray Mooney, Katherine and Mark Bellissimo, Tannis Marley and Jimmy Newman in the grandstand area at IPC.