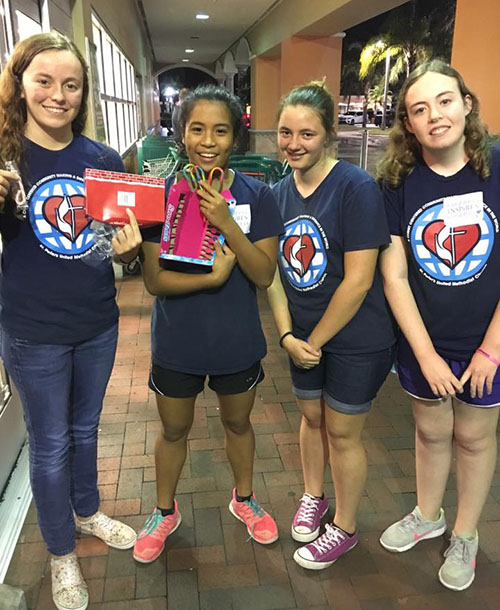 On Sunday, Dec. 11, just after the 33rd annual Wellington Holiday Parade, the St. Peter's United Methodist Church Youth Group took to the area to offer random acts of kindness.
"We went out into the community, into Wellington and into Royal Palm Beach, just spreading a little bit of Christmas cheer, holiday cheer, to the area, doing some random acts of kindness," Director of Youth Ministries Samantha Scott said. "We decided we would spread a little bit of joy through our actions and being kind to others."
Twenty-seven youth joined 10 adults on this mission of kindness. The students were in sixth through 12th grade, with some college students returning to help.
Encouraging sticky notes with messages telling people how awesome they are were placed around the community. The students bought coffee for people at Starbucks, paid for someone's dinner at McDonald's and Taco Bell, gave out candy canes in a parking lot, passed out candy and placed sticky notes in Target, and went to three fire stations to deliver pumpkin bread. They also visited a nursing home and delivered flowers.
The church's pumpkin bread, Scott said, is well-known in the community. They use pumpkins from the popular church pumpkin patch to make it. This year, the group froze some of the bread to pass out during this special holiday event.
"They did some really cool things," she said. "The reactions were fantastic. Lots of people were a little suspicious about what we were doing, but when we explained that we were just doing some random acts of kindness, and the youth group just wanted to get out and spread some of God's love, the people were very accepting."
In Starbucks, one woman was stunned speechless by the offer to buy her coffee. The unexpected surprise made her day.
"It made us realize how many times we don't go around just being nice to people. That's what the kids got out of it. They were quite impressed that everybody was so suspicious," Scott said.
At Barnes & Noble, the kids held the door open for people and left dollar bills in books that they thought would be bought as Christmas gifts.
A woman in Target who received a box of candy was so touched that she asked to hug the teens. Notes were placed in stockings in the dollar section and by the chocolates.
Over at Publix, the kids left popcorn on the movie rental machine as a treat to go with a movie.
"This was our first year doing it. I'm pretty sure that we were excited enough when we got back, telling our stories, that we will be doing this next year," Scott said. "We're hoping it's going to be a lot bigger."
The youth group students had a great time during the event.
"I loved going out for the random acts of kindness event, mostly because it allowed me to explore new ways to introduce kindness into my community — actions that I can make a habit of," 15-year-old Ben Reid said.
His favorite part of the activity was seeing people's reactions, which were a mixture of complete joy and confusion.
Caroline Scott, 14, enjoyed going out into the community to show kindness to strangers.
"My favorite part was the eye-opening fact that many people didn't expect kindness at all," she said. "Whenever we did something, they had a look of confusion on their face. It always took them a while to realize what was actually happening, until the look of pure joy covered their face. It was just an amazing experience."
For Regan Maxwell, 12, seeing people's reactions, whether they were speechless or told the children how kind they were, was the best part. "I liked it because you get a very good feeling inside and just to know you made someone's day and made someone feel good," Maxwell said.
When the youth group returned after their evening spreading cheer, they were eager to share their experiences.
"All of them were like, 'It's just amazing how people aren't used to getting any kindness, that they don't even know how to accept it,'" Samantha Scott said.
To learn more about St. Peter's United Methodist Church, located at 12200 W. Forest Hill Blvd. in Wellington, call (561) 793-5712 or visit www.stpeters-umc.org.
ABOVE: Youth group members give out candy canes in a parking lot.