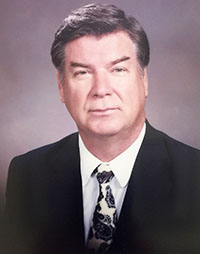 Wellington pioneer Paul Adams, a member of the inaugural Wellington Village Council, died Thursday, Dec. 8 after a long illness.
When he was elected in 1996, Adams was the only member of the inaugural council who was not previously a member of the Acme Improvement District Board of Supervisors, Wellington's pre-incorporation government. He served one four-year term, including two years as vice mayor.
After leaving elected office, Adams continued serving the village in appointed positions, notably on the Planning, Zoning & Adjustment Board, where he used his expertise in commercial real estate to help Wellington become more of a self-sustaining community with employment, entertainment and shopping opportunities, instead of simply a bedroom community full of commuters.
His several stints on the PZA board continued until earlier this year.
Adams served as president of the Wellington Lions Club and was a past president of the Wellington Chamber of Commerce. He served on the board of the Palms West Chamber of Commerce and on the Wellington Landings Middle School Advisory Board — even co-authoring the school's mission statement. He supported the Neighborhood Crime Watch program and was a youth recreation coach in pre-incorporation days.
Those who knew Adams already feel his loss.
Former Mayor Tom Wenham considered Adams a friend, often holding long phone conversations as the two caught up on each other's lives and the happenings of the village.
"Paul was a good man, a good family man," Wenham said. "He really loved this community and wanted to do what's right. I hated to see him go, especially as a fellow veteran."
Born in 1944, Adams served in the U.S. Marine Corps as a non-commissioned officer. He attended the University of Southern Mississippi.
"One of his main things was to do what's best for this community," Wenham said. "He always asked, 'What was the best for this community?'"
Mike Nelson, president of Effective Solutions, knew Adams for more than two decades.
"I have worked professionally with Paul for more than 20 years. He was the ultimate professional," Nelson said. "He was very much trusted and respected in the business community."
Adams was very knowledgeable about how Wellington worked, noted former Mayor Dr. Carmine Priore.
"Paul was always a great guy to be around and to understand the mechanics of what was going on," Priore said. "Paul will be missed."
Former Mayor Kathy Foster — who, like Priore and Wenham, served with Adams on the inaugural council — will also miss him.
"Paul Adams was a friend, and he was a good man. He was a good husband, a good father, a good grandfather and he was a good citizen of Wellington," Foster said. "He gave his time and energy on the first council, and really even after that and before. He was a coach for the kids' soccer games. He was really a dedicated Wellington resident. He was willing to do whatever we needed to make it the kind of community we have today, and he will be sorely missed."
Wellington Village Manager Paul Schofield worked with Adams over the years. They would often get together for breakfast or lunch to catch up.
"He was a good friend for all of the years that I knew him," Schofield said. "He was somebody who when he said he would do something, he did do it. He worked very hard to make Wellington a much better place."
According to family friends, a memorial service will be planned, but details are not yet available.
ABOVE: The late Paul Adams.