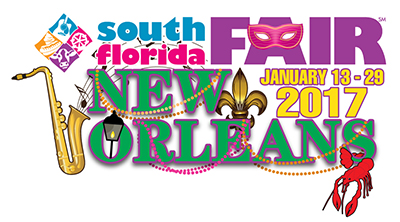 The South Florida fair will bring its own version of Mardi Gras to life — complete with elaborate floats and daily parades, colorful beads and Louisiana-style entertainment and food — as it carries out a New Orleans theme for the 2017 fair, which will run Jan. 13-29 at the South Florida Fairgrounds.
The fair will continue its tradition of kicking off the night before, 5 to 10 p.m., Thursday, Jan. 12, with its popular ride-a-thon.
Straight from New Orleans' Mardi Gras World, guests will experience brightly colored decor, props and floats as they enter the main exposition center. A Mardi Gras parade will take place daily, and fairgoers can enjoy New Orleans cuisine along with the usual fair food. Chef Landry, who hails from Louisiana, also will entertain audiences by bringing an interactive show of Cajun cooking, stories, jokes and authentic bayou cuisine.
The fair's entertainment will feature eight national bands ranging from Christian rock and country to Cajun and old-time rock 'n' roll, along with more than 150 local and regional bands, dance groups, school choirs and jazz bands on four stages.
The lineup includes the legendary Dr. John, a six-time Grammy Award-winning musician and Rock & Roll Hall of Fame inductee, and the Preservation Hall Jazz Band, whose name is derived from the venerable Preservation Hall, located in New Orleans' French Quarter.
A number of other New Orleans-styled bands also will perform, including Crawdaddio, Funky Gumbo, Jazz Phools and the Porchdogs. Additional entertainment will include professional singers who will impersonate B.B. King, Harry Connick Jr., Fats Domino, Louis Armstrong and Irma Thomas.
Multiple ice skating shows themed "New Orleans on Ice" will take place daily, and the fair will set up a replica of historic Jackson Square, one of the most popular attractions in New Orleans' French Quarter, where local artists create artwork and show their work on the square's iron fence while visitors enjoy nearby merchants, museums and restaurants.
For the first time, Bayou Ghost Tours will be conducted in Yesteryear Village every night at 9 p.m. Sunday through Thursday (excluding Jan. 29), and at 10 p.m. Friday and Saturday for an additional $10, which will include walking quietly through two on-site houses and the bait and tackle shop, where guests will hear stories about fishing accidents and New Orleans swamp stories. Perhaps they'll even spot or hear a ghost weighing in!
Another new attraction is the Tricky Dogs show, a circus-style comedy dog act featuring Rick Martin and his talented cast of canine clowns, who will perform an action-packed show full of surprises and laugh-out-loud comedy. The show appeals to all ages, but kids especially appreciate the way that the dogs appear to be out of control and a little bit naughty, making Martin the brunt of the jokes. Martin rescued all of the dogs from animal shelters.
Lady Houdini, the name given to Kristen Johnson by an "Inside Edition" producer at CBS Studios in New York, will inch ever so close to breaking the immortal Harry Houdini's record for the most Water Torture Cell escapes ever performed, which historians and magic aficionados worldwide estimate to be just slightly more than 1,000. She has successfully performed 972 public escapes and will make more than 20 appearances during the fair as she attempts to break Houdini's record this year. Considered to be the Houdini of the 21st century, she has a knack for taking an ordinary magic escape and putting her signature brand on it. In the case of the Water Torture Cell, she decided to not hide the escape as Houdini and everyone since, but to perform it in full view.
Other features include more than 80 rides on the Wade Shows midway, hypnotist Tyzen, the creative crafts and skills competition, the Hambone Express racing pigs, the Starz of the Future competition and the Miss South Florida Fair Scholarship Pageant.
Advance discount tickets are on sale now at Palm Beach County Publix supermarkets, Bud's Chicken & Seafood and Palm Beach County BB&T Bank branches, and online at www.southfloridafair.com through Jan. 12 at midnight.
Adult admission, 12 and older, is $10 in advance and $15 at the gate. A child's admission, under 12, is $5 in advance and $8 at the gate. Age 5 and younger are free. Those who are 60 years of age and older pay $7 in advance and $9 at the gate.
Tickets for the ride-a-thon are $20 and $15 with a coupon, which will be available at the South Florida Fair's booth during local community events and on the fair's website, www.southfloridafair.com, starting Jan. 6.
The South Florida Fair is produced by the South Florida Fair/Palm Beach County Expositions Inc., a nonprofit organization. For more information, call (561) 793-0333 or visit www.southfloridafair.com.