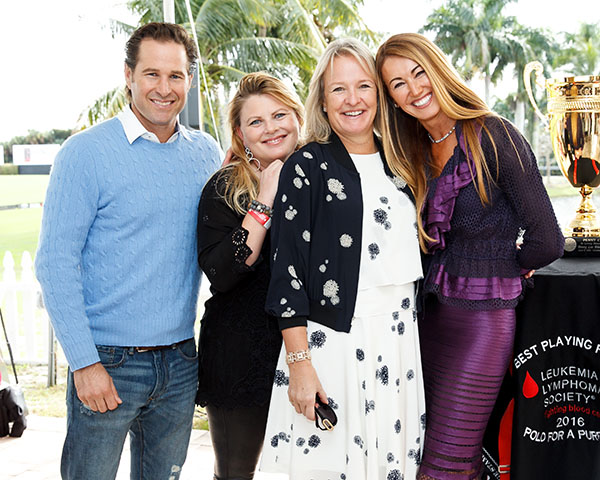 Polo aficionados and leukemia and lymphoma survivors came out in droves last January, with more than 600 attendees raising more than $365,000 for the Leukemia & Lymphoma Society during the third annual Polo for a Purpose event.
This year, co-chairs P.J. Rizvi, Visse Wedell and Penny Bradley are raising the stakes with the inclusion of a post-match concert by Gipsy Sound Revolution during the fourth annual Polo for a Purpose event on Monday, Jan. 16.
The action-packed day begins at noon at Wellington's International Polo Club with a poolside cocktail reception, followed by a gourmet lunch with live and silent auctions.
Fans and attendees are then invited to watch a thrilling four-on-four high goal polo match featuring top-ranked players, including non-Hodgkin's lymphoma survivor and Polo for a Purpose Honorary Chairman Brandon Phillips.
The day ends with Gipsy Sound Revolution taking over the fields for a live concert. Four decades and 80 million records since Gipsy Kings burst upon the music scene, Gipsy Sound Revolution, featuring original members of both Gipsy Kings and the gypsy clan of Rajasthan, is the wild expression of music at its most joyful.
All proceeds from Polo with a Purpose will benefit LLS's mission to cure leukemia, lymphoma, Hodgkin's disease and myeloma, and improve the quality of life of patients and their families.
While this event raises money for lifesaving blood cancer research, it also helps support local patients and their families by providing critically needed financial aid.
The public is invited to join the fun during the polo match and concert with the purchase of stadium seats. For more information, or to buy tickets for the reception, luncheon and auction along with the match and concert, contact Pamela Payne at (561) 616-8682 or pam.payne@lls.org, or visit www.poloforapurpose.org.
ABOVE: Brandon Phillips, Visse Wedell, Penny Bradley and P.J. Rizvi.