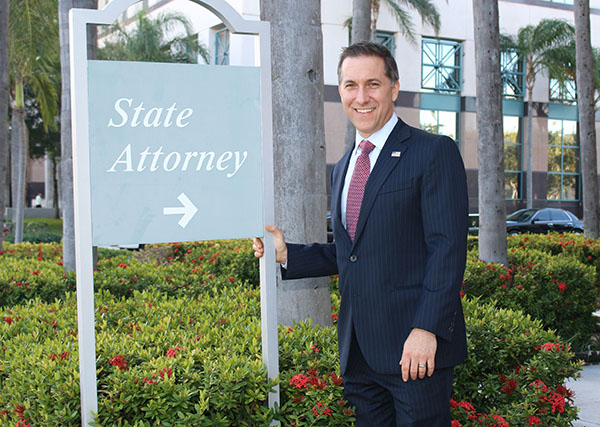 After four years on the job, Palm Beach County State Attorney Dave Aronberg is proud of what his office has accomplished so far, and he is working to further those accomplishments as he begins his second term as the county's top prosecutor.
"When I campaigned for state attorney four years ago, I spoke of the need to increase our conviction rates, which were the lowest in the state, and decrease our juvenile direct file rates, which were among the highest in the state," he said. "I'm proud that we've been able to do both."
Things have been busy at the state attorney's office, with 120 prosecutors, 200 support staff and 60 volunteers spread across five locations. Each year, 60,000 cases are prosecuted; 13,000 of those are felonies, 3,000 are juvenile cases and the rest are misdemeanors.
Aronberg's office is the largest and most diverse law firm in Palm Beach County, he said, with women now making up the majority of prosecutors.
Recent statistics showed that 75 juveniles were charged as adults in 2015-16, which is down from the 136 juveniles charged as adults in the previous year.
"We wanted to steer nonviolent juveniles away from the adult court system and into the juvenile system, which is the purpose of having a juvenile system to begin with," Aronberg said. "We need to focus on rehabilitation and ensure that we don't create a new generation of violent criminals."
For juveniles who commit violent crimes, or are habitual criminals, where juvenile sanctions haven't worked, they will continue to be direct filed as needed, he explained.
"Ultimately, the No. 1 priority of this office is to protect public safety and stand up for victims of crime," Aronberg said.
The office focuses on differentiating between a violent juvenile and a nonviolent juvenile. For example, it has been found that a nonviolent juvenile can be reformed, but if you place that nonviolent juvenile into adult court, it increases the likelihood of the juvenile becoming an adult criminal.
For nonviolent juveniles, he said, treating them as adult criminals places them in a situation where their lives are ruined by a process that is disproportionate to their actions. Cases are evaluated on their own merits to best determine how to proceed, he said.
"Because we have the enormous power of depriving people of their freedom, we need to be right every time and treat our power with humility, and that's what I believe we've done," Aronberg said, stressing that the office is always striving to improve.
A top priority has been the controversial subjects of sober homes and the heroin epidemic.
Aronberg was on the front lines in the fight against pill mills while in the state legislature and in his time with the Florida Attorney General's Office, and now that many of those have been shut down, former users are turning to heroin.
The government has been reactive, rather than proactive, in addressing such problems, and only when an epidemic happened did the state react and finance a task force.
There are three groups working to get ahead of sober home issues, Aronberg explained. First, law enforcement is investigating, arresting and prosecuting sober homes that break the law. Second, community experts are being brought together to suggest changes to existing law to protect those in rehabilitation.
Finally, citizens from all walks of life are asked to provide tips on rogue sober homes and treatment centers, suggesting how to improve the laws at both the state and local level.
"Now that we've made 11 arrests, we have seen a shutdown of many sober homes, and we are concerned about a potential homelessness problem, where the residents, at the lowest points of their lives, are being thrown out into the street with no hope and no place to go," Aronberg said. "We're looking for local and state solutions for this new impending crisis."
As he, and the task force, focus on cleaning up the sober home and drug treatment center industry, there is a need to find alternatives for individuals in rehabilitation facilities caught up in the crackdown.
Two other successful programs that Aronberg is proud of are the first-time DUI diversion program and Veterans Court.
"Our first-time DUI diversion program," he said, "is the only program of its kind endorsed by Mothers Against Drunk Driving. We have a success rate approaching 99 percent. It has been extremely effective in preventing recidivism and also giving otherwise law-abiding individuals who make a mistake to get their life back. It's a very rigorous program. It's much tougher than if the person is found guilty at trial for DUI. To fulfill the programs requirements, you have to jump through a lot more hoops, and it's much more rigorous than pleading guilty."
After the program is completed, instead of appearing as a DUI on the driver's record, it shows up as withholding adjudication for reckless driving. It's very rare that someone recommits, Aronberg said, noting that the program is much more successful than if there was no program in place.
Veterans Court allows military veterans with PTSD or other conditions, who commit offenses such as drug crimes, to go to a special court and take responsibility for their actions. They are given mentors from the military to help lead them through their difficulties and get them back on track, allowing for a new lease on life.
"Anytime we do a diversion within Veterans Court, it must be approved by the victim, if there is a victim involved," Aronberg noted.
As Aronberg continues in his second term, which began this month, he wants to continue focusing on the issue of sober homes and drug abuse.
"We want to reduce the number of people dying from heroin abuse and to clean up the worst sober homes in our community that are destroying neighborhoods and ending lives prematurely," he said.
He also wants to continue sending a clear message that animal cruelty will not be tolerated by continuing to prosecute those who show cruelty against pets and horses.
"You can tell a lot about a society by how it treats its most vulnerable, and that includes our animals," Aronberg said, explaining that animals are completely dependent on their humans and don't have the ability to call 9-1-1. "They depend on good people to speak up, and we'll take it from there."
Aronberg advocates for animals, including his basset hound, Cookie, that he adopted from Big Dog Ranch Rescue.
Coming up soon, the State Attorney's Office, with the Palm Beach County Sheriff's Office, the Clerk & Comptroller's Office and the Board of County Commissioners, is holding a Sealing and Expungement Workshop on Thursday, Feb. 2 from 3 to 7 p.m. at the jury room and cafeteria of the main courthouse, located at 205 N. Dixie Highway in West Palm Beach.
"This is important because it's rare for law enforcement to hold such a workshop," Aronberg said. "Our goal is to keep the community as safe as possible. One way to do that is to get people who have made a mistake in their past, who have reformed their lives, to get back into normal society. One way to do it is through sealing and expungement of certain eligible crimes. This is not for murderers or any violent crimes… but low-level crimes that are statutorily designated for sealing and expungement. It's already law, but most people don't know how to navigate the complex system, so we're going to help them."
Keeping people safe in the community, he said, doesn't end after prosecution. The office has an ongoing responsibility to ensure that those who commit crimes are provided with proper incentives to not commit crimes again.
Individuals interested in the Sealing and Expungement Workshop need to bring their Florida driver's license, Florida-issued photo identification or U.S. Passport. Additionally, bring any old paperwork on the arrest. Call the office if it occurred before 2008. To reduce wait time, complete the application at www.sa15.org ahead of time. For more information, call (561) 355-7373 or (561) 355-7313.
ABOVE: Palm Beach County State Attorney Dave Aronberg began his second term as the county's top prosecutor this month.