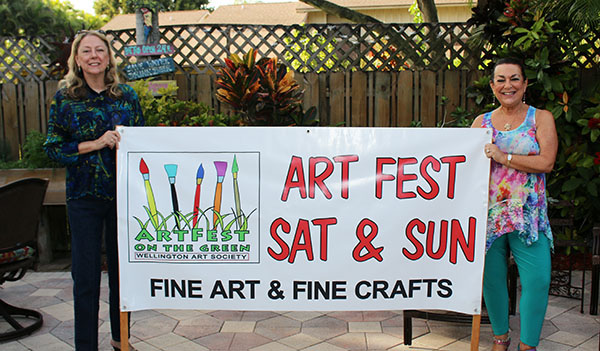 Organizers of the Wellington Art Society's Art Fest on the Green are putting the finishing touches together for the 11th annual juried fine art and craft show, which will take place Saturday, Jan. 28 and Sunday, Jan. 29 at the Wellington Amphitheater.
This is the first year that the group utilized digital applications, Wellington Art Society President Sandy Axelrod said, which significantly increased the number of applications.
More artists were attracted to the event due to the ease in applying, First Vice President Leslie Pfeiffer added.
"The talent was amazing," Axelrod said.
About 70 artists applied to fill the more than 50 slots for Art Fest on the Green, including almost a dozen local Wellington Art Society members, event co-chair Adrianne Hetherington said.
With people on a wait list, artists are coming from as far as New York to attend and show at Art Fest on the Green in Wellington.
Artist Len Jagoda from Georgia will be attending and unveiling one of his newest pieces — a commissioned portrait of American Pharoah, the 2015 Triple Crown winner.
"We have a couple of artists who are doing the same thing, showing their more recent work at our show," Pfeiffer said.
Artists will present their artworks made of metalwork, fibers, textiles, ceramic, sculpture, painting, kinetic sculpture and other forms.
"We're excited about the range of mediums and the level of artistic excellence. It's about creativity and connecting with the community. We have a tradition of showcasing artists, their creativity and artistic excellence at this show," Pfeiffer said. "It's a good opportunity for our members, as well as emerging artists and professional artists."
Axelrod is excited to shop around and see what the artists have to offer.
"I think reaching out to the community and interacting with the people who come to the show, that's honestly the best part of a show," Axelrod said. "When they're in your own community, that's even nicer."
The show originally began as a one-day event for members, Hetherington said, and has grown ever since. "This whole event is really fun," she said. "We're all volunteers… so it's a very personalized show."
Community members have the opportunity to communicate with the artists and learn about the medium used and the process the artist goes through.
Through communicating with the artists, Pfeiffer learned that because Art Fest on the Green is run by a community art organization and not a professional show organization, many artists were interested in participating.
"That was great to hear," she said. "They liked that aspect."
Through the entire process, Axelrod said, the organizers have been in contact with the artists.
"I think when the artists looked at the call to artists and looked at our web site and saw the different programs that we do, the scholarship awards that we give, and the community outreach programs that we do, they liked all of that. That really resonated with their connecting with community," Pfeiffer said.
Art Fest on the Green acts as the Wellington Art Society's major fundraiser of the year.
It has become expected by the community, Pfeiffer said, adding that art and culture are important when people are looking for somewhere to live, and the art society provides a great deal of art and culture with between 100 and 150 pieces of artwork available to the public on a daily basis.
There are shows — each with their own reception — at the Wellington Community Center, Whole Foods Market and the Wellington Municipal Complex, plus displays at Oak Bistro & Wine Bar.
The program of placing local artwork at Whole Foods has been so popular that two other stores have modeled their own programs after the Wellington Art Society's program.
At Art Fest on the Green, artist tents fill the amphitheater lawn, where children can easily run over to Scott's Place Playground.
In addition to music by Wellington Art Society member Bobby Gugliuzza, there will be food trucks, demonstrations and a children's art activity tent run by Jeanne Bootz of the Bootz Cultural Arts Center.
This year's judge is Laura Paboojian, a certified fine art appraiser and member of the IFAA, the International Fine Art Appraisers.
A record attendance is expected, Pfeiffer said.
"The volunteers are key to this. We couldn't do it without our members all being on the same page. They're all very supportive," Pfeiffer said. "It really achieves many levels of what we try to do in the community."
Art Fest on the Green is a free, family-friendly event. It will run from 9 a.m. to 5 p.m. on Saturday, Jan. 28, and 10 a.m. to 4 p.m. on Sunday, Jan. 29.
"It's artists for artists. We're not business people," Pfeiffer said.
"It's a labor of love," Axelrod added.
Wellington Art Society monthly meetings are open to the public. For more information, contact Pfeiffer at mysticway1@bellsouth.net or (561) 632-3677, Hetherington at tilemaker@aol.com or (561) 301-4498, or visit www.wellingtonartsociety.org.
ABOVE: Leslie Pfeiffer and Sandy Axelrod invite you to visit Art Fest on the Green next weekend.