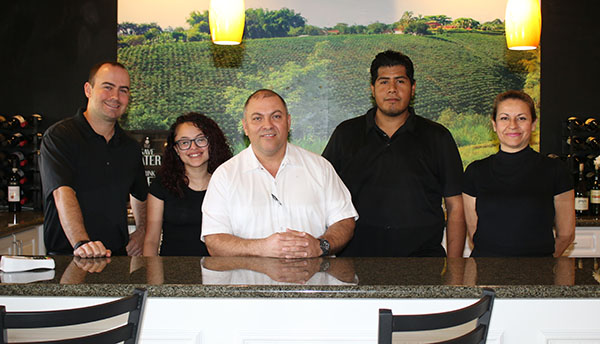 After a six-month hiatus, Fidel Alvarez's Centanni Café is back in a new location.
Alvarez is serving up his popular Italian cuisine, this time in Wellington's Village Walk community.
The menu is largely the same, although this time, instead of the dinners offered at his former State Road 7 location, all of the meals are perfectly sized for lunch.
"With the menu, what I decided to do is do a small menu, with smaller portions, so I can bring the prices down," he said. "I call it a lunch menu all day. Salads, subs, pizza, pasta, chicken, veal. I have a little bit of everything at a very reasonable price."
For Alvarez, who came to the United States in the 1980s from El Salvador, Italian food is what he knows. When he first moved here, he started working as a dishwasher at an Italian restaurant and worked his way up.
"If you ask me to cook rice and beans, I can't do it. If you ask me to cook an Italian dish, I can do it with my eyes closed," he said.
The first Centanni's opened in New Jersey, in 1999. When Alvarez moved his family to Florida in 2004, he reopened on SR 7, just north of Southern Blvd.
However, Village Walk is now the café's home.
"A lot of my regular customers live here," Alvarez explained.
After his lease expired, he spent several months searching for a new location. One of his customers contacted him one day and suggested the Village Walk site.
And by Dec. 20, he opened his doors again.
"It's a nice community, nice people. So far, everything has been nice. Everybody is happy. Everybody is excited," he said. "I was afraid that the name would disappear… Thanks to this location, I was able to reopen fairly quickly."
While it is located inside a gated community, Centanni's isn't only for Village Walk residents. Those wishing to dine at Centanni's, or take food to-go, need only call, make a reservation, and they'll be let in at the gate.
"It creates a balance of security for those in Village Walk, and accessibility to those who want a great meal," Alvarez said.
Dine in, take out (through Delivery Dudes) and catering is available. Indoor, outdoor and poolside seating is also available, making escaping the heat, enjoying eating poolside, or enjoying gelato and coffee, tea or wine while watching the sunset all easy and convenient.
"The response from the community has been amazing," Alvarez said. "A lot of my old customers have started trickling in. They've finally found me, and they're happy to see that I'm back. I'm really happy about it, and I think it will be great for everybody."
As a special convenience for Village Walk residents, Alvarez is stocking milk, eggs, soda and other small items available for purchase to save residents from having to go to the store for something simple. As he receives feedback, the items may change, or more items will be added.
"Sometimes you don't want to go all the way outside to get a gallon of milk, or a dozen eggs," he said. "If somebody comes for a 6-pack of beer, they can grab it and go home. I'm a bit more than just a little restaurant. We're trying to hit whatever we can to keep the community happy."
Alvarez is also offering special family-style meals, including salad and pasta, available in two different sizes, serving two or four people, catering trays to feed 10 to 12 people, and all sorts of starters, salads, pizzas, subs, specialties, pastas, soups, sides and kids food, in addition to hot and cold beverages and desserts, such as mini cannolis, tiramisu and gelato.
For former customers, many familiar faces still work at Centanni's. Though Alvarez wasn't able to bring back all of his former employees — some had found work elsewhere during the hiatus — he welcomes them with open arms.
Alvarez wants residents of Village Walk, and the greater community, to feel comfortable popping in for gelato or coffee.
"Many people sit down, order gelato and call it a day," he said, adding that some customers stop by for coffee, stay and chat a while, and then go about their days.
For customers who would like to stay a while longer, Centanni's offers salads ranging from a house, Caesar, arugula or Tuscany salad to the cranberry romaine with gorgonzola. Pizzas, subs with chicken, eggplant parmigiana, meatball parmigiana, chicken parmigiana, veal parmigiana and more are grab-and-go favorites.
Specialties include Chicken Marsala, Veal Milanese with Arugula, Filet of Fish Marechiaro and Chicken Champagne. Pasta dishes range from spaghetti marinara with meatballs to fettuccini with red clam sauce and baked meat lasagna. Chicken soup and pasta fagioli bring warmth and comfort, while coffee, espresso and cappuccino paired with cannolis, tiramisu or gelato bring a flair of elegance.
"I think the whole menu has been accepted really nicely," Alvarez said.
In the middle of the dining room is a piece of stained glass that is special to Alvarez. It was in the original New Jersey restaurant, but he didn't have a place for it at the former location. However, he found the perfect spot in Village Walk; on a wall above the fish tank. "It means a lot to me," he said, and shows how resilient Centanni's really is.
From New Jersey to Florida, Alvarez has been bringing delicious Italian food to families for almost two decades.
Anyone can enjoy his food Tuesday through Sunday, from 11 a.m. to 9 p.m. The café is closed Mondays.
Centanni Café is located at 2540 Village Walk Circle in Wellington. Call (561) 642-8700 to learn more.
ABOVE: Centanni Café owner Fidel Alvarez (center) with Steve Mennella, Briel Arce, Jonathan Carranza and Leila Thurman.