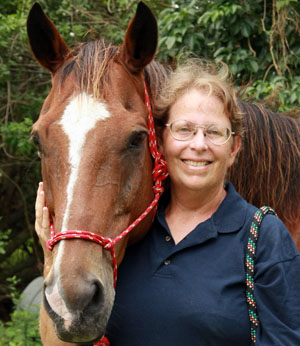 TALES FROM THE TRAILS
The 11th annual George H. Morris Horsemastership Training Session was given at Global Dressage Festival Stadium in Wellington from Jan. 3 through Jan. 7. Though he has taught the clinic in years past, Morris was unable to attend this year.
An equestrian legend, Morris has represented the United States in many international competitions as both a rider and coach. In 1959, his team won the gold medal in the Pan American Games, and he won a team silver medal at the 1960 Rome Olympics. Morris rode on eight winning Nations Cup teams between 1958 and 1960. In 2008, he coached the team that won gold at the Olympics. Morris serves on the USEF National Jumper Committee and Planning Committee and is president of the U.S. Show Jumping Hall of Fame.
This clinic helps develop the next generation of top U.S. talent. The 12 young riders were the winners of specific young rider and junior competitions, along with two riders from the 2016 USHJA Emerging Athletes Program National Training Session, and five riders chosen from wild card applications. The talented young riders were Kelli Cruciotti, Caroline Dance, Cooper Dean, Coco Fath, Madison Goetzmann, Emma Marlowe, Gracie Marlowe, Brian Moggre, Maya Nayyar, T.J. O'Mara, Taylor St. Jacques and Peyton Warren. Matt Drohan and local rider Hannah Bentz acted as assistant stable managers.
The mounted clinicians were Anne Kursinski, who taught flatwork on Thursday, Jan. 5, and Beezie Madden, who taught gymnastics the next day. Saturday, Jan. 7, featured instruction from Laura Kraut on Nations Cup competition. Unmounted clinicians included Colleen Reed: Fundamentals of Equine Care; Janus Marquis: Equine Anatomy and Physiology; Andy Thomas: Human Sports Science & Medicine; Tonya Johnston: Sports Psychology; Dr. Tim Ober: Veterinary Care; and Conrad Homfeld: Course Design.
There was live stream coverage on the USEF Network, and the mounted sessions and demonstrations were open to public audit at no charge. Approximately 300 spectators watched the Friday sessions with Beezie Madden. It was a cool, gorgeous day.
Casey Easley, the USEF's show jumping director of high performance programs, thought everything went well. She is the person in charge of the behind-the-scenes organization. "We're very proud that we can help develop the future stars of our sport, the riders who will represent the U.S. in future competitions," she said.
"Teaching these clinics is fun," Beezie said. "This is a great group of kids. I like how the program teaches all aspects of horsemanship, not just riding. I think this experience opens their eyes to a whole new world, that it's not just about showing and winning ribbons."
In the ring, Beezie rode a demonstration. The participants were divided into two groups of six, the first group riding at 9:30 a.m., the second at noon. They warmed up on the flat, then rode over widely spaced poles on the ground, practicing getting different strides and halting at different points between the poles.
They moved on to gymnastic exercises, which included jumping everything from a series of three small jumps set along a curve to powering over a wide Liverpool water jump. And the rails kept going higher as Beezie watched, critiqued and offered suggestions. Not every try met with success. There were downed rails and an occasional refusal, but everyone took it in stride, learned and progressed.
"Horses come in different sizes, and so do their strides," Beezie explained. "You have to practice galloping to a fence. Some take off long, some throw in an extra stride. And if you come in wrong, you'll have a refusal. It's not easy, but the best riders make it look easy."
Robert Ridland, USEF chef d'equipe, was pleased at how things went. "This clinic is special," he said. "It's our future. Having all this talent in one place is a unique opportunity for these young riders to become part of the cutting edge of our sport. They also get a realistic look at what it's like behind the show scene, what we really do, and different aspects of the sport."
Ridland has noted changes in the rising generation of equestrians.
"This generation understands some of the requirements better than earlier riders," he said. "The world has changed. They're aware of fitness and nutrition concerns, flexibility. This clinic gives them a real-world, hands-on experience. It opens up their expectations and allows them to see what's possible. It's an unbelievable experience. I always look forward to coming here and watching this clinic. I'm very excited about this next generation of riders."
For more information, visit www.usefnetwork.com.