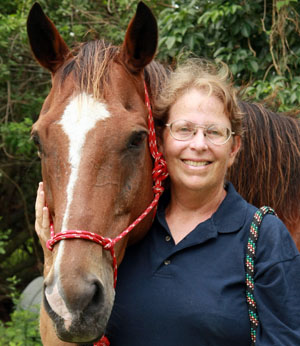 TALES FROM THE TRAILS
Although she lives in Davie, barefoot trimmer and equine massager Candy Giordano serves all of Palm Beach County. Born and raised in Cleveland, she grew up in a horsey family. Eventually, she moved to Fort Lauderdale.
Candy learned the benefits of equine massage in 1994 when working with competition endurance horses that became sore after long endurance rides. The veterinarian suggested Bute and stall rest, which didn't help.
She then attended Don Doran's Animal Dynamics school, completing the two-week course and getting certified in equine massage, later adding aromatherapy, reiki and saddle fitting.
After being urged by friends and clients, she attended the Oregon School of Natural Hoof Care in 2009.
"The nine-day course was very intensive," Candy recalled. "I learned the hoof's internal structure and the relationship between diet and hoof health. The barefoot trim lets you balance the hoof to properly support the internal structure. That's the most important thing. You use a protractor to get the correct toe angle, which should be 55 degrees on the front feet and 57 on the hind. Trimming this way takes all the mystery out of figuring the correct angles."
When examining horses, Candy sees all sorts of incorrect hoof trims, including long toes, flairs, clubbed feet, hoof cracks and hooves knuckled over.
"Keeping horses' hooves healthy is not about the shoe, but the trim. Horses prefer being barefoot. They're generally more surefooted and have increased circulation due to the digital cushion under the frog, which acts as a natural shock absorber. Digital photos show increased blood return through the leg comparing shod and unshod horses," she said. "A barefoot trim can help alleviate and improve many hoof diseases, such as ringbone, sidebone, navicular and chronic laminitis — even founder. When I was a kid, there was an old saying: If a horse founders, pull his shoes, trim him regularly and turn him out in a big pasture with an angry pony who'll work him sound in six months. There's some truth to that."
Horses need to move, Candy explained, and movement benefits their overall health.
"To horses, movement is life. They want to feel the ground. Wild horses are constantly on the go, traveling and foraging. Many domestic horses spend hours standing in stalls, which can cause problems," she said. "The other important component is feed, including hay, grain, herbs and supplements. There's way too much processed, what I call 'dead,' feed. This can have a terrible impact on horses with chronically sensitive feet or insulin resistance, which can look like Cushing's or pituitary gland disease."
She recommends a more natural diet.
"Ideally, you should feed as raw and natural a diet as possible, including whole grains like oats, corn and barley. As for hay, timothy or a nice orchard grass hay is your best choice, not alfalfa, which is actually a legume, not a hay," she said.
Candy has some tried-and-true suggestions for daily hoof care. She recommends spraying hooves with apple cider vinegar, which is a natural anti-bacterial and fungicide. If a horse is about to founder, soak its hooves in a slurry of 60 percent ice to 40 percent cold water for the first 48 hours. She suggests purchasing 10-liter dry sacks at a camping or boating store. Bandage the tops to the horse's legs, and check them periodically to replace the ice as it melts. The bags are reusable and go anywhere the horse goes.
I personally know this remedy works. Some years back, my mare retained part of the placenta after giving birth, spiked a fever and started to founder. We didn't know about the heavy bags, but we filled shallow plastic tubs with water and ice and towels as cushions. I lived in the stall with her and the foal for two days, keeping her hooves in the mixture. She came through fine. Wish I'd known about those bags!
Toby Perkins owns Fox Run Ranch in Davie. She has known Candy for more than 20 years. "I had a horse with a sore back, so I had her doing equine massage," Toby recalled. "Then she started doing hooves. My farrier wasn't doing such a great job, so I asked her to do my horses, and she was amazing. Now she does all my horses and many of my boarders, and she does a wonderful job."
Toby said that Candy finds what's best for each horse and works out any problems, even if the horse has issues.
"One rescue horse was so scared of farriers that he had to be tranquilized. Candy worked with him and discovered he hated being done in the barn, so she brought him outside. Gradually he calmed down, and now he stands normally when he's trimmed, a happy, comfortable horse. That's a credit to her patience," Toby said. "I always recommend her to everyone. She's very good at what she does and allows each horse to settle and relax. She doesn't rush through. She's all about the horses' well-being, and the horses like her. On top of it all, she's an awfully nice person and always answers my questions."
Nancy Fried-Tobin owns the Good Earth Farm in Loxahatchee Groves. She has known Candy for many years.
"We first met because we both practice reiki," Nancy said. "When she started doing hooves, I had her work on my horses. She's great at rebuilding hooves. I get a lot of rescue horses, and their feet are often terrible. Candy has helped every single horse, balancing every hoof. She takes her time to get it right, even if the horse is obnoxious. She's always on time and very organized."
For more information, contact Candy Giordano of Healing Touch Equine Massage and Natural Hoof Care Farrier at (954) 471-3707.