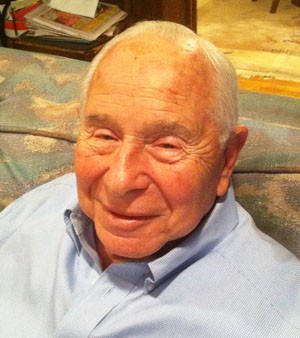 FOOTLOOSE AND…
It was 3:58 p.m. on Oct. 3, 1951 when the Brooklyn Dodgers pitching ace threw the home run pitch to Bobby Thomson of the New York Giants that gave the Giants the National League pennant.
It was immediately tagged "The Shot Heard Round the World," and it forever tagged Ralph Branca a marked man in sports history.
Branca was an outstanding pitcher. He was pitching MVP in Brooklyn three different years. Evan Steinbeck wrote about what the Sporting News called "baseball's greatest moment." Branca was even honored on a U.S. Postage Stamp.
Branca received many plaudits for his exemplary family life as son and brother and father, which accompanied his baseball career. The highlight came in person, opening day in 1947 at Ebbets Field. There, as Jackie Robinson prepared to break baseball's color barrier, the man standing next to him was Ralph Theodore Branca.
Branca had The New York Times donate an astounding portion of three pages devoted to his passing on Nov. 24. He may have been a loser on that infamous day in 1951, but he was a winner in life.
Ralph Branca was 90 years old. Rest in peace.