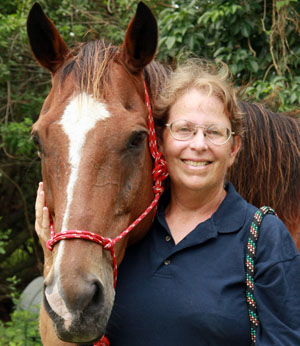 TALES FROM THE TRAILS
Mention the Winter Equestrian Festival, and most people think big shows. But one of the finer parts of the season is the education of top young riders aspiring to the premier classes, and the Robert Dover HorseMastership Clinic is one of those opportunities.
Presented by the Dressage4Kids (D4K) Emerging Dressage Athlete Program, the clinic ran Dec. 26-30 at the Van Kampen arena at Palm Beach International Equestrian Center Stadium. Riding instructors Robert Dover, Michael Barisone, Alison Brock, Debbie MacDonald and George Williams taught the lucky participants throughout the week.
The riders and auditors, all younger than 21, were selected from the top competitors at the North American Young Rider Championships, the USEF National Championships, the USEF Dressage Seat Medal Finals and the Emerging Dressage Athlete Program Clinics.
Auditors, who watched rather than rode, were Averi Allen, Nicholas Bryan, Jimmy Casey, Isabel Gregory, Madi Perry, Adyson Roark and Nadalyn Firenz. Participating riders were Kerrigan Gluch, Kristin Counterman, Clair McNulty, Abbi Fleischli, Maddie Lacy, Kayla Kadlubek, Julia Barton, Callie Jones, Caroline Garren, Lexie Donaldson, Rebekah Mingari, Alison Hopkins, Alison Nemeth, Amelia Devine, Juliet Hess, Marline Syribeys, Jackson Gillespie and Hannah Irons.
The days were long for these youngsters. They met at the barn at 6:30 a.m., cared for the horses and attended daily fitness classes, lectures and demonstrations, as well as field trips to local barns. It was all very organized, running like clockwork under the watchful gaze of Lendon Gray, one of the main originators of the Dressage4Kids Emerging Dressage Athlete Program.
Gray rode in the 1980 and 1988 Olympics and has devoted her energies to the improvement of all horses and riders, not just the privileged ones. She's proud that D4K offers scholarships for every sort of dressage rider, from those traveling to Europe to children with backyard horses.
"Each year, this is event is exciting," Gray said. "I'm so proud of this program. The best way forward for young riders to be considered for it is to join the D4K Emerging Dressage Athlete Program, attend the clinics, and get known and seen."
As the clinic got underway on Monday, Dec. 26, the weather couldn't have been better. It was sunny and warm enough that the arena's roof acted as a welcome sunshade. A pleasant breeze helped keep horses, riders and spectators cool.
The Van Kampen arena had been divided into three dressage rings with small bleachers facing each one. Auditors and those not riding, along with parents and members of the public, sat and watched as Alison Brock, George Williams and Robert Dover gave private 45-minute lessons.
"Do you feel that?" Dover asked as Abbi Fleischli rode. "Own it, now try it again. You have to be relaxed. Bring your left hand up. There! Say, 'Good mare, good mare,' pat her, walk. Awesome. Now, one more time. Bring that right foot back, super, super. Light hands, energy! Good mare, good mare."
Marline Syribeys, 17, from Atlanta sat and watched. "Being here is such an honor," she said. "I'm thankful to have the opportunity. Such amazing riders. I've made a lot of great new friends and connections, which are important in this sport."
She brought along Hollywood, her Hanoverian gelding. "I hope he improves his canter pirouettes, and we're working on passage and piaffe," she said.
Averi Allen, 12, was an auditor from Missouri. "This is exciting," she said. "All the horses are so beautiful. Someday I hope to come back and ride here. I like Robert Dover the best. I could learn a lot from him. Lilly, is pretty green, but she's willing and very sweet. It's all a little overwhelming."
Jimmy Casey, 18, another auditor, hailed from Buford, Ga. "Seeing this is definitely opening a whole new world for me," he said. "The magnitude of Wellington in general is amazing. Having this opportunity to ride with teachers of this caliber doesn't often happen to people our age. I'm glad I'm just auditing. It's easier to watch and learn without having to worry about riding, plus I'm not limited by what my horse can and can't do."
Casey hopes to put what he has learned to good use.
"I'm working on passage and piaffe, but we're not there yet," he said. "Watching everyone inspires me, especially the riders younger than me who are really talented. I'm going to go home, ride a lot, and try to incorporate what I've seen into my training. I like watching Robert Dover the best. He has a good way of transmitting information, and he's entertaining and encouraging, not intimidating."
Fleischli, 17, having finished riding, was in the barn washing Laguna, that "good mare." Her mother, Mary, watched.
"We parents are intimately involved in the sport, part of the team," Mary said. "We meet at shows across the country, so we're like a huge extended family. A clinic like this teaches responsibility. I see a lot of maturation in Abbi. Plus, Wellington is not a bad place to be this time of year."
"Dressage is a challenging, humbling sport," Abbi said as she rinsed Laguna. "I've been riding dressage for eight years. I started off jumping, then watched a dressage trainer at my barn and fell in love with the Grand Prix movements. I'm a very precise person, so I enjoy the accuracy and fluidity it takes; the harmony with your horse. Dressage simply took me over. I enjoy training and work at it every day. I love seeing us progress. I like looking back and seeing how far we've come."
She audited the clinic twice before riding in it.
"I think auditing made this easier. You can pick up so much while watching," Abbi said. "I'm more confident and know what to expect. I've seen the instructors' different coaching styles. Learning different ways of thinking and riding is helpful. I would advise any young rider to attend this clinic if you get the chance."
For more information, visit www.dressage4kids.org.