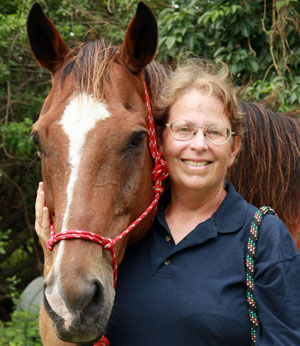 TALES FROM THE TRAILS
The horse tent at the South Florida Fair sported a new look this year and offered a wide variety of competitive and entertaining events. Co-chairs Meghan Garcia and Brianna Bennett, with a host of dedicated volunteers, outdid themselves getting everything done.
"We've had excellent turnout this year," Garcia said. "It has been great."
An understatement! The reconfigured horse tent held an expanded covered arena with a warmup area right alongside, some horse-related displays and enough stalls for 36 horses. Good-sized crowds regularly filled the aluminum bleachers.
Events started off with the wildly popular Friday Night 4D Barrel Series, which ran Jan. 13, 20 and 27, offering 70/30 prize money and buckles.
The Extreme Trail Challenge, on Saturday, Jan. 14 and Sunday, Jan. 15, offered inventive courses for both novice and open riders. Horses could be ridden through only once, which meant each obstacle was new. Prize money went to first-place through fifth-place winners, and there were buckles for High Point and Reserve in each division.
Sunday, Jan. 15, was the final day of the challenge, and the competition was fierce but friendly. A hundred or so spectators cheered each effort, applauding as horses and riders navigated some fairly spooky obstacles: the barrel spider, a pit filled with plastic bottles, a simulated trail filled with cut brush and logs, and the infamous water pool.
Trent Ferrier, 10, couldn't ride this year, since he hadn't completed the required Youth Ethics Workshop, required of all exhibitors ages 8 to 18. He won last year on his pony, Butterbeer, so his dad, Andrey, rode Butterbeer instead, along with Little Bit, their mustang mare. Mom Debby and Yvonne the mule came along as well. The Ferriers own Circle F Performance Horses and were the defending champions in the Open division.
"They did a great job with the horse tent this year," Debby said. "We're having a ball."
Sue Stroud of Boynton Beach agreed. "Compared to previous years, they've done a phenomenal job," she said.
She and Peppy, her Quarter Horse gelding, tried their best in Novice. Peppy refused two obstacles the first day, but they gamely tried it again Sunday. "I'm not gonna rush him this time; I'll let him check them out," Sue said.
Pam Wood took her Paint, Frankie, through. He was a bit tentative but willing to try. They ended up passing on the mulch box and leaping through the bottle pit, but rode out to applause. "It kinda blew his mind, but I'm proud of how he did," Pam said. "There's an awful lot for him to see. It's a tough course, but a fun challenge. The organizers did a tremendous job."
Julia Hasan on Subtle Trouble zipped through most of the obstacles without a hitch, only hesitating loading into the trailer at the end, and turning in a fast time. She was bested a few goes later by Amanda Muir on her Gypsy Vanner mare, WR Sundance, who splashed through the water, crashed through the bottles, and turned in the first clean course without any passes. Her impressive time: 4 minutes, 44 seconds. "It was fun," Amanda said.
So much fun, in fact, that they ended up taking first place in Novice, winning the buckle.
Hunter judge Doug Bruce gave two jumping clinics on Jan. 21, helping both riders and audience understand all the work and preparation that goes into showing.
Samantha Twohill, 12, had ridden with Doug previously and signed up. "It was the best clinic I ever had," she said. "I learned a lot about better communicating with my horse, and it helped me a lot."
Doug loved doing the clinics. "It's a blast. This is my second year doing this," he said. "The riders and audience are very enthusiastic. My goal is to help the participants become more effective, and the horses more adjustable and rideable."
The riders practiced different exercises riding over a course: cantering, hand-galloping, trotting into a combination and halting. Doug critiqued what went well and offered suggestions on how to improve. "Go for brilliance when you can," he said. "Ride smart."
To contact Doug Bruce for lessons, call (754) 214-8072.
The Loxahatchee Outlaws, the local branch of the Florida Peacemakers mounted shooting group, put on a couple of demonstrations during the two weeks, delighting crowds with their authentic cowboy and cowgirl outfits and daring marksmanship as they galloped past balloons, using black powder to pop them.
Sara Edwards on her gelding, Harley, said she enjoyed both the riding and shooting. Ashley Stevenson said her mustang, Downtown, quickly got used to it. "It's something fun and different," she said.
Freddy Naranjo, the group's director, agreed. "It's exciting and lots of fun," he said. "People should come out and give it a try."
The group meets monthly and is part of the Cowboy Mounted Shooting Association. For more information, call (561) 386-1828.
Other special presentations were given by Rick and Trevor Steed of Steed Training, who specialize in reining cow horse training programs; all-around trainer Cowboy Bob Faath; Ashley Stevenson, who has made a specialty of gentling Mustangs; the Florida Whips driving club; and the U.S. Trotting Association, which promotes Standardbred horses. Jan. 21 was Mustang Day, with members of the Bureau of Land Management and other groups that promote mustang adoptions. Jan. 22 was 4-H Day, with a free show for members. Other events included One Turn for the Money and a free fun show on Jan. 29.
All in all, the horse tent provided something for everyone, riders and spectators alike.
To learn more about the fair, visit www.southfloridafair.com.