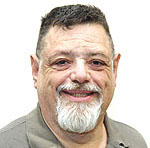 'I' ON CULTURE
The new film Lion is superb. Both complex and uplifting, it tells the story of a young man taken from his native India to grow up in Australia, but obsessed with the idea of finding out where he comes from. Movies that cross cultural lines are often fascinating. For example, one of my favorites, Bend It Like Beckham. This movie, nominated for an Academy Award for Best Picture, is another exceptional example.
The story seems too incredible to be true, but reality is often like that. Saroo Brierley grew up in a poor village in India. As a 5-year-old, he went out to help his older brother scavenge to find things for his family's survival and wound up on what he thought was an out-of-service train to wait for him. The train, while he was sleeping, started up and crossed India, going about 1,000 miles away.
Young Saroo (Sunny Pawar) was illiterate and did not even know the name of his village, so he was put up for adoption. The first part of the film is harrowing as several bad people have their own evil plans for him. You sense the boy's feeling of aloneness and separation from everything he has known. He does not even speak the local language (hundreds of languages are spoken inside India). Luckily, he was adopted by a caring Australian couple and grew up there.
As a young adult, Saroo (Dev Patel) is obsessed with finding his roots. His Indian heritage is clear, but culturally he is Australian. Leaving his adopted parents, he moves to Melbourne to study and blends in well with the other Aussies. He even has an Australian girlfriend, Lucy (Rooney Mara), whom he neglects partly because of his obsession but also because of his feelings of being somehow different.
His adopted parents (Nicole Kidman and David Wenham) have more than a few complications in their lives, although it is clear they have fully accepted Saroo as their son and raised him well. His (adopted) brother Mantosh (Divian Ladwa) is overwhelmed by his feelings of alienation in a culture he knows is not his.
Saroo's obsession at first centers around Google Earth as he endlessly searches for the one spot on the map that may lead him to his origins. Director Garth Davis keeps us involved even though things are static for a bit, waiting until Saroo returns to India, having spotted a rock formation that looks like his home. And there are celebrations once he arrives.
The acting is spectacular. Dev Patel has been in many excellent films: Slumdog Millionaire and the Best Marigold series, among many others. Here he beautifully manages to show the different stressors on him; he feels Australian but deeply wants to find his Indian family.
But young Pawar is even better. He is warm and spirited and seemingly always on the edge of danger. Ladwa is also excellent is a role that could have been a stereotype. His work, and the good script, helps him rise past that. Kidman, who because of her beauty has often had good performances overlooked, gives another great performance in a role that might have been mailed in but she turns in a wonderful, moving portrayal.
One key element of the film is an examination of the role of cross-cultural adoption, which can confuse young people. Of course, being adopted and growing up in a more middle-class environment generally means the youngster is far better off materially, but for some it does include psychological problems. There are no easy answers, and screenwriter Luke Davies does not propose any. Saroo does well, but Mantosh does not. Their parents, who could have had children of their own, decided to adopt because they felt there were too many people on the planet and wanted to help, but the cultural stresses still failed one of their sons.
The film has been nominated for an Oscar for Best Picture, and both Patel and Kidman have been nominated in the Supporting Actor categories. The nominations are well-deserved, although in an exceptional award year, they probably will not win. This is one of the best movies I have seen this year. I will go further; it is one of the best I have seen in several years. Everyone I know who has seen it has raved about it. This is a film you should see.