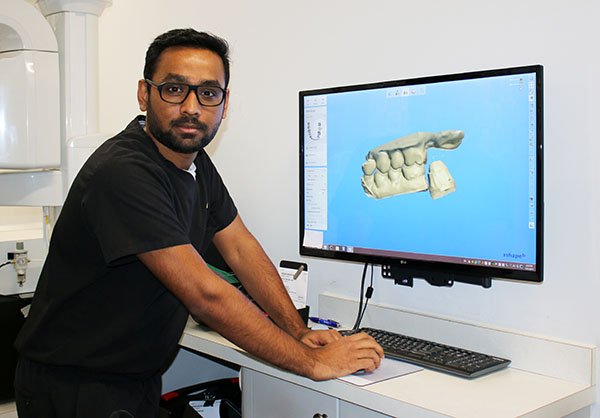 KA Dental in Royal Palm Beach is one of the few dental offices to have its own in-house dental lab. By offering the latest in state-of-the-art technology, KA Dental is able to provide quick turnaround for dental crowns, dentures and more.
Dr. Krunal Patel is excited to introduce the technological advancements that his office offers.
"Initially, we started doing bigger cases — full mold reconstruction, full veneers; we have patients coming in with multiple problems," Patel said. "We used to use a local lab, but the problem that we had is that we would take an impression, send it to the local lab, based on the impression and all of the measurements that we told them, they'd make a case. But there was one thing they were lacking. The lab guys who were making our crowns, they never saw the patient."
To fix that missing link, Patel's office created its own lab and can now do same-day or next-day crowns. "It's fast, it's accurate and it's custom-shaded," he said, explaining that the lab technician can custom-color veneers.
The lab has been open for approximately six months, and they just added another option — removable dentures.
"This lab is different. It's modern, it's state-of-the-art and fully digital. All of the inaccuracies made from expansion, contraction and saliva, with the digital impression, we eliminate everything," Patel said.
Dental impressions are no longer a necessary evil due to the 3Shape lab scanner, which takes a digital impression of a patient's teeth and mouth.
"It's perfect for older patients who are on multiple medications, some of which give them dry mouth," he said.
They also utilize a 3D X-ray machine.
Once the scans are made, it's time to utilize the Roland milling machine, which, due to its accuracy and speed, eliminates the need for a temporary crown — it only takes 20 minutes to shape a tooth before curing it. Depending on what the patient needs, it is possible to come into the office in the morning, return at the end of the day and have a brand new tooth.
Shading the new tooth to match the patient's other teeth is a critical personalization to make the new tooth believable.
"There's no metal. What does that mean? All the crowns that you make are a cosmetic crown," he said. "Down the road, there's no metal showing because there's no metal [inside]. Older crowns have metal, and then they put porcelain on top."
The new teeth, after they've been milled, designed, shaded and cured, are strong enough that they can withstand being hit by a hammer, Patel said.
The accuracy, convenience, personalization and turnaround time are all special to the office, he explained.
Meanwhile, cosmetic smile makeovers are done by Patel's wife, Dr. Aditi Patel.
KA Dental is one of the few labs that specializes in both removable and fixed dentistry.
"Crowns are considered fixed. Crowns, bridges, smile makeovers, veneers — once they're put in the mouth, they're permanent. Dentures and partials, those are removable. Patients can take those out," he said, adding that some dentists offer a removable lab, but few offer a fixed lab.
The office has a 3-D printer, where cases can be printed, rather than pouring a model, which has more inaccuracy due to expansion and contraction.
Patel is a surgical dentist and places implants through guided technology, utilizing the 3-D X-ray machine. He designs a guide and is able to place the implants without altering the gums.
"It's very fast; less trauma to the tissue, and very, very accurate and precise placement of the implant," Patel said. "Most patients have zero post-operative pain, almost zero pain during the process."
The patients rooms at KA Dental are minimalistic in nature. Patients are given the option of headphones, shown movies and more, as they sit back and are treated. When X-rays are done, they are displayed on a large screen and patients are educated about their teeth.
By storing supplies in a central location rather than patient exam rooms, Patel and his team are able to keep a constant inventory, know what the office is low on, and customize what is brought into the room.
KA Dental has three offices in Palm Beach Gardens, Royal Palm Beach and Jupiter. All services are provided in-house, which allows KA Dental to keep its prices affordable. "Together, we have 120-plus years of experience in the dental lab," he said.
For area dentists interested in utilizing the KA Dental lab, call the office to speak with Patel.
For an appointment, call (561) 220-0528 or visit the office at 1112 Royal Palm Beach Blvd., on the north side of Okeechobee Blvd. in the Crossroads Plaza. For more info., visit www.kadental.com.
ABOVE: Dr. Krunal Patel of KA Dental reviews a patient's digital scans.