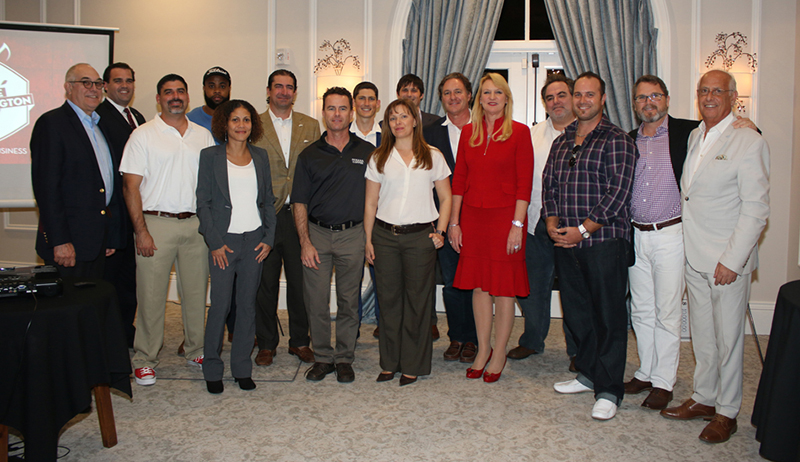 The Young Professionals of Wellington held Xcelerate Wellington 2.0 on Wednesday, Jan. 25 at the Wanderers Club. Four finalists pitched their companies to a panel of judges for the chance at a $10,000 grant, while three Wellington companies pitched for the "Homegrown" People's Choice Award.
Oceana Coffee came out the top winner of the night, followed by runner-up Aquaco Farms, and finalists AllerCheck and Direct Dispatch. HNM Menswear won the "Homegrown" award, edging out the Med Writers and Rich Oak Vineyards.
Presenting sponsor the Palm Beach International Equestrian Center made both the event and the $10,000 grant possible, while the "Homegrown" award, presented by TD Bank and CBIZ, included a $2,000 grant and business assistance from strategic partners Anidea Engineering, CRGO Law, RM5 Design and Peter Marcus Coaching.
Amy and Scott Angelo introduced their company, Oceana Coffee, located in Tequesta. Oceana Coffee is a coffee roaster, coffee shop and wholesale coffee company. They utilize specialty coffee from around the world, roast it and ship it to the consumer.
"Oceana Coffee is an everyday luxury that anybody can afford," Amy said.
Oceana Coffee focuses on the experience of drinking specialty coffee. "It shouldn't be some black liquid that goes into your cup and is bottomless," Scott explained.
"We're raising people's expectations of what coffee should taste like," Amy added.
Their vision is to be a top-10 roaster in the country, through offering training and consulting. They are focusing on retail, wholesale and training. "We're looking to grow this brand," Amy said.
What they're looking to do is have multiple stores, at least 10 in the next five years — they already have two — and to franchise their model, Scott said.
The two Oceana Coffee stores are making a profit and are ready to grow. For more info., visit http://oceanacoffee.com.
Joe Cardenas discussed his company, Aquaco Farms, a sustainable mariculture venture. Aquaco offers fresh, non-frozen, traceable, sustainable fish. The company is focusing on the Florida pompano, which grows quickly. Aquaco Farms offers a credible and reliable source of fish focusing on three markets: restaurants, hotels and resorts; country clubs and convention centers; and retail markets. For more info., visit www.aquacofarms.com.
Chris Miquel introduced his app, AllerCheck, which allows a database and centralized information for those with food allergies. It allows them to access the ingredients for food items and enables the user to send their allergy list to someone. For more info., visit www.allercheckapp.com.
Junior Alexis introduced his company, Direct Dispatch, a company that simplifies how automobiles are shipped and tracked. Direct Dispatch allows the user to connect with the carrier, avoiding a broker and a broker fee. A cloud-based application, it allows users to track their vehicle and communicate with the driver prior to the vehicle being delivered. For more information, visit www.direct-dispatch.com.
The four judges, Mark Bellissimo of Equestrian Sport Productions, Robbin Lee of Wellington Regional Medical Center, Tre Zimmerman of Ubicquia and Jeff Brown of Fourth Estate, participated in a panel where they discussed their business failures and what they learned from them.
Zimmerman noted that in 1998-99, some of his friends created a music file transferring system.
"We partnered together to, what they consider now to be pirating of music. We called it 'distribution of content.' We sold this content to tourists in Hawaii. It was a great market," he said. "One thing, though, that we encountered, that we didn't really think of, were attorneys."
They failed in their initial approach, but learned their market and rebranded, later joining the forces at Nero and launching Nero Mobile. "We became the largest mobile streaming media software provider in the world," Zimmerman said.
In 2004, Brown said he started a new provider.
"We were growing quickly, and once again, we didn't look at the lawyer side of this. We were sued under a novel New York law that made my name in the journalism business," Brown said. "It killed the company."
Now, his company is doing $45 million to $50 million a year. "Pay attention to lawyers early," Brown said.
Lee, who works in a different segment, explained how she has turned around and made being fired work for her, rather than against her.
"I think the biggest lesson is that when you're in an environment and it's not working for you, get out. Don't hang around because of your pride," she said. "When you have that feeling that things aren't working, they're not working… When someone can't help you out, walk away… There is no failure in being terminated. Do it with grace, and more than likely, on your terms."
Bellissimo, whose background is in turnarounds, focused on what makes sense for the business at hand.
"It doesn't necessarily make sense for you to do things that aren't consistent with what your business can do," he said.
Changing your business model, or trying to sell your business, he said, isn't a strategy.
"Most successful businesses in this country are from people who are unbelievably passionate about something, and it evolves into something," he said. "Very few people just say, 'I want to make a ton of money. Let me find a business that gets me there.'"
When it came time for the "Homegrown" presentations, HNM Menswear's Henry Mosley explained that fashion is evolving.
"At HNM, I'm here to help you customize to your fashion, your style. HNM offers the largest necktie collection, which is unique only to HNM Menswear," he said.
Whether it's a night on the town, polo, for an anniversary or a special event, Mosley can personalize a style working with the client for the client. Big and tall selections are offered, he said.
"If you're excited about dressing your best and looking your best, stop by HNM Menswear," Mosley said.
For more information, visit www.hnmmenswear.com.
Rich Oak Vineyards' Brandon West taught himself how to make wine two years ago, and learned how to bring wine to the market. Wines of Wellington will be available at Star Liquors in February, he said. Wines of Wellington is an equestrian-themed brand for equestrian markets. He hopes to grow that brand and create others. For more information, visit www.richoakvineyards.com.
The Med Writers' Dr. Karen Vieira works with scientists to translate complex medical contents and create easily understandable articles. The biotech industry in Florida is growing, she said, and she would like to provide jobs to Ph.D. graduates. For more information, visit www.themedwriters.com.