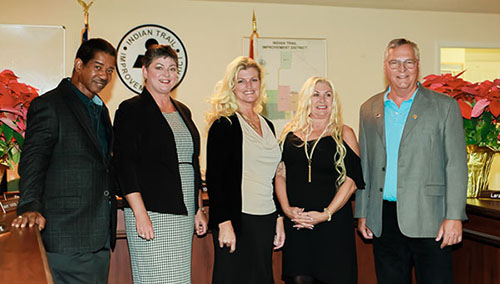 The Indian Trail Improvement District Board of Supervisors heard alternative proposals from the representatives of the Iota Carol/Delray Linton Groves project last week that included road improvements on critical roadways, as well as a check to ITID for $1.3 million for additional improvements.
At the March 15 meeting, ITID attorney Marty Perry introduced the Iota Carol representatives.
"We have a fairly substantial presentation this evening, but I think these two gentlemen from Iota Carol want to have some conversation with you," Perry said.
Ken Tuma with Urban Design Kilday Studios said Iota Carol had been working hard on transportation issues given to them by the county, and had developed an offer to ITID that might mitigate its opposition to the project. He said they still agreed to become an active unit with ITID and provide additional stormwater storage area, but offered additional incentives.
Ashley Bloom, senior advisor with Sperry Van Ness Commercial Real Estate, representing Iota Carol, said they have been going through county zoning requirements and had met recently with the county engineering staff to receive their draft conditions.
The Palm Beach County Commission postponed a vote on the project in January after hearing opposition, including a letter from the ITID Board of Supervisors decrying the 1,030-unit project due to traffic concerns, along with other projects already approved in the area.
The Iota Carol project is almost completely surrounded by the GL Homes' Indian Trail Grove project, which has land use approval for 3,900 homes but still awaits zoning approval. Both projects average out to 0.8 units per acre, which is about the same density as The Acreage.
"We understood the position you took in January, but after we've gotten some clarity on what we think the zoning conditions are going to be, this is primarily to broach the activities of the active unit agreement," Bloom said. "I don't think there's any question to that, but it does boil down to some roads, so the draft conditions as provided to us, we aren't going to try to sidestep."
Bloom said that Iota Carol was prepared to accept conditions to improve four major road segments, on 60th and 190th streets and Orange and Hamlin boulevards.
"There are conditions that we are likely to accept that deal with those road improvements," Bloom said. "Our conditions are going to stand on their own. GL Homes is going to have its own set of roadway conditions that will be similar in a lot of ways and different in others, so we're not trying to pretend that we don't have those conditions. Those conditions will provide those roads to county standards."
He said that Iota Carol would like to work out an agreement with ITID to potentially either build the roads itself or fund the roads to the district's standards.
"I think that's very important," Bloom said. "It gives Indian Trail say in the matter. It allows us to work together with what those standards look like. There still will be some oversight with the county. We think that's very important, and that would primarily be on Orange and Hamlin."
Bloom added that Iota Carol goes before the county commission on April 26 for land use and zoning, but would like to offer over and above whatever those conditions work out to be, another $1,000 per unit, or $1.3 million, to ITID to do whatever it sees fit about traffic.
Supervisor Gary Dunkley said he was not very impressed with the offer, in light of the difficulties the project will impose for the district.
"That's a nice offer, but it doesn't change much, and I'm under the assumption that the county is having GL Homes put it up to county standards, not Indian Trail standards," Dunkley said. "County standards are better than our standards… so I really don't see how your offer is valid if the county is having GL Homes look at a certain standard and you're offering a lesser standard."
Bloom said they have been working with GL Homes on conditions because many of them will overlap.
"We feel that the ultimate zoning conditions will be near each other," he said. "To address the financial part of this, I just want to make two points. The roads that we're committing to build, if GL Homes never builds, we are obligating ourselves to build Orange, we are obligating at some point to build Hamlin, we are obligating to build 60th and 190th."
Bloom said he would like to make the commitment with ITID for the roads and the $1.3 million prior to their meeting with the county on April 26.
"We want to offer something over and above what the county is going to require that you can use toward traffic calming and other improvements," he said. "We are a much smaller project. We're about 25 percent the size of GL Homes, so dollar for dollar… we feel this is a very strong offer."
Perry said there were several items that ITID must attend to in preparation for the county meetings on the Iota Carol project in April.
"GL Homes, with the support of County Commissioner [Melissa] McKinlay, postponed twice for 60-day periods basically to create separation between their project and Iota Carol," he said, adding that he thought the district would be better off if the projects were considered simultaneously.
Perry added that there are options to build the roads at district or county specs, and for the developer to build the roads under county oversight or for the district to build them, and Iota Carol would pay the district the money, as well as additional money above that. He also pointed out that the offer was much greater than the original offer of $1,500 per unit total for road improvements.
Perry was very concerned that the GL Homes project would be approved and the Iota Carol project would not be, leaving a "hole in the donut," which would probably lead to litigation. That is something that ITID should keep in mind, he said.
Supervisor Carol Jacobs said the developments would be built eventually regardless of whether Indian Trail approves them, and she said their offer to become active units would be a big plus for the district.
"The county is going to approve them," Jacobs said. "It has been in the plans for years… If we can get these two developments as active units and agree with them, that at least gives this district, if we're incorporated or whatever, it gives us more money to improve our area."
Supervisor Ralph Bair said he personally did not want to see any more development, but agreed with Jacobs that it was inevitable, and was glad to see that they were willing to become activated units.
"I want to see more control, and I want to see the roads built to county standards," Bair said, adding that it was frustrating to him seeing the county approving multiple developments with dramatically increased density with what seemed to be very little pushback.
Dunkley was concerned about increased density contaminating the district's aquifer, which residents rely on for their wells.
ITID Engineer Jay Foy went over the conditions of approval proposed by the district and the county in the event that the county commission approves the Iota Carol project, which include becoming an active unit and improved drainage capacity for the district.
Numerous roadway improvement conditions include construction of Orange Blvd. from 180th to Seminole Pratt, which is a district road, Hamlin, 60th and 190th.
ITID President Jennifer Hager said she did not like any of the discussion of road improvements because she knew people who lived on those roads who would be affected dramatically.
The board, by consensus, approved most of the proposed conditions to go before the county commission, including those regarding road construction and drainage improvements.
ABOVE: The Indian Trail Improvement District Board of Supervisors.