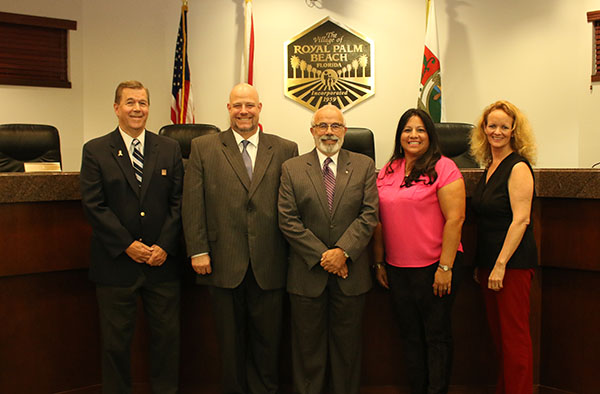 Two incumbents and two challengers for seats on the Royal Palm Beach Village Council squared off in a candidates forum Monday hosted by the Town-Crier.
Former Councilman Richard Valuntas is running against Councilman David Swift for the Group 2 seat, while Education Advisory Board Member Renatta Adan-Espinoza is challenging Councilwoman Jan Rodusky in Group 4.
Swift grew up in Michigan and has a bachelor's degree in science from Adrian College and a master's in science from Eastern Michigan University, specializing in aquatic biology. He worked for the South Florida Water Management District as an environmental scientist for 34 years.
Swift has 29 years' experience as a councilman and vice mayor in Royal Palm Beach. His accomplishments include voting to improve emergency services and law enforcement by merging the old village fire and police departments with far larger county agencies, selling the village's water utility to the county for $70 million, and dramatically reducing the village's ad valorem tax rate over time. The village now has $89 million in reserves and no debt, Swift noted.
"As the longest-serving elected official in the history of the village, the record shows that fiscally, I have played an important role in making Royal Palm Beach what it is today," he said.
Valuntas grew up in South Florida. His three children were born in Royal Palm Beach and attend local schools. He served as a councilman from 2010 to 2016 and was vice mayor in 2011 and 2015. A board-certified criminal appellate attorney for the Florida Attorney General's Office, Valuntas worked previously as a civil litigator for several private legal firms, and for the Fourth District Court of Appeal in West Palm Beach.
He received bachelor's and master's degrees in criminology, as well as his law degree, from Florida State University, a master's degree in public administration from Florida Atlantic University and a master's degree in criminal justice from the University of Florida. As a councilman, Valuntas served on the Palm Beach Metropolitan Planning Organization, where he fought for the State Road 7 extension; was on the Palm Beach County Criminal Justice Commission and the Western Communities Council; and currently volunteers for the Agency for Persons with Disabilities.
Espinoza is a native Floridian and a 15-year resident of Royal Palm Beach who has a daughter who is a senior in high school and a son who is in his third year of college. Throughout her 20-year career as an educator, she has been actively involved in programs that support students by trying to keep them in school and achieving success in life.
"As the community has grown, so have the needs of our residents," she said. "My vision for our community is to expand and improve communications between the residents and local government, to reach out and support our small businesses that can provide mentorship for our high school students, and to provide our senior citizens support and enhancement of our current programs."
Rodusky said her priorities are public safety, fiscal responsibility, low taxes, smart growth and infusing art into future capital projects, public spaces and community events.
She has a bachelor's degree in sociology and a master's degree in public administration, and has worked for more than 20 years with nonprofits in grant writing and project management. She is currently the chief grants writer for the Cultural Council of Palm Beach County, where she oversees $4 million that goes to 70 cultural organizations. She has worked with the cultural council for eight years.
She and her husband, Andy, have lived in La Mancha for more than 20 years, where they raised their children. "Community engagement is very important to me," Rodusky said. "I served on the board of governors for Leadership Palm Beach County. I am the council liaison for the Central Palm Beach County Chamber of Commerce. I am a member of the Forum Club of the Palm Beaches, the Sons of Italy and participate in Young at Heart and the Western Business Alliance."
Asked how they think the Palm Beach County Sheriff's Office is doing fighting crime, Swift said he believes that the PBSO is doing a very good job, noting that recent reports of property crime increases have been tied to gangs in Belle Glade that find easy pickings in Royal Palm Beach.
"We've tried to inform our citizens that this is a problem and you need to lock your cars," he said. "We put up big yellow flashing signs warning everybody, but it is a problem."
Valuntas agreed that the PBSO is doing an excellent job, but he would like to see more traffic enforcement, particularly in troubled areas such as Sandpiper Avenue, where he said he and his children walked on the campaign trail.
"It is a dangerous situation, and it's something that we, the council, needs to resolve," he said. "The first and easiest step would be to have the PBSO enforce a little more harshly, and hopefully that can remedy the situation."
Espinoza also agreed that the PBSO is doing a great job but said it could improve communications with the residents, adding that residents on Sandpiper and La Mancha are having a hard time with traffic.
"People in the village need to know what the safety reasons are," she said. "Inviting the police to talk to us and especially to our community to find out what can be done, assuring them that they have a say in helping us to make decisions, because it's basically about the public and safety when it comes to traffic."
Rodusky also agreed that the PBSO is doing a good job, and pointed out that 2016 crime statistics compared with 2015 show that crime against property and people is down. "It's the biggest item in our budget at $7.5 million," she said. "We prioritize public safety as very important."
She said the village needs to stress education to the residents to lock their cars, not leave their keys in their cars and to hide their garage door openers.
Asked about the traffic calming policy recently approved by the council, Valuntas called it a good step.
"Some think it was a long time coming," he said. "Watching some of those meetings, it was obvious to me that the issue has been going on for at least 15 years… And only one of the people sitting up here has been here for 15 years, and has not gotten the issue resolved. But my particular take on it is it's time for action on Sandpiper… To me, a viable alternative is, why not invest in temporary speed humps or some type of traffic calming?"
Espinoza said she was shocked when a child was hit years ago.
"I was very shocked that the council people didn't take action, and they headed into another traffic study," she said. "The traffic study had been done before. Sometimes when you know and you hear that a human that has passed away because of traffic issues, you have to take action immediately and bring fire and police in to talk to residents… instead of doing another traffic study and looking at other databases."
Rodusky said the village is on the right track with the traffic calming policy.
"We prioritized the village to be safe, and we finalized the traffic calming policy," she said. "Sandpiper will be studied first, and then in some order La Mancha, Ponce De Leon and Sparrow will be next."
She said that when someone is injured, it inflames the issue and residents want to resolve it quickly. "However, good governance requires us to step back and thoughtfully review in a pragmatic way what we need to do," Rodusky said. "It requires the residents to participate."
Swift said the traffic calming policy was set to be finalized at a council meeting Thursday.
"We revised it quite a bit already on input from the folks who came out to the last meeting [on Feb. 16]," he said. "I agree it's time for action. We all agree… We need to go and fix those issues. What we're trying to do is come up with a process. I've also walked on Sandpiper and a couple of other streets. What you get is one person wants to have speed bumps put in or some other physical structure. Others would like to see traffic enforcement or some other non-structural thing, so everybody is all over the place. What we are trying to do is come up with a process that the majority of people will approve."
Aside from traffic calming, candidates were asked what else the village can do to ease traffic issues.
Espinoza said the village should talk to residents and get them involved.
"There's been a lot of issues dealing with the traffic," she said. "There's a lot of residents who have not had a say in what's been going on in their [communities], as in me walking down Whispering Pines and Seminole Lakes, places that I've been walking. They know that our community is growing, and one thing they want is the police involved to help with traffic control."
Rodusky agreed that more law enforcement is needed, although the village needs to also look at other modes of transportation, such as mass transportation, bicycles, a golf cart plan or trolley system to reduce automobile traffic.
Swift said that Royal Palm Beach Blvd. is overcrowded, especially in the morning and when school gets out, and agreed that more enforcement is needed, at least initially.
"High school students use Sandpiper, for example, as a cut-through," he said. "We've got to come up with a way to fix Sandpiper and Royal Palm Beach Blvd. in the future because it's just going to get worse."
Valuntas said as a resident of the southern part of the village, Southern Blvd. has become a nightmare.
"Number one is more law enforcement," he said. "If we're enforcing the laws, that's going to help. If it means adding another motorcycle deputy, that's something we can do."
He added that additional efforts can be made to streamline traffic on arterial roads to reduce cut-through traffic, as the council did when it increased speed limits on Okeechobee and Crestwood boulevards.
Over the course of two hours, the candidates answered more than a dozen questions. The complete forum can be viewed at www.royalpalmbeach.com.
ABOVE: Group 2 candidates David Swift and Richard Valuntas, moderator Jim Sackett, and Group 4 candidates Renatta Adan-Espinoza and Jan. Rodusky before Monday's candidates forum.