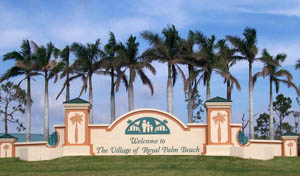 The Village of Royal Palm Beach has set public senior needs assessment forums for Wednesday, March 15 at 10:30 a.m. and Thursday, March 23 at 6 p.m. Both forums will be held at the Royal Palm Beach Cultural Center.
The forums are intended to get public input in response to a study underway by a consultant to assess what services are available through federal, state, county and local governments for senior citizens in Royal Palm Beach.
Councilwoman Selena Smith has led the project as part of a promise she made during her election campaign to improve senior services in the village. She worked with Village Manager Ray Liggins to develop a request for proposals for a consultant to do the study. A Senior Citizen Ad Hoc Advisory Board has been formed to collect and assess the information.
"We, in the village, have a general idea of what we think is needed, but we'd like residents' input on exactly what they want, because one resident may need something while another resident may need something else," Smith said. "It really came about to make sure that as our residents move to another phase of their life, they're still able to live in the village and maintain the lifestyle that they have."
That includes keeping residents in their homes as long as they desire and are able, Smith said.
"All residents are welcome to attend," she said of the forums. "It is really to get public input on what their needs are. The consultant will be there, and we'll facilitate it, but it really is to get public input so we're not guessing what is needed."
Phil and Kathy Gonot of PMG Associates have met with council members, staff and senior committee members, both individually and in public presentations. Once all the information has been gathered, recommendations will be made to the Royal Palm Beach Village Council.
The senior coordinator for the county's Division of Senior Services recently made a presentation on what senior services are available through county agencies.
"What our thought process is with the Senior Citizen Ad Hoc Advisory Board is to have as many presenters come to give details on services that are offered throughout the county so we're not duplicating them," Smith said.
Smith noted that a previous senior study was done several years ago, but the needs of seniors have changed over time. "It's also just to make sure that we're continuing to offer services," she said.
Only one forum was planned originally, but the consultant suggested two in case some residents were not able to attend due to the timing.
"All residents can partake, so some are caregivers of loved ones, some are living independently in their homes, so this way we get a perspective from everyone on what they would like to see," Smith said. "It really helps the village plan for the future on the needs of our residents. It's a great opportunity for the residents to come out and let the village know what they would like so we can plan appropriately."
Smith said working on senior needs has been important to her.
"This is a commitment and promise that I made to our residents in making sure that we go through with this," she said, explaining that a senior needs assessment was something she fought for during the council's annual strategic planning session.
"And then I volunteered to be the liaison for it as well," Smith said, explaining that she has canvassed neighborhoods with seniors announcing that the ad hoc committee was forming, and members were needed to participate. "This was something I wanted to do."
Liggins said Smith is doing a great job as the liaison to the ad hoc committee.
"We hired this company to really do a full needs assessment, and part of that analysis is services being provided to seniors," Liggins said. "Part of that analysis is asking them directly. They're doing the telephone interviews and all. This is just part of their process in gathering the information necessary to do their report."
He added that extensive services are offered to seniors and the purpose of the study is to bring the information together and assess what's missing.
"Hopefully, it will be a very informative report when we're finished that will assist the seniors, first in advocating for services for themselves and assisting us in helping seniors understand the services available and improve the services that are out there," Liggins said.