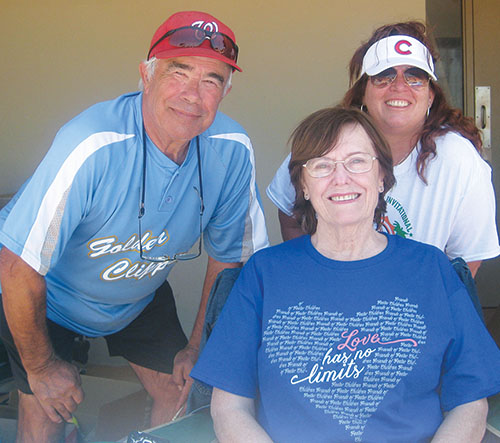 Grab your softball, bat, glove, hat and sunscreen and get ready to head over to Village Park in Wellington on Saturday, April 8 for the sixth annual Jim Sackett Invitational Softball Tournament.
The fun begins at 8 a.m. and includes food, an auction, a raffle for a Yeti cooler and softball.
All proceeds from the family-friendly event benefit Friends of Foster Children, which helps more than 1,600 children in foster care in Palm Beach County.
"We're really focusing on prevention and awareness of child abuse," Director of Development Coleen LaCosta said.
The first year of the tournament, it took place in Wellington. Last year, it took place at Okeeheelee Park. Holding the tournament in Wellington, retired WPTV news anchor Jim Sackett said, brings the tournament to his hometown and gives the players a venue variety.
There are three age groups playing in the tournament: those in their 50s, 60s and 65-and-older. Sackett will be playing on the Golden Clippers team, for those 65 and up.
"It's just a fun tournament to make the community aware," said Sackett, a Friends of Foster Children board member. "Sometimes, unfortunately, it's a situation of 'out of sight, out of mind' for a lot of these children. If we can just bring that awareness to what they have gone through, what they're going to go through, and help them down the road to lead a productive life, it's all for the good."
This year, fewer children need the organization's care, LaCosta said. Last year, 1,700 were in need. This year, 1,650 children are receiving services.
"More of these children are with relatives now," she said, "and we're extremely short on foster homes. That number is around 300, with over 600 relative placements."
Everyone is welcome to come to the tournament, Sackett said.
"Some of these guys are 50s, 60s, 65s, but a lot of these guys are very, very good ball players," Sackett said.
Raising money for the children, increasing awareness and letting the teams have a fun day playing are his goals for the day.
As of Wednesday, there were 16 teams. Some of the teams that have played in the past will be playing in other tournaments the same day.
The tournament began when it was suggested to Sackett, an avid softball player, that the nonprofit host a softball tournament. Sackett is looking forward to continuing to help Friends of Foster Children give foster children a better life.
Helping the children, LaCosta said, can be anything from showing support by attending the tournament, volunteering with the organization or donating supplies. Anything that would help a child, such as clothing, backpacks, supplies, raffle items, auction items and monetary donations, are welcome.
There are two separate programs that Friends of Foster Children has for clothing and supplies: one that utilizes new items and one that utilizes gently used items. Anything is welcome and appreciated, LaCosta said.
Sackett, a "hometown hero" and local celebrity, has helped countless foster children through his involvement with the organization.
"We are very lucky to have him helping to transform lives," LaCosta said.
Last year, the tournament raised $13,000, and they hope to raise even more this year.
Sponsorships, which are tax-deductible, are available in a variety of levels, starting at $60. So far, 2017 sponsors include the Children's Services Council, Searcy Denney Scarola Barnhart & Shipley, Florida Virtual School, Seaview Eyecare, Van Dell Jewelers, Publix, Dunkin' Donuts, Pepperidge Farms, Pepsi, Bush Brothers, Edward Jones, WPTV, Cats Gym, John Fierfelder and Walgreens.
For more info., call LaCosta at (561) 352-2542, e-mail coleen@friendsoffosterchildren.com or visit www.friendsoffosterchildren.com.
ABOVE: Jim and Paula Sackett with Coleen LaCosta at last year's Jim Sackett Invitational Softball Tournament.