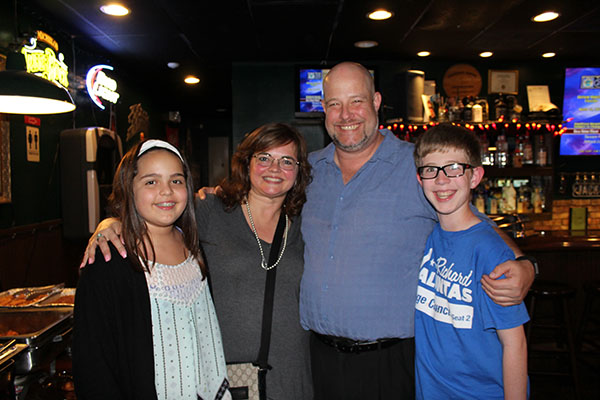 By Julie Unger and Jack Lowenstein
Former Royal Palm Beach Councilman Richard Valuntas will return to the dais following a one-year absence after he narrowly unseated longtime Royal Palm Beach Councilman Dave Swift on Tuesday. Meanwhile, Councilwoman Jan Rodusky easily overcame a challenge from education activist Renatta Adan-Espinoza.
In the Group 2 race, Valuntas edged out Swift by a mere 10 votes, 817 votes (50.3 percent) to 807 votes (49.7 percent), according to unofficial results from the Palm Beach County Supervisor of Elections Office. Due to the close result, a recount is possible.
In the Group 4 race, Rodusky received 1,128 votes (71.3 percent) to Adan-Espinoza's 455 votes (28.7 percent). Rodusky was appointed to the council last year to fill a vacancy, and this was her first time facing the Royal Palm Beach electorate.
After the polls closed, Valuntas and Rodusky gathered with supporters at Tree's Wings & Ribs on Royal Palm Beach Blvd. They were joined by Mayor Fred Pinto and Vice Mayor Jeff Hmara.
"Thank you everyone," Valuntas said addressing his supporters. "I want to let you know, 27 years ago, on this very day, an incumbent councilman named David Swift had a challenger who was a lawyer, and the lawyer beat him. The same thing happened 27 years later."
He gave much of the credit to his supporters. "There's no way anything could have happened like this if it wasn't for everyone in this room, and a lot of people who aren't in this room," Valuntas said. "I appreciate everyone's trust, and it is so humbling to see the faith and the belief everyone has in me, because they know me and they know I am a dedicated, honest public servant. I look forward to serving the residents of Royal Palm Beach again, bringing my skills to the table with a new mix of council people from just a year ago."
Valuntas handed the microphone to Rodusky.
"I am very excited for Richard and myself. Richard is absolutely, 100 percent correct in saying that this win isn't about me, it's not about Richard, it's about all of you in the Village of Royal Palm Beach," she said. "We are going to do things that you all have wanted for a very long time, and we have wanted for a very long time."
Rodusky said her time on the council has been quite an experience.
"I want to say that being appointed last year was exciting and new territory, and when I first took the seat, I thought, 'Oh my goodness, what's this year going to bring? Am I going to run?'" she recalled.
Rodusky read from an article about New Year's resolutions for elected officials, which she found inspiring. The article explained that elected officials have been entrusted to shape the community, create a better future, focus on facts, listen to others, govern rather than manage, provide solutions, be trustworthy and trust others, treat others with dignity and respect, and be a role model.
"I hope, in my two years as a new council person in the Village of Royal Palm Beach, to uphold every single one of these tenets," she said.
The evening marked a shift on the council, which was acknowledged by Pinto.
"This is truly a beginning. We have a lot of work ahead of us, especially to fight to maintain the quality of life that we have established in this village, and we need to fight hard to maintain that because of the growth around us," Pinto said. "We can't directly control it, but we can come up with ways to mitigate the impact on our quality of life as we continue the fight."
Pinto attributed the success of Royal Palm Beach to good governance and keeping the interests of the citizens at the forefront.
"One of the reasons why this village has been successful over the years is being able to separate politics from governance; making decisions for good governance is making decisions based on what's truly in the best interest for citizens and not personal, political agendas," Pinto said. "To the extent that we can keep politics out of our decision-making process, we will continue to be successful."
Vice Mayor Jeff Hmara offered his congratulations to Valuntas and Rodusky.
"We've done something extraordinary here in Royal Palm Beach. We have changed the landscape, and we have people who do not come with their personal agenda. They come with the agenda of doing what is truly best for this community. I am so excited about being a part of this."
Swift met with supporters at the Village Golf Club after the polls closed. He thanked them for their help and said he was proud of his service.
"I've served for 29 years. I'm proud of what I've accomplished with my fellow council members over the years," Swift said. "Another person has won; it's time for the village to move on. I have other things that I'm interested in doing. I'll get to see my grandkids some more and do some other things my wife and I haven't done in quite a while. It's a good thing for us. Don't feel sad for us; we're OK."