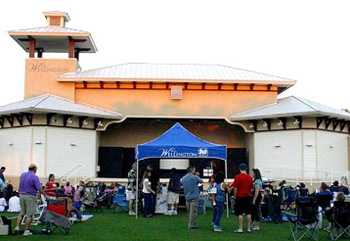 Wellington's annual Arbor Day celebration, set for Saturday, April 22 from 4 to 7 p.m. at the Wellington Amphitheater, has evolved to much more than a simple tree-planting ceremony. It has been expanded with an environmental Earth Day theme and plenty of activities.
Seedlings, small trees and seeds will be available, in addition to a raffle for a native silver buttonwood tree in a 15-gallon pot.
Children's activities will include participation in the traditional tree planting, face painting, arts and crafts, and other activities.
Food trucks will be on scene, and numerous local organizations will have booths with demonstrations.
"We're going to have a ceremonial tree planting of a green buttonwood tree," Wellington Landscape/Forestry Operations Supervisor Brian Hopper said. "We will be raffling off a silver buttonwood tree. We will be giving away live oak seedlings, as well as some fire bush shrubs. Those will be potted up in two-gallon pots. That's a native flowering shrub that's pretty popular."
He said the buttonwoods can be treated as a shrub or a tree, depending on the way it is pruned.
Activities for children include creating a mural with an Arbor Day theme.
"They lay a huge sheet of paper down and let kids color in a large mural," Hopper said. "There will also be vendors there. I definitely encourage everyone to come out and at the very least get some native shrubs and tree seedlings to help people fill in their yard with a plant that's useful for both aesthetics, and also as a food source for wildlife, birds and butterflies."
He said the fire bush is ideal as a small, attractive porch plant to attract butterflies, or they will grow as tall as 10 feet to be used as a small tree.
"It's a great opportunity for residents to come out and enjoy themselves in the outdoors and relax and learn about native trees and wildflowers," he said.
Food trucks will include Bea's Wings and Monster Cone ice cream, according to Community Programs Manager Michelle Garvey. Forever Greyhounds will be there with adoptable greyhounds. Local businesses and organizations participating include Blueprints Church, tie-dye for kids for a small charge, free face painting, the Wellington Garden Club, as well as the village's Public Works Department and Tree Board.
"The Wellington Art Society will be painting live during the event," Garvey added. "We have Waste Management, we have MaxHealth doing chiropractic screenings. The Florida Division of Forestry will be there as long as there is not a wildfire at the time, as will the Palm Beach Central High School Ecology Club."
Hopper will be on hand to answer questions about tree pruning.
"I can answer anything that they need to know, and I'll draw out a sketch for them," he said.
The sponsor for the event is the Joe DiMaggio Children's Hospital, which will be giving away reusable bags.
Members of the Wellington Village Council will also be present for the event and to take part in the tree planting.
"Every year we plant a tree around the outside of the amphitheater," Garvey said. "We will also have Smokey Bear there, and they invite the kids to shovel some dirt for the tree planting. We try to involve the whole community."
For more info., call (561) 791-4082 or visit www.wellingtonfl.gov.