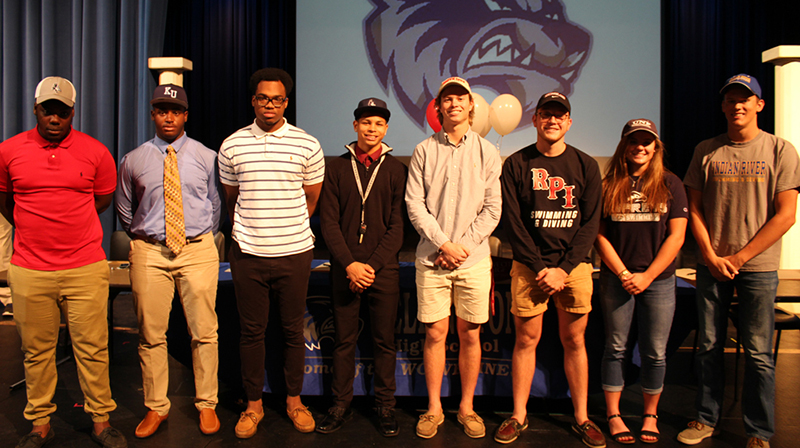 Pattie Fitzhugh, athletics director at Wellington High School, stood before eight student-athletes on stage in front of students, school faculty and parents on signing day.
"Is there anything I can say to change your mind?" Fitzhugh asked, receiving head shakes that confirmed each student's commitment to his or her respective collegiate athletics programs.
Wellington High School held its third signing day ceremony of the school year on Wednesday, April 19.
The eight student-athletes committed to work toward a college degree and play at least one sport, while there were those who will commit to play two at the most.
"You all realize the commitment you're just getting ready to make, right?" Fitzhugh asked, as every head again nodded in affirmation. "We appreciate the commitment you all made to Wellington High School, and all the hard work that you've produced in the pool, on the field, on the courts."
Swimming coach Rich Whalen was next to stand before the athletes to congratulate his soon-to-be college swimmers.
Swimmer Grace Cozad committed to the University of North Florida in Jacksonville.
"I've known Grace for a very, very long time," Whalen said. "I've known her over 11 years. She has accomplished tremendous amounts of success both in school and in the pool. Grace was district champion several times, a regional finalist and also placed at the state meet. She's an outstanding swimmer and a wonderful individual. I'm very proud of her, and I'm happy for her to go to the University of North Florida."
Wyatt Boswell is a swimmer who has committed to Indian River State College in Fort Pierce.
"Wyatt is a latecomer to the sport. He started, really, at the end of his sophomore year," Whalen said. "And within that time, he has burst onto the stage of national competition. He is a regional and a state finalist, placed at both meets, and he will attend Indian River State College. They have won 39 consecutive national championships in their division."
The last swimmer to sign was Colin Smith, who will attend Rensselaer Polytechnic Institute in New York.
"Colin has had a great deal of success with our team for being a part of the state championship relay in 2014, and also All-American relay in both the 200 and 400 relay," Whalen said. "He leads individual state finalists as well as regional and district champions and finalists. He's going to go to Rensselaer Polytechnic Institute to study engineering in upstate New York."
The next five athletes had at least one thing in common: they will attend school and play college football. Head football coach Tom Abel had nothing but positive words to share about his players.
"First, I can't say enough about all five of these guys. Year after year, after year for the past four years, we've been blessed to have about seven to 10 guys who play college football. That's a testament to keeping the program going, and the opportunities are amazing for these guys," Abel said.
Three of the five Wellington football players will attend Keiser University.
"Isaac Adonis has an opportunity not only to play college football at Keiser University, but he'll probably run track, as well," Abel said. "We're extremely proud of him. He was the star defensive end and linebacker for us. And, he's going to be right down the road, so I'll have the opportunity to go watch him play college football, and watch him tear it up."
Cameron Allen was the starting defensive tackle for Wellington this past season.
"A three-year varsity player for me, I'm extremely proud of this young man and his accomplishments throughout the year," Abel said. "There was nobody who could block him, ever. He's going to take his talents to Keiser University. He's going to be outstanding to watch right up the road as well."
Sage Chen-Young will attend Keiser University as a dual-sport athlete. He will join the school's basketball and football programs.
"He was one of Keiser's top-tier picks," Abel said. "They're extremely excited to have him. He's also our team MVP. He played slot receiver and wide receiver for me. He'll be playing defensive back, and he'll be a number two guard on the basketball team. We're excited he's going to Keiser."
Patrick Mark was one of Wellington's senior captains on the football team this season. He will attend Grove City College in Pennsylvania.
"He never lost a coin flip, by the way, never lost a coin flip at all. Every time he went out, he called it right on the money," Abel said. "Not only is he going to play college football, but he's also going to be playing lacrosse in college. He's going to Grove City. His grandfather played football there, so he's going into this college as legacy. Words can never say enough about him. He's probably one of the best tacklers I've ever seen in my life."
Finally, Anfernee Rosario will be attending ASA College in Miami, joining its football program.
"Anfernee is the starting defensive unit for me," Abel said. "He is going on to ASA Miami. That's a junior college. He's going to be there for two years. He's going to get his associate's degree, then he's going Division I, and we're going to watch him on Saturdays on TV. So, we're excited to watch this young man do some great things."
Fitzhugh then returned to again question the student-athletes, who sat onstage ready to commit to their own futures.
"You all realize the commitment you're getting ready to make, right?" Fitzhugh asked, as every student-athlete's head again nodded.
The papers in front of each student were signed in confidence, as each one of the future college athletes made their commitments in ink.
"We're fortunate at Wellington. Not only are these kids good athletes, but they're also good scholars," Fitzhugh said. "That in itself promotes their athletic association with colleges."
ABOVE: Wellington High School student-athletes Isaac Adonis, Cameron Allen, Anfernee Rosario, Sage Chen-Young, Patrick Mark, Colin Smith, Grace Cozad and Wyatt Boswell.