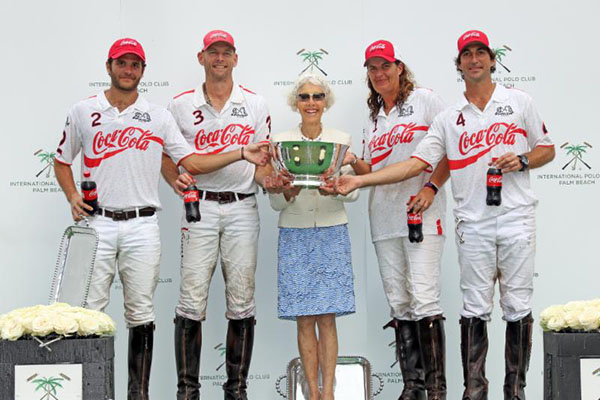 Coming off a strong showing in the USPA Gold Cup, Coca-Cola overtook a tenacious Flexjet team in the USPA Butler Handicap final at the International Polo Club Palm Beach on Sunday, April 2. Powered by Gillian Johnston, Coca-Cola took the title with a 12-9 win over Flexjet.
Flexjet started off on a good note with Gonzalito Pieres converting a long run to open the scoring. While that gave Flexjet an early lead, the game turned in favor of Coca-Cola behind an offensive performance by Johnston. A big neck shot pass from Julio Arellano sent Johnston in for her first score, which was quickly followed by a backhand from Julian de Lusarreta to set Johnston up for another goal.
Coca-Cola was working well as a team with its three top players sending Johnston forward often off good passes. With Johnston converting the runs to goals, it became tough for Flexjet to defend.
Flexjet converted a penalty 5 from the center with Melissa Ganzi sending a slick pass to Rodrigo Andrade for the tap-in. Miguel Novillo Astrada then generated more offense for Coca-Cola, scoring four of the next five goals for his team after a scoreless second chukker.
Coca-Cola stretched its lead to 9-6 in the fifth, but foul trouble kept Flexjet in the game. Five fouls in the fifth chukker resulted in two penalty 2 goals for Pieres, as Flexjet got back within a couple goals heading into the final chukker. Coca-Cola persevered and got past the foul trouble. The team continued to control open play, shooting at goal 15 times compared to Flexjet's 10. Winning 11 of 17 throw-ins in the second half, Coca-Cola maintained possession and kept a lead late in the game.
Usually relying on Arellano and de Lusarreta to provide the lion's share of the scoring, it was the duo of Johnston and Novillo Astrada who combined for nine goals on the day — a significant increase over their combined season average of 2.7 goals per game. Ultimately, it was Johnston's performance that propelled her team to victory. She fired a total of 10 shots on goal, as many as the entire Flexjet team, and converted four of them to lead Coca-Cola to the title.
Johnston was named MVP, and Luna, a horse she played, owned by G-String Polo Ponies, was honored as Best Playing Pony.
Underway now at IPC is the 26-goal U.S. Open Polo Championship, which caps the winter polo season.
The polo season at IPC runs through April 23 with a wide array of social options available each Sunday afternoon. For more info., visit www.internationalpoloclub.com.
ABOVE: The Coca-Cola team of Julian de Lusarreta, Julio Arellano, Gillian Johnston and Miguel Novillo Astrada accept the Butler Handicap trophy from Jorie Butler. photos by David Lominska