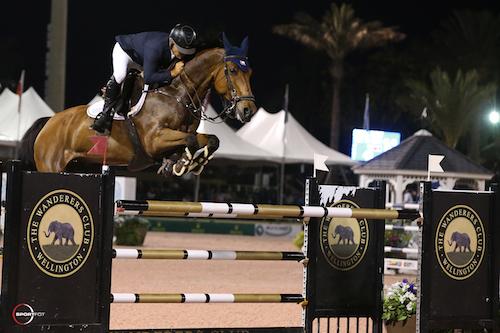 Chile's Samuel Parot closed out a fantastic winter circuit with a win in last Saturday night's $216,000 Wanderers Club Grand Prix CSI 4* competing in the 2017 Winter Equestrian Festival at the Palm Beach International Equestrian Center in Wellington. Daniel Coyle and Cita finished second, while Margie Engle aboard Royce placed third.
Olaf Petersen Jr. set the course for 45 competitors in the final Saturday Night Lights event of the season and saw five clear rounds. Parot and Coyle jumped the only double clear rounds.
Lillie Keenan was first in the jump-off, but knocked a rail at the first fence and finished fourth with her time of 43.46 seconds riding Chansonette Farms' Super Sox. Parot was next to go aboard his own Atlantis, stopping the clock in 42.52 seconds. Engle and Gladewinds Farm's Royce followed, but also had a rail at the first fence, placing third on a time of 43.31 seconds. Coyle with Ariel and Susan Grange's Cita then jumped the second-place round, clear in 43.85 seconds. Last to go, Beezie Madden and Abigail Wexner's Breitling LS had one fence down in 44.40 seconds to finish fifth.
"It is super. I really have had a very good season," Parot said. "Every Saturday night grand prix, I have had good results, but I really wanted to win one. Today I am really happy. The horse was very good. He is a very fast horse."
Parot said at the start of the week that it was his goal to win last Saturday's grand prix. He also jumped Atlantis, a 14-year-old Zangersheide gelding, to a win earlier this circuit in the $35,000 Ruby et Violette WEF Challenge Cup Round 6.
Making his winter season even better, Parot also earned wins aboard three other horses. He topped week four's $35,000 Illustrated Properties 1.45m riding Dazzle White, week seven's $86,000 Suncast 1.50m Championship Jumper Classic aboard Quick du Pottier, week eleven's $35,000 Illustrated Properties 1.45m riding Couscous van Orti, and week twelve's $35,000 Douglas Elliman 1.45m speed class riding Quick du Pottier.
"The competition here is very strong. You have to be very, very good," Parot said. "These are many of the top riders and top horses in the world. Everyone here is very good, and to win anything here is always a great feeling. Every class here is tough."
The key to Parot's winning program is quite simple. "Good horses," he said. "When you have good horses, everything is easier. I like horses that are careful, scopey and fast. All of my horses are a little difficult, but each horse has the carefulness, the scope and the speed."
Coyle began the WEF circuit riding Cita for the first time and won the $75,000 Rosenbaum Mollengarden PLLC Grand Prix in week one. The pair then spent the rest of the winter getting to know each other and developing their partnership.
"Since the first grand prix here, I changed my ride a little bit on Cita," Coyle said of the 11-year-old Holsteiner mare. "I suppose I was over-riding her. I was always asking her to be better and better, and that kind of got in the way of her being better. I just tried to make the ride a little more relaxed, and I found out that she has more jump than I ever believed she had."
Commenting on the jump-off, Coyle added, "Tonight I was riding for second place. I was not going to be crazy. For one, it is [Cita's] first time at that level. Sam was quick even in the first round, so I knew I would really have to be fast to beat him. If I beat him, I beat him. If I didn't, I didn't. I was still really happy."
Engle also watched Parot's speedy jump-off and got off to a fast start with her mount Royce, but had an unfortunate rail at fence one with the 13-year-old Oldenburg stallion.
"Watching Sam go, I got a little excited," Engle said. "I went right after him in the jump-off. I figured I was going to take a shot at the last grand prix of the season. I went really forward to the first jump. I just wanted to land kind of going, and I think I got too geared up after watching him because he was very fast."
With the help of U.S. Olympic dressage rider Lisa Wilcox, Engle has improved Royce's rideability and flatwork. Wilcox rides Royce and has helped the talented stallion become more comfortable.
"He has really come around," Engle said. "I have been able to drop down bits. I never thought I could flat him in a snaffle, and now he flats in snaffle. I am just thrilled with his consistency this year."
In addition to the grand prix, several other awards were presented Saturday evening for the final week of competition at WEF. Karen Polle was presented with the Simba Run Perpetual Trophy as the owner of the open jumper that earned the most prize money in classes held at 1.45m or more. Fine Lady 5's groom, Bo Vaanholt, was presented with the Oliver O'Toole Perpetual Memorial Trophy, which is awarded to the groom of the horse that has earned the most money in the grand prix jumper classes. Martha Jolicoeur of Douglas Elliman presented the Martha Wachtel Jolicoeur Overall Circuit Leading Lady Rider Award to Laura Chapot in memory of Dale Lawler.
Also competing in the International Arena on Saturday, Katherine Strauss and Capacity won the $15,000 SJHOF High Amateur-Owner Jumper Classic, presented by Engel & Völkers. Claudia Villamil and Quite Close VD Smis were victorious in the $1,500 Sleepy P Ranch High Junior Jumper speed class, and Kamille Marcussen and Bull Run's Holy Smokes topped the $1,500 Equiline Medium Amateur-Owner Jumper speed class.
Emma Wujek and Puppet, an entry owned by John and Stephanie Ingram, were named champions of the Engel & Völkers Large Junior Hunter 15 & Under division. The pair won two over fences classes with high scores of 88 and 89, placed second under saddle and in the stake round, and finished fourth in the handy trip.
Mimi Gochman captured the reserve title, continuing her recent success aboard Scott Stewart's Caldwell. Gochman guided the 14-year-old Hanoverian gelding to win the under saddle, place second in the handy and an over fences round, and place third in the stake and another over fences trip.
The 12-week 2017 WEF circuit concluded last weekend. For more information, visit www.pbiec.com.
ABOVE: Samuel Parot and Atlantis were victorious last Saturday night.