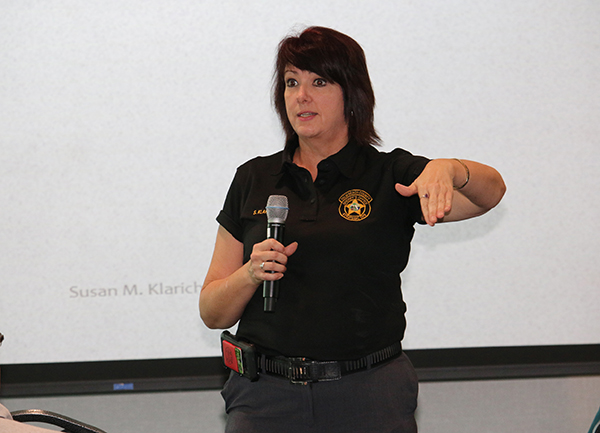 The Palm Beach County Sheriff's Office and the Village of Wellington presented "Drugs of Abuse and Addiction" for Wellington Neighborhood Watch members on Wednesday, April 19 at the Wellington Community Center featuring guest speakers Dr. Susan Klarich and Mariana Lovecchio.
Klarich works for the PBSO, talks to people in communities and offers school presentations.
"The Board of County Commissioners just approved the county to get $1 million to do something about the heroin epidemic that has been running rampant across the entire nation, not just Florida," she said.
In Palm Beach County, there were 753 drug overdose deaths in 2016. The deaths, she said, include all drugs — opiates, heroin, painkillers and narcotics.
Klarich gave the example of being prescribed pills after a dental procedure.
"You might, depending on your brain chemistry, actually have an addiction problem. It could be you, it could be me, it could be the police officer standing over there. It's not what I used to think of as the dirty person living under the bridge. It's not. It's lawyers, it's doctors, it's professionals and it's people who are not professionals," she said.
Drug overdoses drastically increased from 2012 to 2017. In 2012, there were 153 deaths in the county. That rose to 187 deaths in 2013, 291 deaths in 2014, 412 deaths in 2015 and 753 deaths in 2016. So far in 2017, there have been 115 deaths as of March 24, Klarich said, citing numbers from the medical examiner's office.
The Centers for Disease Control & Prevention has called heroin an epidemic. And, Klarich said, the suspected death by drug overdose rate is 70 percent higher than that of traffic fatalities in the PBSO's jurisdiction.
Klarich introduced Lovecchio to tell her story, bringing awareness and hope.
"I am a recovering heroin addict. I started drinking and drugging at 12 years old. I grew up in Miami, as well as Boca Raton," Lovecchio said. "There was no specific reason as to why I was drinking and drugging at 12. It was just the cool thing to do, so I started doing it."
She was prescribed Vicodin and Percocet for dental issues as a teenager, and from there on, she was a full-blown addict, Lovecchio said.
At 16, she dropped out of school, and her family moved to the Royal Palm Beach/Wellington area. By the time she was 18, her parents had divorced.
Lovecchio eventually got married and had a baby.
"Thinking that maybe if I became a wife, a mother, that I wouldn't be an alcoholic or drug addict anymore, and that wasn't the case," she said. "It broke up my marriage."
She started getting arrested, and eventually, the pills and alcohol weren't enough. She turned to heroin.
"This is a disease that progressed. It spiraled out of control," Lovecchio said.
Lovecchio is now divorced, and her son will be 7 years old next month.
She overdosed multiple times, but the turning point was when she overdosed at home with her parents when her son was 5.
"I can't even imagine how he must have felt. That was the rock bottom for me," she said.
A short time after that incident, she went into treatment. "I am proud to say things went very well for me," Lovecchio said.
She recently celebrated a year of being sober and is working in the treatment industry to help others like her.
Lovecchio has been working with the PBSO to share her story and bring awareness to the community.
Heroin, Klarich said, has a long history, including its genesis as an attempt to be a "hero" and a non-addictive painkilling replacement for morphine, created to help those coming back from war with severe pain.
Bayer Pharmaceutical created heroin because so many people were addicted to morphine. In its early beginnings, mothers would put it on the gums of teething babies to ease their pain and put them to sleep.
In 1914, addictive substances were put under the control of doctors, but until 1920, heroin and morphine were unregulated and sold legally. By 1930, the Federal Bureau of Narcotics was formed. Twenty-one years later, in 1951, a bill was passed differentiating between prescription and non-prescription drugs, limiting prescription refills. Other drug-control laws followed, and in 1988, the Anti-Drug Abuse Act created a drug control policy.
Sixty percent of the pain relievers used for nonmedical purposes were acquired free from a friend or relative; 17 percent from a doctor; 8 percent bought from a friend or relative; 4 percent taken from a friend or relative; 4 percent bought from a drug dealer; and 7 percent from other sources.
PBSO offices, as well as prescription-filling locations such as Walgreens, CVS and Target, are all places where medicines can be brought and safely disposed of.
"If you really need to get rid of your drugs, you can have a deputy respond and they'll take possession of anything you want to dispose of," Deputy Scott Poritz said.
Klarich emphasized that drugs should not be flushed, because then they will get into the water supply. Don't leave expired medicines in medicine cabinets, she said. Instead, bring it in.
No personal information has to be shared when bringing in medicines, she said, describing the box like a mailbox where pills can be dumped either in containers or loosely, and surrendered. Old prescription drugs, and other medications, are also able to be disposed.
Florid State Statutes 893.21, also known as the 911 Good Samaritan Law, pertains to drug-related overdoses, medical assistance and immunity from prosecution. Essentially, Klarich explained, if someone needs medical assistance or is experiencing a drug-related overdose, call 911. Many people, she said, were not calling 911 for help because there were drugs on the premises and they didn't want to get caught. The law states that anyone in need of medical assistance will not be charged for possession, and a person who seeks medical assistance for an individual experiencing a drug-related overdose will not be charged for possession.
The PBSO has a program, Too Good for Drugs, which is free for teachers. All they need to do is attend a half-day training session, and they will receive an evidence-based 10-week prevention curriculum. For more information, contact Klarich at klarichs@pbso.org or (561) 688-4055.
Another program that the PBSO offers is the Scout Patch Program, where scouts can earn a patch for completing four activities. For more information, visit www.pbso.org/scout-patch-program.
At the end of the meeting, Neighborhood Watch captains were presented with certificates. To learn more about Wellington's Neighborhood Watch program, call the Community Services Office at (561) 791-4796 or e-mail safeneighborhoods@wellingtonfl.gov.
ABOVE: Dr. Susan Klarich discusses the problem of drug abuse.