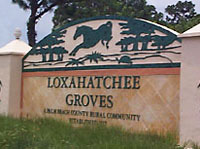 Loxahatchee Groves Water Control District Board of Supervisors candidate Karen Piesley said this week that she will not withdraw from the race despite a barrage of allegations made by incumbent LGWCD President Frank Schiola last week.
At the end of the April 10 board meeting, Schiola distributed a package of documents that were not on the agenda alleging that Piesley did not meet the residency requirements to be a supervisor.
The documents show that Piesley has homesteaded property in Flagler County, although she and her husband also own property where they run Caledonia Nursery, at 2201 D Road.
Three candidates, Piesley, Schiola and Connie Bell, are running for two available seats on the LGWCD board in the June 26 election. Longtime Supervisor Don Widing did not file for re-election.
Documents being circulated also suggest that employees of the Town of Loxahatchee Groves are supporting Piesley, although the employees contend they simply are giving clerical support that any town resident would receive.
Recently elected Loxahatchee Groves Councilman Dave DeMarois, a former LGWCD supervisor, told the Town-Crier that he believes that employees should not do work for candidates. The documents being circulated includes a Florida Statute citation stating, "A candidate may not, in the furtherance of his or her candidacy for nomination or election to public office in any election, use the services of any state, county, municipal or district officer or employee during working hours."
A notarized quit claim deed for Michael and Karen Piesley for their D Road property dated March 23 was witnessed by town Financial Director Perla Underwood and Planning Technician Tina Bonyak. A letter by Karen Piesley dated April 11 refuting Schiola's allegations has a notation at the bottom from Underwood.
Underwood told the Town-Crier that she scanned the letter at Piesley's request to e-mail her a copy in order to save the 15-cent per sheet copying expense at the town office, and that town staff members regularly witness documents for residents as a public service.
Underwood said that the notation appears on all documents that go through her computer for transparency, and pointed out that she has numerous documents, including from Schiola and former Supervisor John Ryan, an outspoken opponent of Underwood Management Services Group and a Schiola supporter, with the same notation at the bottom.
"I scan things for people all the time and forward it to their e-mail address as long as they have proper ID," she said. "That's what we do here. We're here to help residents with their matters."
Underwood said that she does not consider the service provided Piesley anything above and beyond what would be done for any town resident. "If a resident comes in, regardless of who they are or who their best friends are, we respond to issues and send documents for them," Underwood explained. "Everything scanned is in my computer. That's part of transparency. It's ingrained in my computer, and that's the way I want it."
Piesley, who sits on the town's Uniform Land Development Code Committee and is a former member of the town's Planning & Zoning Board, has been advocating for a closer look at canal levels in the district.
Her letter, addressed to LGWCD Attorney Mary Viator, stated that the presentation of documents by Schiola at the April 10 meeting is an example of the "intimidation and hostility" toward residents who show any opposition to the longstanding LGWCD power structure.
"I am writing to you today with respect to the matter about my qualification that was prepared and presented at last night's LGWCD meeting," she wrote. "The… item on this matter only reinforces the belief of intimidation and hostility that many landowners are subjected to. The fact is that the packet… purposely excluded information about my residence at 2201 D Road in Loxahatchee Groves that is easily found in the records of Palm Beach County to include the property appraiser detail, the mortgage, and the satisfaction of such mortgage… In addition, District Administrator Steve Yohe knows exactly where I reside, as we have had many opportunities to discuss the conditions of the D Road canal that is adjacent to my home."
Piesley stressed that she would not withdraw from the race.
"While I know that it has been a district practice over many years to try to intimidate landowners from running for office or voting in district elections, please understand that I have no intention of withdrawing my candidacy for the June LGWCD election," she wrote. "While I do own property in other areas of Florida, that alone does not exclude me from running for the LGWCD board."
Piesley pointed out that Supervisor Simon Fernandez is a landowner but does not have residence in the district.
"Nowhere does it state you have to be homesteaded," she told the Town-Crier on Tuesday. "It's just a bunch of negative attacks."
Schiola presented the documents at the end of the meeting after supervisor comments.
"Because this was not an agenda item, I could not go ahead and bring it up," he said at the meeting. "We have three running… this time around. In order to run for the water control district, you need to be a U.S. citizen, you need to own land in the district and you also need to be a resident of the county where the district sits… Everything that I found out about Mrs. Piesley is that she is living up in Flagler County. The homestead exemption is up there."
Schiola added that he would give a copy of the paperwork to the LGWCD attorney for review, as well as to the LGWCD office, where it would be available as part of the public record.