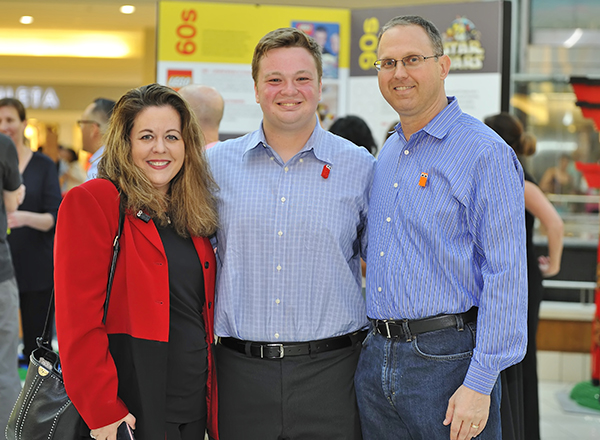 The grand opening party for "Lego Takeover!" proved there has been a lot of excitement surrounding the nearly three-week exhibit at the Gardens Mall. The event featured light bites and lots of plastic bricks.
On Friday, April 28, guests filled the mall's Grand Court as they enjoyed Lego-themed appetizers and sipped on adult beverages made at a bar covered with Lego toys. Those in attendance mingled under a brightly lit Lego block, as they took selfies next to life-sized Lego models.
Andrew Little, field services supervisor/tour manager with Creatacor Inc., invited the crowd to ask him anything Lego-related during the party. Creatacor Inc. transports Lego displays across the country.
Wellington's Daniel Clein, founder of the charity Bricks Busting Boredom, was also in attendance. During the two-hour event, Clein received thousands of dollars in donations for his charity, which takes Lego sets to kids in local hospitals.
"Lego Takeover!" at the Gardens Mall lasts until Monday, May 15. For more information, visit www.thegardensmall.com.
ABOVE: Deborah, Daniel and Kenneth Clein of Wellington at the kickoff party.