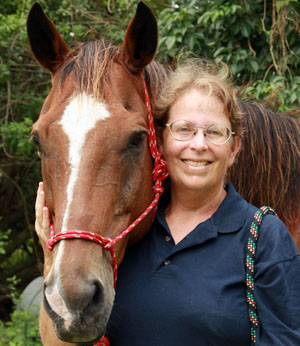 Tales From The Trails
If you'd driven by Vinceremos Therapeutic Riding Center on Saturday, April 22, you might have thought there was some awful disaster going on. Fire trucks and emergency vehicles crowded the parking lot. Happily, it was nothing so dire.
"It's a day where firefighters and first responders come to learn about working with horses during an emergency," said Susan Guinan, Vinceremos' director of development. "Held in collaboration with the Wellington Chamber of Commerce Equestrian Committee, Palm Beach Equine and Equus Solutions, this is our way of giving back to the community."
The clinic ran from 1 to 4 p.m., and approximately two dozen men and women showed up at the covered arena.
"This area of western Palm Beach County is a big horse community," Guinan said. "When disaster strikes, like a fire, some of these first responders have no horse skills. This clinic provides them with basic information about how to help the horses and safely handle them."
Dr. Janet Greenfield Davis, a vet from Palm Beach Equine, started off by discussing basic horse first aid and ways to sedate horses, which drugs to give in what dosages, how to treat cuts and abrasions, run IV lines, and where to apply ice packs for rapid cooling.
"You can always call a local horse clinic," she advised. "We have a pretty quick response time for vets around here."
When dealing with frightened or aggressive horses, she advised using low, soothing tones. But, she added, "Most of the horses in this area trust people and are nice and happy and will go along with you easily. If they're stuck, don't pull them by the halter. Get a long rope behind the butt, put someone on either side, well away from the horse, and pull."
However, she cautioned to never push a horse. "Horses move into pressure, they lean or sit on you, especially when sedated," Davis said. "Keep its head still, up and steady. If a horse is cast in a stall, rolled on its side with its legs stuck against a wall, roll it over by looping a rope around the bottom leg and pulling."
Davis demonstrated some common medical procedures.
"I think this clinic is a great idea," she said. "It's wonderful to share this kind of information with medical responders, especially in this community. It helps them do their jobs better and feel more at ease."
Rachel Braverman, volunteer coordinator at Vinceremos, spoke next, demonstrating on the three horses, Joey, Tommy and Desi, who stood patiently by. "These are the best horses to learn with," she said. "They're kind souls, quiet and reliable. Our goal is to give you some basic skills so you feel confident and comfortable working with horses."
Braverman explained different horse personalities, and how they're herd animals, so they prefer to stay near other horses. "A horse alone may be more anxious. In stressful situations, they react quickly with fight or flight. Most run, but if they feel trapped, may become aggressive," she said.
Braverman also explained some basic horse body language. "When they're calm, their ears and nostrils are relaxed, heads low, eyes sleepy," she said. "Ears pinned straight back is a sign of agitation or pain, along with wide eyes and nostrils, a high head, and loud, heavy breathing. Horses can kick forward and out, not just backward, so it's safest to approach them from the side, near the shoulder. Try to read their body language and anticipate their mood and actions. If you rush toward them, you'll only scare them more. Stay calm, move slowly, and speak quietly."
Braverman next demonstrated how to put on both rope and conventional halters, and cautioned against wrapping the lead rope around a hand. The first responders then broke into three groups and took turns putting on halters and leading horses.
Michael Redman, from PBCFR Station 27 in Wellington, worked with Desi. "I have no horse experience," he said. "This is very informative and useful, especially learning how to approach horses, what spooks them and how to restrain them with a halter. A while back we were called to help with a loose horse. I didn't know how to approach it. Luckily, a passerby stopped and helped. Now, I feel more confident that I'll be able to work with a horse while staying safe."
Kristen Derringer, also from Station 27, tried her hand next. Nervous being near Desi, she flinched when the horse shifted its weight. "Oh, God! It moved!" she said.
She got the halter on; a great accomplishment. "Being near such a big, muscular animal is scary. Putting my hand that close to his mouth, I thought he might bite me," Derringer said. "We're trained to think of our safety first. These are quiet horses. I'm worried other horses might have unknown temperament problems. I'd be leery of handling a strange horse. I'd like a printout of the temperament terminology and signs. This program's neat, especially the hands-on parts."
The clinic next moved to the barn, where Braverman showed where to typically find halters, lead ropes and lunge lines, and how to safely coax horses from stalls. Then, it was back to the covered arena where the first responders teamed up and practiced catching loose horses.
Jeff Morrison, of Station 20 in Wellington, had some horse background. "This program is great, especially for people who've never been around horses," he said. "Very useful, practical and helpful. It's another way we can help keep people and horses safe."
Vinceremos is located at 13300 Sixth Court North in Loxahatchee Groves. For more information, call (561) 792-9900 or visit www.vinceremos.org.