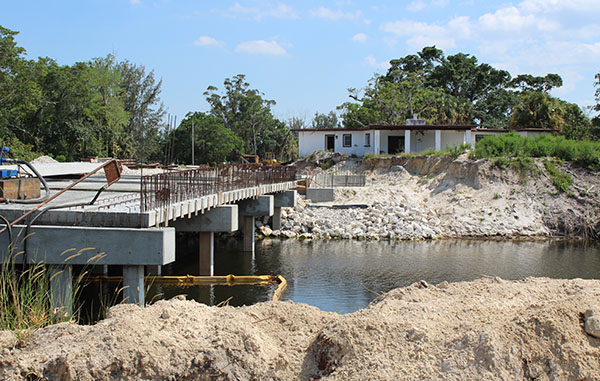 The Village of Royal Palm Beach annexed approximately 200 acres of land near the intersection of State Road 7 and State Road 80 (Southern Blvd.) two years ago, and how that land is developed will go a long way in determining the future of the village's south end.
Phase 1 of the project has been approved by the Royal Palm Beach Village Council for the area previously called Acme Ranches, which included the former home of Big Dog Ranch Rescue. However, plans for future phases are not set in stone.
Brian Tuttle of Tuttle Land Development has been the sole developer, who has managed the land through buying and selling of the property. Working locally through the Wantman Group, a well-known engineering and consulting firm, Tuttle has plans for both residential and commercial components for the space.
According to local officials, Tuttle has been communicating with the council and the different village departments to get input on what they would like to see for the future of this new space.
Since the new venture has begun, Tuttle has had properties approved for both multifamily and single-family residential development as part of Phase 1.
"One of them is an apartment complex that he sold to the Related Group that was approved by the council," Village Manager Ray Liggins said. "The other parcel is just south of the Related Group apartment complex, which is single-family."
The Related Group is a Miami-based development company. The parcel the company bought was approved for 392 apartment units.
The village approved another buyer to develop nearly 130 single-family homes adjacent to the apartments.
"I think since that approval, the people looking at buying have backed out, so [Tuttle] is looking at doing something different with that land," Liggins said.
One of the main conditions for the development of the area is to create a road that would better connect State Road 80 and State Road 7 before approaching the major intersection. There would also need to be park space for recreation in relation to the residential area.
"Brian [Tuttle] is trying to pull together the properties," Liggins said. "Right away, he needs to get the road out to State Road 7. He's trying to get the property needed for the park and all that. And, he has been working diligently to do that."
Liggins has great trust and belief in the abilities of Tuttle and his eventual vision for the land that Liggins sees as an important part of Royal Palm Beach's future.
"He is a very, very capable developer, and he takes all of our input and does his best to apply it and work toward that goal," Liggins said. "He has never given us any reason to believe anything differently."
Right now, Liggins said Tuttle owns or has sold 170 acres of the 200 acres that make up all the land parcels in the Acme Ranches area. The remaining 30 acres consist of spread-out private properties.
"You've got individual property owners out there. His goal is to acquire it all, but if somebody doesn't want to sell, they don't have to sell. He'll have to work his development around them," Liggins said. "My understanding is that some of the property owners along the canal are not interested in selling to him, so we just have to take that into consideration in the master plan."
Even with the approval to build the apartment complex on the 30 acres of land bought by Related Group, many further approvals and meetings will be required at the village level.
"They need to get their final plats in front of the council for the first phase, and every approval from land use, to zoning, to site plans, to special exceptions, to final plats — that needs to go to the council. It'll go to the council on numerous occasions," Liggins said.
At this point in time, a master plan for the overall area is still being developed by Tuttle.
"I think when it's all done, we'll see a mixed-use development, consisting of multi-family, maybe some town homes, maybe some single-family and commercial," Liggins said. "How it actually will play out is anyone's guess at this point, because they're still working on a master plan and putting something together that they can present to the council, which they have not done for the entire 200 acres to date."
On the commercial side of the development, plans have not been brought to the village yet. Still, Mayor Fred Pinto sees a great opportunity and uniqueness to this development that the shopping centers near the intersection have not had.
"That's an interesting corridor going down there from State Road 7 past Southern Blvd. heading south. It's interesting because in that corridor, you've got four entities," Pinto said. "You've got unincorporated Palm Beach County; you've got West Palm Beach; you've got Wellington; and you've got Royal Palm Beach. With all that happening in the corridor, there has never been any consistent planning or strategic planning going on."
Pinto believes that Tuttle is working to create a cohesive place for all of the surrounding communities to enjoy.
"Everybody just worked on the pieces that belonged to their municipality or their authority area," Pinto said. "But, what [Tuttle] is doing is something that is bringing that area together in a cohesive kind of a master plan on what should be there."
Pinto likes that it is not a development that will be intrusive to the core center of the village when it does start major construction.
"It really is truly on the outskirts of the southern portion of the village," he said. "It's not something that is in the middle of the village that is going to impact the current environment that we have here."
Pinto, like Liggins, is looking forward to seeing a master plan for the 200 acres.
"Ultimately, I think there will be some very beneficial services and entertainment options brought to the Village of Royal Palm Beach," he said. "It's really something that will be beneficial to the people who live here and the people who live in the western communities in general."
Vice Mayor Richard Valuntas sees the positives of future development, giving families the opportunity to take trips to a major new area in the community.
There is no start date or finish date for any of the developments established by Tuttle or any other developer at this point, although work is underway on an intersection connecting the project to SR 80/Southern Blvd.
"We have absolutely zero control over the timeframe," Liggins said. "It's 100 percent with property owners."
ABOVE: Work is underway to connect the project to State Road 80 (Southern Blvd.).