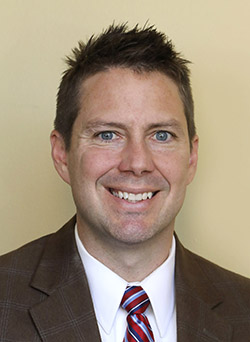 Palm Beach Atlantic University Provost and Chief Academic Officer E. Randolph Richards recently announced the appointment of Dr. Nathan Lane as associate provost for instruction effective June 1.
In this new role, Lane will oversee faculty development, general education, the Frederick M. Supper honors program and special projects. He will coordinate the work of the director of the First Year and Transfer Experience Program in conjunction with the Office of Student Development. He will continue to teach in the School of Ministry.
"Nathan Lane's passion for teaching is known across campus, as well as his understanding of the opportunities that the classroom affords for mentorship, intellectual discipleship and career transformation," Richards said. "I am grateful for his willingness to take on these new duties that will strengthen these programs through expanding the scope of the present faculty development process."
Lane came to Palm Beach Atlantic in 2007 as an assistant professor of biblical and theological studies. He has served as president of the Faculty Senate and chair of the Faculty Development Committee, and has been a leader in the teaching the First Year Experience Program.
Lane was promoted to associate professor in 2013, teaching both undergraduate and graduate level courses in the School of Ministry. He holds a bachelor's degree from Lee University, master of arts and master of theology degrees from Columbia Theological Seminary, and his Ph.D. degree is from Baylor University.
Lane and his family live in Loxahatchee.
ABOVE: Dr. Nathan Lane