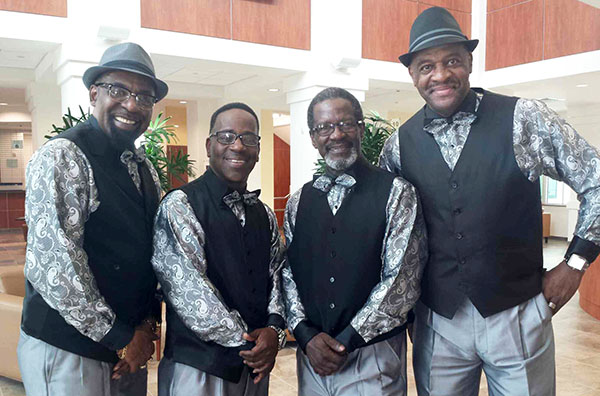 Wellington residents and Mall at Wellington Green patrons enjoyed a little surprise Tuesday, June 13 when members of the Motown tribute band N2 Nation treated them to random acts of kindness.
Cedric Mays, Earnest Lovely, Abb Clark and Ken Layton went around Wellington bringing smiles, cheer and happiness as they "paid it forward."
"We're a Motown tribute, and we love the gifts that God has blessed us with," Mays said. "Today, we wanted to pay it forward and give back to some people who needed the help."
The group chose Wellington because of the response they receive when they perform for the residents. "It's very simple. We've done Wellington Amphitheater performances for about four years straight now, and every single time we've done the event, we've had thousands turn out to support what we do," Lovely said. "We're just so appreciative of the support that we get in Wellington. We said, 'God has been good to us.' So, we decided that we have got to do something to give back.'"
N2 Nation travels across the country performing, he said, noting that Wellington is one of their favorite destinations.
"The support we get in Wellington is just phenomenal. So, we decided we were going to come out today and get out into the community," Lovely said.
The group went to the Mall at Wellington Green and visited the food court, where they surprised people by buying food for them, helping out in some small way.
Later in the day, they went to the Wellington Municipal Complex to help residents with bills.
"We're glad we did, because the reception we got here has been the same with us as always," Lovely said. "They've been so supportive of what we do. We got a chance to pay a few bills for some of the residents of Wellington."
Along the way, they reflected on the goals of President Donald Trump.
"He said, 'Let's make America great again,' and we can all do that, because there was a time in this country, such as when the 9-11 incident happened in New York City, just look how everybody came together. Color, race, creed — none of that made a difference. That's a place that we need to get back to in our country, us all caring about each other," Lovely said.
Layton agreed. "Gratitude has no colors. We appreciate the opportunity, and we just want to give back," he said.
N2 Nation will be returning to Wellington early in 2018 to fill the amphitheater with music and joy.
"We're just grateful to be doing what we're doing. It's such a pleasure to see people having a good time whenever we do perform," Clark said. "We just love the atmosphere, especially when we come out to Wellington."
For the past five years, they have been traveling extensively, and promise a big surprise for when they next visit Wellington.
Assistant Village Manager Jim Barnes was impressed with what N2 Nation was doing Tuesday.
"We've never had anything like this happen before that I know of," Barnes said.
Quickly becoming a staple group for the amphitheater, Barnes confirmed that N2 Nation will be returning in 2018.
"They're scheduled next for Feb. 15, 2018," Barnes said. "They're just grateful for the opportunity they have to play here in Wellington, and they decided to pay it forward and give back to the community."
Barnes thanked the group for their kindness.
"It makes us feel special because when you have people who are part of the community like this and want to give thanks to the community and pay it forward, that's always a good thing," Barnes said. "Everybody wins."
Along the way, N2 Nation sang happy birthday to Vice Mayor John McGovern, which was recorded and played during Tuesday evening's council meeting.
To learn more about N2 Nation, visit www.n2nation1.com.
ABOVE: Cedric Mays, Earnest Lovely, Abb Clark and Ken Layton of N2 Nation during their "pay it forward trip through Wellington.