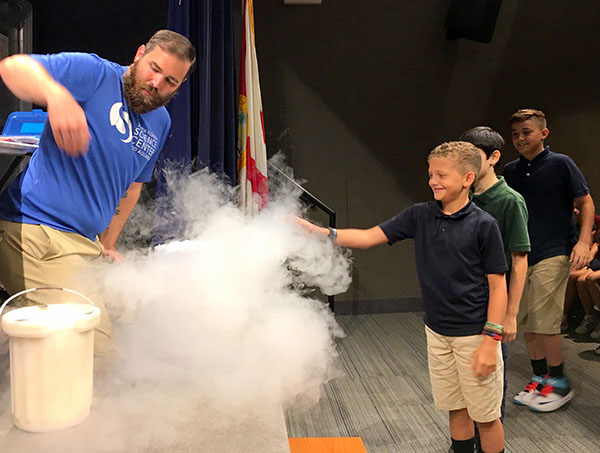 More than 200 fourth graders from Binks Forest Elementary School spent a morning immersed in scientific inquiry as they toured the South Florida Science Center & Aquarium as part of a program made possible through a Jacobs Family Foundation grant.
The students' visit was part of the Science Center's STEM Passport Program, which combines classroom instruction with a visit to the center's exhibits and activities.
The program features technology, engineering and math-based activities and experiments that employ deductive reasoning and critical thinking skills.
The South Florida Science Center received a $25,000 grant that enabled several Wellington area elementary and middle schools to participate during the 2016-17 school year.
"For many schools, field trips are virtually impossible to arrange due to transportation and other costs. Science Passport eliminates barriers by absorbing all expenses and making the field trip as effortless and effective as possible," said Kate Arrizza, chief operating officer of the South Florida Science Center. "We were very excited to receive this grant from the Jacobs Family Foundation that expanded our ability to present the program to Wellington-area students. This fulfilled a wish from Wellington teachers who had been asking us to bring the program to their schools."
At the science center, the students tested their knowledge of the properties of matter as they watched a demonstration called Nitromania and got a first-hand feel of a chilling nitrogen cloud. In addition to the demonstration, the students toured the many exhibits.
The mission of the South Florida Science Center is to open every mind to science, and the indoor/outdoor venue features more than 100 hands-on educational exhibits, a 10,000-gallon fresh and salt water aquarium featuring both local and exotic marine life, a digital planetarium, conservation research station, Florida exhibit hall, Pre-K focused "Discovery Center," and an interactive Everglades exhibit. Its newest feature is an 18-hole Conservation Course — an outdoor putting course with science-focused education stations.
The Jacobs Family Foundation of Wellington was formed to facilitate the Jacobs family's longstanding commitment to philanthropic efforts in and around Wellington. The foundation is focused on enabling community programs that will have a material, positive impact on the Wellington community. Through grants, it supports programs for education, athletics, at-risk youth and preservation in and around Wellington.
For additional information, visit www.jffwellington.org.
ABOVE: Students take part in the Nitromania demonstration.