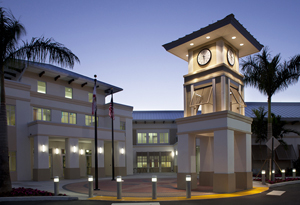 The Wellington Village Council is set to give final approval Tuesday to an ordinance that will give some leeway in allowing medium-sized assisted-living facilities to be closer together in some areas of the village.
The council approved that preliminary reading of the ordinance on May 23, which would allow up to four Type 2B congregate living facilities within a half-mile radius.
Growth Management Director Bob Basehart said that the ordinance, requested by Wellington Elder Care, which operates the village's only Type 2B facility, would amend the village's land development regulations to allow the company to build another facility next to the existing one.
The Type 2B CLF classification was adopted in 2012 to allow senior housing for residents 65 or older to have a maximum of 21 residents, which fills a gap between Type 1 for up to six residents, Type 2A for up to 14 residents, and the larger Type 3 and Type 4 facilities, whose residence numbers are determined by the land use density.
"The current application requests that the code be amended to eliminate the 1,000-foot separation requirement that we have for all CLFs to allow up to four Type 2Bs within a half-mile radius," Basehart said. "Staff believes that this amendment is a good one."
He explained that the amendment would not change the separation requirement for Type 2 facilities, which can include such uses as halfway houses or shelters for battered spouses. All Type 2A and 2B facilities must be in multifamily neighborhoods and require conditional approval.
"The Type 2Bs are limited to senior care," Basehart said. "For that reason, we believe that allowing them to be clustered can actually be beneficial to the neighborhood, so we're supporting it."
Wellington's Planning, Zoning & Adjustment Board recommended approval 6-0 on May 10.
Wellington's regulations require a minimum room size larger than the Florida Agency for Health Care Administration's requirements. They are not permitted within 500 feet of a single-family residential district unless approved by the council. The minimum lot size is 11,500 square feet. They must also be located within a quarter-mile of a collector or arterial roadway, within a mile and a half of a full-service fire station and three miles of a hospital.
They will also utilize reduced parking methods by encouraging staff carpooling and prohibit onsite parking of residents' personal vehicles.
The village currently has 14 Type 1 facilities and only one Type 2B facility, which is owned by the applicant. There is one Type 3 facility, which is NuVista, located near the Mall at Wellington Green. That is a combination rehab and assisted-living facility. Basehart added that property adjoining NuVista has been approved for Devonshire, a 460-unit assisted-living facility.
He said that the applicant plans to submit an application to have a new facility next door to the existing one on Lily Court.
"The existing facility has never generated any issues for the village," Basehart said. "We believe it's extremely well-run. There have been no code enforcement issues with it, and we think it has assisted in cleaning the neighborhood up. We think an additional facility in the same neighborhood will be a benefit."
Mayor Anne Gerwig said she and all the council members had visited the existing facility.
"We've heard that it is a huge benefit to the residents to be able to have their loved ones close by in a neighborhood setting," Gerwig said. "We're not seeing any negative impacts. We talked to fire-rescue, and it's not an undue burden on fire-rescue, and not an undue burden on parking. If anyone can find a negative to this, I'm not able to find one in this particular provider."
Gerwig said she liked the conditional approval, giving the council the opportunity to screen individual applicants.
Councilwoman Tanya Siskind said she had heard wonderful comments about the Wellington Elder Care facility.
"There is a waiting list, I believe, and we need more places like this," Siskind said. "I think combined with all of the impact on the neighborhood being positive — it has actually lowered crime and cleaned up the neighborhood, it has had no negative impact on traffic, no parking problems, and the fact that it is regulated and inspected… I'm all for this."
Councilman Michael Napoleone said that the council has received many positive e-mails for the application.
"The owners do a fantastic job," Napoleone said. "It's a lively place. It's not institutional. You feel like you're in a home."
Councilman Michael Drahos made a motion to approve the ordinance, which carried 5-0.