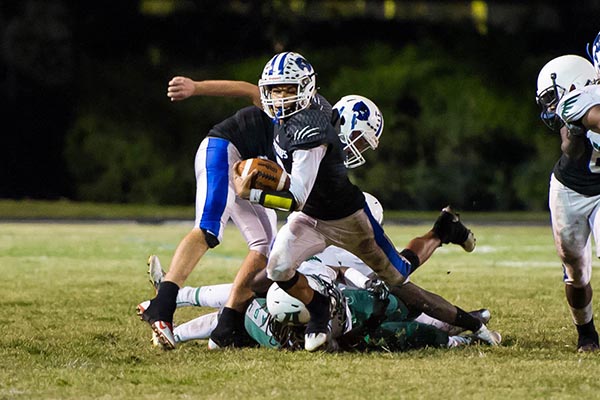 When Wellington High School graduate and Keiser University commit Sage Chen-Young stepped onto the football field for the first time in his sophomore year, he never dreamed that he would be playing college football.
The recent grad signed to play football for the Seahawks, but it was not always about football for the gifted athlete. Chen-Young has been playing basketball since he was 6 years old and only decided to play football because some of his friends were playing.
"They convinced me to come out and play, but I was nervous the first time," Chen-Young recalled. "I was always a basketball player."
When Chen-Young's passion for football grew, he maintained his loyalty on the court as well. "Basketball helped me in football," he said. "It improved my hand-eye coordination and ability to leap on the field."
Chen-Young played four years of high school basketball with three of those seasons being on the varsity squad under the direction of head coach Matt Colin.
Chen-Young helped lead his team to a state championship title in his sophomore year on the court, a regional finals appearance his junior season and a state finals appearance his senior year. He compiled first and second team honors in basketball and competed in the Palm Beach County All-Star game.
"His character is second to none; he is one of the most loyal, unselfish and hardworking players I have ever coached," Colin said of Chen-Young. "He continually worked to get better and improved every year. We will miss him."
The dual-sport athlete averaged 11 points per game his senior season and 11.6 assists.
As his football career blossomed, Chen-Young realized he had a special ability, and dedicated himself to improving his game when he saw the possibilities. Although Chen-Young was a varsity basketball player in his sophomore year, he played JV on the football team. But head football coach Tom Abel saw something special developing.
Chen-Young was moved up to varsity as a receiver when Wellington entered post-season play in 2014. That year, the Wolverines defeated Palm Beach Gardens, won the district title and posted a school record 11-2 season with a regional finals appearance.
"Whenever we needed a big play, we went to him, and he was one of our captains last season," Abel said. "Everybody looked up to him, they fed off of what he did, and we were blessed to have him on our team."
Chen-Young's senior football stats speak volumes: 47 receptions for 840 yards and seven touchdowns. On defense, he racked up 44 tackles, two solos and 19 assists. He totaled seven pass deflections and five interceptions. He also managed a fumble recovery returned for a score.
Chen-Young had multiple offers flowing in for football, and realized his passion could carry him into a college football career. "I met with UCF, Marshall and U Mass, but Keiser appealed to me because it's close to home," he said. "I feel like I will do well there, and my family can see me play."
His football accolades parallel his basketball career: first team all-county, all conference and all area. He was also selected to play in the Palm Beach County All-Star game this year, but the basketball post-season kept him off the field. "I couldn't risk an injury knowing we still had the most important part of the basketball season ahead," he said.
Chen-Young is ready to play at the next level and believes he is prepared. "It's all about being organized," he explained. "There's a comfort level knowing I have other teammates who are going to be there."
Camron Allen and Isaac Adonis, also Wellington alumni, signed with Keiser as well.
Chen-Young is aware that he is part of history in the making as Keiser looks to kick off its inaugural year with a new football program. He also recognizes the importance of the classroom.
"Academics are important, too," he said. "I had a 3.4 GPA when I graduated, and I plan to study finance."
Chen-Young explained how math was his favorite subject, and he was pretty good at it, so it fits to go into finance. With his athletic success and his work in the classroom, look for Chen-Young to model success through his college career and beyond.
To follow Chen-Young and the Keiser University Seahawks, visit www.kuseahawks.com.
ABOVE: Receiver Sage Chen-Young breaks away from two Atlantic defenders in the Wolverines' regional quarterfinal playoff game last fall.